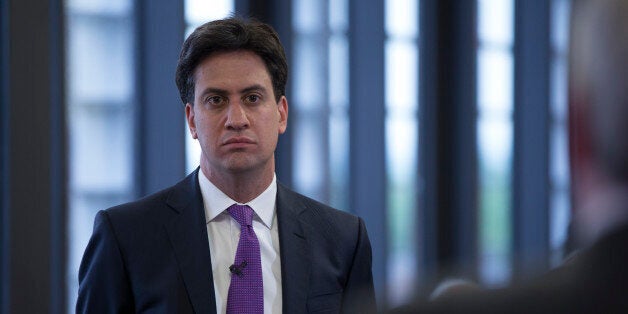 Ed Miliband has insisted he can "defy the odds" and win next year's general election, despite a poll suggesting that as many as 60% of voters think he is not up to the job of being prime minister.
Miliband acknowledged he had a "tough fight" to return Labour to power after one term in opposition, but said he was "relishing" the battle over the next 10 months leading up to the May 2015 poll.
The Labour leader's comments came as he launched welfare reform proposals which would see unemployed youngsters stripped of state handouts unless they agree to training in vital skills.
Bidding to counter Tory jibes that Labour is the "party of welfare", Miliband called for 18 to 21-year-olds to be given a "youth allowance" rather than out-of-work benefits.
The money would be conditional on them signing up to learn key skills, and they would not get it if their parents were relatively well-off.
People would also have to work longer to qualify for a boosted rate of Jobseeker's Allowance, as part of moves to restore the contributory principle to the system.
He rejected Conservative claims that the changes would cost money, insisting Labour was offering "big changes, not big spending". Aides said the reforms would save the government £65 million a year.
The reforms mirror proposals in a Condition of Britain report released by the IPPR think-tank, but Miliband rejected one of the report's key recommendations for a freeze on Child Benefit for over-fives.
The commitments, unveiled in a speech to the IPPR in east London, come with Miliband facing persistent questions about his leadership.
Last night former cabinet minister Lord Mandelson appeared to offer only lukewarm support, saying Miliband was "the leader we have" and urging him to offer a more pro-business agenda.
Miliband sought to shrug off the former business secretary's comments, saying: "I always welcome advice, whatever source it comes from."
But he insisted that his party could not act as "continuity Labour", picking up from where it left off in 2010, but must respond to the problems of inequality and in-work poverty which had not been solved by New Labour.
Asked about his poll ratings, Miliband said: "I knew when I took this job on that we were going to have a tough fight, because we are trying to defy the historical odds, which are that governments who lose elections don't tend to be one-term oppositions. We are in a position to defy those odds."
He added: "In the end, I have a big cause that I am fighting for and it is a tough fight, but I am determined that we win this fight. I am determined we win this fight not for the Labour Party, I am determined we win it for the British people.
"I didn't take this job because I thought it would be a walk in the park, I fought for this job because I thought it was important and I thought I had something distinctive to say about how we can change this country, and I believe that more now than I did three and a half years ago. I relish the next 10 months, I relish the opportunity to fight for my vision for the country."
Popular in the Community