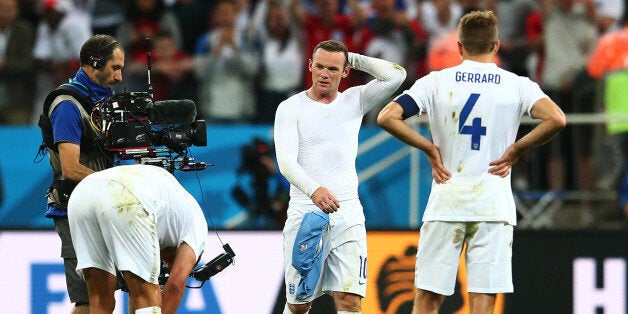 England lost their successive World Cup match 2-1 to Uruguay and are on the brink of World Cup elimination at the group stage for the first time since 1958.
Here are five talking points from their latest loss...
Wayne Rooney was always going to dominate the post-mortem following the Italy defeat, but he will at least be spared of that in the aftermath of this loss. He was easily the liveliest and most dangerous of England's front six as the Liverpool quarter and Danny Welbeck were shackled with ease by Uruguay's defence.
Daniel Sturridge performed as greedily as he used to for Chelsea, Raheem Sterling was suffocated by the wary Uruguayans, Welbeck rarely effects games on the wing and the two midfielders were too detached from England's attacks. The full-backs were more involved than Steven Gerrard and Jordan Henderson, while Ross Barkley appeared keener when he replaced Sterling, and his introduction indirectly influenced the spell of domination which preceded Rooney's equaliser. Irrespective of age or experience, too many that started looked like novices on work experience.
GERRARD FAILS ON THE BIG STAGE AGAIN
There are no excuses for Steven Gerrard this time. He has enjoyed one of the finest spells of his club career this year, he was not affected by transfer talk and Frank Lampard wasn't starting alongside him, and yet he has performed disastrously again and was culpable for both of Uruguay's goals.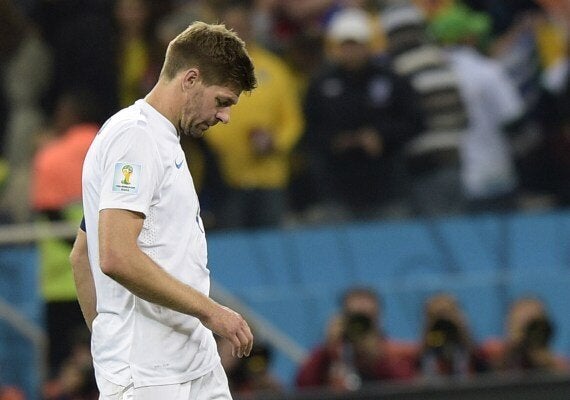 Gerrard was fortunate to travel to another World Cup after the 2010 disaster
Gerrard's through ball for Suárez was so well-timed it seemed inappropriate neither of them were wearing Liverpool red. Arguably more maddening than his assist was his antics afterwards. A pot-shot, a dive, some wasteful Hollywood passes; many have acknowledged his Roy of the Rovers days are long over, but not Gerrard.
Hodgson was never going to overlook Gerrard these last two years after appointing him captain, but the Liverpudlian can consider himself fortunate to have travelled to another World Cup after the 2010 disaster. Bizarrely, Gary Neville said on Tuesday he hoped Gerrard would prolong his international career, but this has to be the end for the 34-year-old's association with England.
ENGLAND ARE TOO GENTLEMANLY
When Diego Godín, already booked, thrust his arm out to prevent Daniel Sturridge from latching on to a through ball in the 28th minute the Spanish referee should have flourished a second yellow card, followed by a red. Predictably he bottled the decision, yet England's players should have cajoled him to dismiss Godín, Uruguay's best defender and captain, rather than follow decorum. If England are to ever succeed at a major tournament they must be cannier, and upholding the mythical spirit of the game or excusing culture is utterly naive at a World Cup.
SUÁREZ EMULATES FRUGAL PIRLO
If one man does not give a damn about football's spirit it is Luis Suárez, even if he did not bother expending his energy with dives or jibes as he clinically pounced twice to all but eliminate England. Suárez, who last played on 11 May, was not 100% fit and he hardly harried England's suspect defence, despite Phil Jagielka's patent awkwardness when afforded time with the ball at his feet. Uruguay needn't have worried.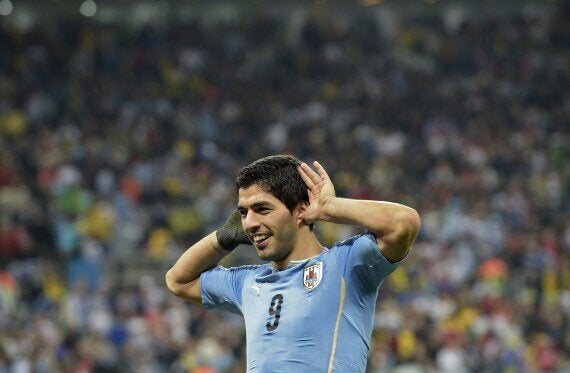 Suárez was the best player on the pitch
Instead, Suárez channelled Andrea Pirlo's savviness, insomuch as he hardly ran about and still walked off the pitch as the best player. Suárez, like Pirlo, reacted when he had to and made it count. His finish for the winner was as pure as it was clinical. The ball ran through to Suárez invitingly, however he did not look up once at Joe Hart before thrashing the ball past the England goalkeeper. The only world-class player on the pitch, it was apt he should decide the outcome.
HODGSON STRUGGLES FOR PLAN B OPTIONS
Roy Hodgson's risk in starting the same XI again was he would be deprived of effective options from the bench, with the exception of Ross Barkley. It was utterly predictable Adam Lallana and Rickie Lambert would be introduced after Barkley, and however dry England's talent pool is questions must be raised about certain squad selections.
England lacked width, as they relied on the full-backs, penetration and dynamism. Hodgson will lament injuries to Alex Oxlade-Chamberlain and Andros Townsend, who watched on from the ITV gantry. Both were sorely missed, however their voids were never filled.
Frank Lampard saw out his England career on the bench - which is where many suspected it would end when the squad was announced - yet his knack for potshot goals would have been an antidote to Gerrard and Henderson's conservatism. Suddenly, energetic yet erratic players like Ashley Young and Gabriel Agbonlahor seem appealing.