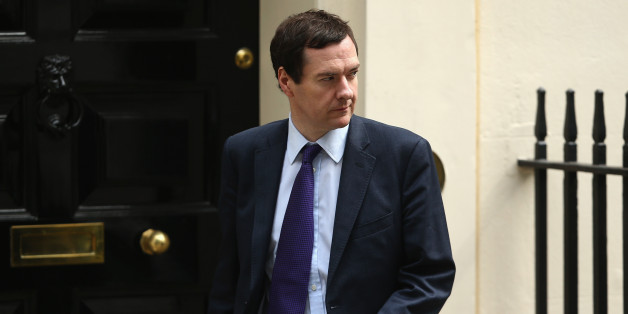 Dan Kitwood via Getty Images
George Osborne's plan to eliminate Britain's deficit by 2018 has been undermined as the decline in the rate of borrowing looks to have ground to a halt.
The Office for National Statistics revealed in new figures out today that the rate of public sector net borrowing had soared to £13.4 billion in May, up from £8.7 billion for the previous May. This means that the deficit to date for 2014/2015 now stands at £24.2 billion, 8.7% greater than at the same time last year.
Jonathan Portes, head of the National Institute of Economic and Social Research, posted this graph charting how the UK's declining rate of borrowing has stalled, in politically uncomfortable news for the chancellor's deficit reduction ambitions.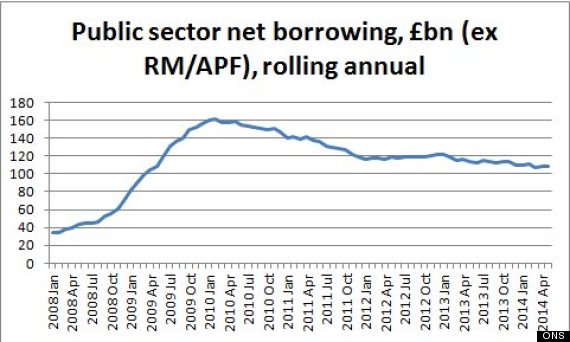 Others agreed cautiously, like Giles Wilkes, former adviser to business secretary Vince Cable, who warned: "If so, [that is] awful. Good news for no one."
@jdportes if so, awful. Good news for no one.

— Giles Wilkes (@Gilesyb) June 20, 2014
Samuel Tombs, senior UK economist at Capital Economics, said: "May's public borrowing figures contain tentative signs that the coalition may be beginning to struggle to bring down the deficit in line with the fiscal plans.
"While the economic recovery may now be fairly strong, it still appears to be struggling to have much of an impact on the borrowing numbers."