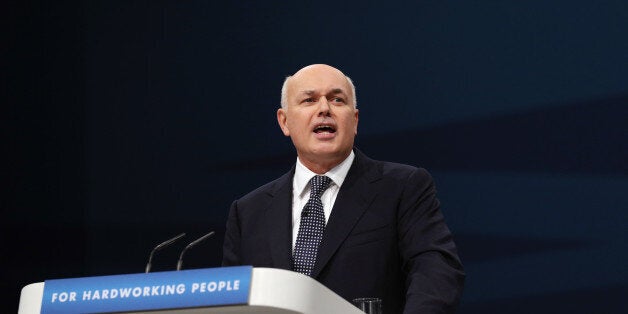 The five things you need to know on Monday 23 June 2014...
1) 'FLICKING TWO FINGERS AT THE REST OF EUROPE'
Iain Duncan Smith, arch-eurosceptic inside the coalition cabinet and, remember, a former Maastricht rebel, has weighed in on the row over Jean-Claude Juncker's proposed appointment as the next president of the European Commission - and the Guardian splashes on his pretty colourful remarks:
"In a sign of how Juncker's appointment could strengthen the hand of Eurosceptic members of the cabinet, the work and pensions secretary said the strong support among other EU leaders for the former Luxembourg prime minster amounted to 'flicking two fingers' at the electorate. Duncan Smith told BBC Radio 5 Live's Pienaar's Politics: 'If they give Jean-Claude Juncker a job this is like literally flicking two fingers at the rest of Europe and saying to all the people out there, 'We know that you voted the way you did but you are wrong and we are just going to show you how wrong you are by carrying on as though nothing happened.'' Duncan Smith warned of grave consequences if the appointment of Juncker were followed by a failure to embrace 'drastic change and reform' in the EU. He said: 'If they don't do that then it does make the prospect for Britain being in Europe very bleak indeed.'"
Meanwhile, David Cameron will be meeting European Council president Herman Van Rompuy later today for one final attempt to express his opposition to Juncker taking the top job in Brussels.
"MI6 and the CIA were handed intelligence outlining the planned takeover of northern Iraq by jihadists and their allies five months ago but the British and American governments failed to act on it, senior officials in Iraq have told The Daily Telegraph. The head of intelligence for the autonomous Kurdish regional government, which has links with the West, said he had repeatedly tried to send warnings both to the central government in Baghdad and to its allies, Britain and America. But despite repeated attempts to impress on Washington and London the seriousness of the unfolding situation, he said there was no response from either government. The claims were made as it emerged that as many as 500 Britishborn fighters have travelled to the Middle East in recent months to take up arms with the Islamic State of Iraq and al–Sham (Isis). The families of three young men from Cardiff last night pleaded for them to come home after two of them appeared in an Isis propaganda video urging British Muslims to join them in their holy war."
3) WITH FRIENDS LIKE THESE
"Nick Clegg has become 'toxic' on the doorstep, despite being a 'nice guy', a former Liberal Democrat leader of Liverpool city council has warned. As the former party leader Sir Menzies Campbell said the Lib Dems would need to rebuild 'from the bottom up' after losing all but one of their MEPs, Lord Storey said Clegg has become an unpopular figure in his home city. Storey, who led Liverpool between 1998-2005, told the Sunday Politics on BBC1: 'Knocking on doors in Liverpool, I have to tell you that Nick Clegg is not a popular person. And some might use the word toxic. I find this very, very difficult because I know Nick very well and I see a principled person who passionately believes in what he's doing, and he's a nice guy.'"
Nice guys, of course, finish last. So will the Lib Dems have the cojones to try and replace Clegg between now and May 2015?
BECAUSE YOU'VE READ THIS FAR...
Watch a Vine of Cristiano Ronaldo back-heeling his way around three different US players in last night's USA v Portugal clash. Shame it didn't help Portugal win the game - they tied with the Yanks 2-2 in a thrilling game.
HS2 is so 2013. 2014 is all about HS4, it seems. From the Independent:
"A plan to boost the economy of the North by building England's third high-speed rail link - HS3 - between Manchester and Leeds will be outlined by George Osborne today. The project would be based on the existing Manchesterto-Leeds rail line but journey times would be speeded up by building new tunnels and infrastructure. The fastest train between the two cities now takes 49 minutes, almost twice as long as the similar 35-mile journey between London and Reading."
Could this be a shrewd move by the Tories to try and woo back voters in the north, where they're most unpopular? Osborne is nothing if not ultra-political...
5) 'SORRY, BARACK, I CAN'T HEAR YOU!'
Poor Dave. From the Times:
David Cameron has revealed that he struggles to make calls to world leaders during his Cornish holidays because the mobile phone signal is so poor. The prime minister suggested that he had been forced to rely on one area of good reception for important conversations. Ministers are in talks over dealing with so-called rural "not-spots", where reception on some networks cuts out. They want mobile phone companies to share their phone masts to increase coverage."
And you thought you had reception issues, right?
From yesterday's Sunday Times/YouGov poll:
That would give Labour a majority of 76.
Aditya Chakrabortty, writing in the Guardian, says: "What Labour's free owl pledge reveals about the state of political debate."
Stephen Pollard, writing in the Times, says: "Yet another Labour big beast departs the stage."
Robert Fisk, writing in the Independent, says: "If history and petropolitics teach us anything, it's that the collapse of Iraq shouldn't come as surprise."
Got something you want to share? Please send any stories/tips/quotes/pix/plugs/gossip to Mehdi Hasan (mehdi.hasan@huffingtonpost.com), Ned Simons (ned.simons@huffingtonpost.com) or Asa Bennett (asa.bennett@huffingtonpost.com). You can also follow us on Twitter: @mehdirhasan, @nedsimons, @asabenn and @huffpostukpol