Glastonbury festival-goers might want to double check they've packed their raincoat for this weekend, as the latest weather reports indicate rain is on its way to Worthy Farm.
Despite last week's optimistic murmurings from the Met Office, the latest detailed reports suggest music lovers will be greeted by cloudy skies.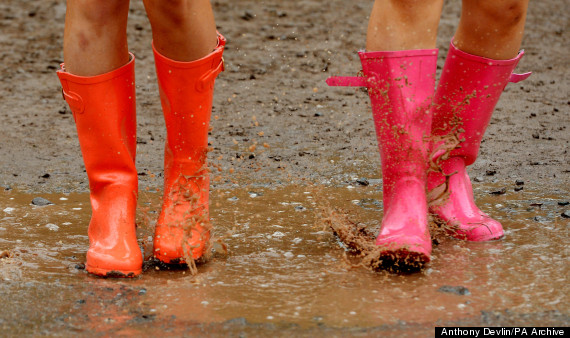 2013's muddy conditions look set to return...
The Western Daily Press reports that campers arriving on Wednesday will have dry conditions, but on Thursday, the "heavens will open". Gulp.
Showers are expected to continue throughout Thursday evening, while the current forecast for Friday and Saturday states "sunshine and showers" are likely.
MORE: Click here for all the latest Glastonbury news
Emma Sharples, from the Met Office, told the paper: "We can expect it to be cloudier and there will be some rain around but it will still be fairly warm."
Last year's Glastonbury revellers experienced everything from bright sunshine to downpours, so perhaps it's best to pack sunscreen and wellies…
LIKE US ON FACEBOOK | FOLLOW US ON TWITTER