A leading soprano singer who triggered public outrage with a comment posted to her Facebook that described gay people as "fecal masses" has been dropped by her opera company.
On Georgian singer Tamar Iveri's Facebook profile was an angry message about a gay pride march in the country's capital Tbilisi, where people had been injured.
It said: "I was quite proud of the fact how Georgian society spat at the parade. Please, stop vigorous attempts to bring West's 'fecal masses' in the mentality of the people by means of propaganda." Tamar Iveri blamed her 'deeply religious' husband for posting the comment
Though she insisted the comments were posted by her "deeply religious" husband Raul Tskhadadze and said they did not reflect her views, she has said she left Opera Australia to spare her colleagues "further controversy".
The company said it had reached an agreement with her to release her from her contract "immediately".
It said: "Ms Iveri has unreservedly apologised for those comments and views. Opera Australia believes the views as stated to be unconscionable."
Iveri posted her own statement defending herself and also changed her Facebook background to an image promoting "peace, love, harmony" after it was announced she was leaving Opera Australia.
One person commented: "'Peace. Love. Harmony' three things you clearly do not believe in! Bye bye!"
She wrote: "As difficult as it has been to come to this decision, I do so out out of consideration for the tranquility of my colleagues and for the success of the production.
"By withdrawing, I wish to insure (sic) that the performances take place undisturbed by any further controversy... I do not want such an important artistic event to be marred by any problem which, however unintentionally, has developed because of my presence in the cast."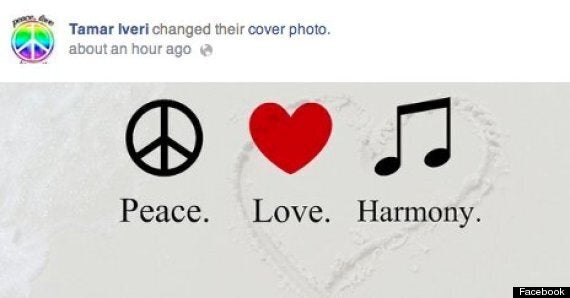 Tamar Iveri may have been trying to tell us something with this
She added she was "immensely saddened and hurt by the campaign against me".
"I have never been prejudiced against anyone, whether for religious, or racial reasons, or for any other kind of prejudice including those regarding sexual preference," she said.
"I abhor prejudice in any form altogether. I have been performing in an art form that includes thousands of gay people on both sides of the stage, and there is no one who can come forward and claim that I have ever exhibited any such prejudice against them.
"I have said before and say here again that the words attributed to me were not my own, and that I therefore cannot take personal responsibility for them. I can only repeat again and again that this is my position."