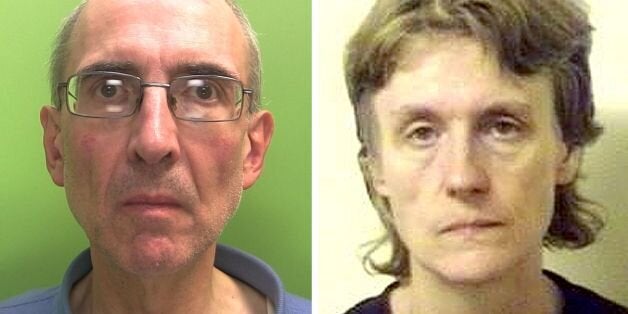 A couple convicted of murdering the wife's parents before burying the bodies in their garden and stealing £245,000 of their money have been jailed for life. Susan Edwards, 56, and her husband Christopher Edwards, 57, were found guilty after trial last week of shooting dead William and Patricia Wycherley at the elderly couple's former home in Mansfield, Nottinghamshire, in 1998.
Sentencing the pair at Nottingham Crown Court today, Mrs Justice Kathryn Thirlwall told them they would both serve a minimum of 25 years behind bars. The court heard that the debt-ridden couple shot their victims at their home on the May bank holiday, with the couple then buried in a metre-deep hole in their own back garden.
For the next 15 years, the couple kept up the elaborate hoax that Mr Wycherley, 85, and his 63-year-old wife were alive, claiming their benefits, pension, and even selling their home before a tip-off led police to the graves in October last year.
Mrs Justice Thirlwall described the killings as "shocking crimes". She told the "self-contained couple" that so far as they were concerned "only the two of you mattered". The judge told Susan Edwards, who sat staring intently from the dock wearing a patterned grey cardigan and glasses, that she was "an accomplished liar and a fantasist".
Mrs Justice Thirlwall accepted "on balance" that she had told the truth about being sexually abused by Mr Wycherley as a child and that had formed the basis of the hatred she felt for her father. "That background may explain why you hated him, which you did, and why you have no remorse about killing him," she said.
The judge said she did not believe Mrs Wycherley had ever known of that abuse, as had been claimed in court as being the motive for killing her. Mrs Justice Thirlwall added that she was satisfied it was Christopher Edwards "who held the gun" and who shot the pensioners in the back bedroom of their semi-detached home, and not as the couple claimed, Susan Edwards.
"I sentence you on the basis that each of you intended that both Mr and Mrs Wycherley should be shot dead." She added their sentences had to reflect the serious nature of the double killing, telling them they had planned to shoot their two victims - one of whom was in his 80s - for financial gain.
The judge said the couple had then "dumped" the bodies in unmarked graves, before creating "an elaborate charade" which ran for 15 years to deceive family and neighbours as to what had happened to the Wycherleys. She said the facts of the case were "so serious and your culpability so high" that she had no choice but impose minimum terms of 25 years each, for each of the two murders, to run concurrently.
For the offences of obstructing a coroner and theft, both of which the couple admitted before trial, they were each handed a prison term of five years and four years respectively, to run concurrently. Neither defendant appeared to react as they were jailed, with the pair led down from the dock in silence.
During mitigation pleas, Susan Edwards's barrister David Howker QC described her abuse at her father's hands as "an ongoing feature" of her life "that created in her, some would say, the justifiable hatred of him and would be akin to a slow-burning, festering provocation that may explain in some way some part of why it happened".
Mr Howker spoke of the "disdain" his client alleged her father had then shown her in later life, including "his rejection of the only man in her life, and the man she loved, Christopher Edwards". He said Mrs Edwards had no children, no friends and was facing the prospect of jail apart from her husband, adding that her crime "already made her a target" behind bars, although he did not elaborate.
Mr Howker added: "The upshot is she will effectively serve her prison term in circumstances akin to isolation, and from her point of view she will be parted from her husband, which is undoubtedly a life punishment." Dafydd Enoch QC, representing Christopher Edwards, said there was room for mercy in the case, despite the severity of the couple's crimes.
"They lived for each other," he added as his client, wearing a dark jumper, looked on intently throughout. And they retired into a world of autograph hunting - they are not ordinary folk."
Mr Enoch asked Mrs Justice Thirlwall to "look at the other side of the coin". "Dreadful as these crimes are and awful as the facts may have seemed of the burial of the bodies, I still rely on those matters (arguments)." He added his client "appeared to be utterly devoted to his wife from day one, and all he has ever done is display complete devotion to her. He could not help but be drawn in and I don't mean that to shift the blame in any way to Mrs Edwards."
Mrs Justice Thirlwall also pointed to another motive for the double killing, referring to a bequest made to Susan Edwards, part of which she spent helping buy her parents' then London home in 1979. However, as the jury heard, she claimed she was later "emotionally blackmailed" into signing over full title of the house to her parents, who sold the property for profit without sharing the proceeds with their daughter.
The judge added: "It is plain from your interviews and from your evidence in the trial, you considered and still consider your parents deprived you of what you thought was rightfully yours. You never forgave them." The judge pointed out another aggravating feature of the crime, that after the killing and "as soon as the banks opened", the couple withdrew every penny - £40,000 - from her parents' accounts, and over the next 15 years spent a further £175,000 due in pensions and benefits to Mr and Mrs Wycherley.
Following the shootings, Susan Edwards wrote cards to family telling them her parents were alive and well, while neighbours were told the couple had gone travelling. The former librarian even wrote Christmas cards to Mr Wycherley's niece telling them the pensioners were journeying around Ireland "because of the good air".
The couple later sold the Wycherleys' Mansfield home, keeping the £67,000 profit and spending some of the cash on movie memorabilia including signed photos and documents once belonging to 1950s Hollywood star Gary Cooper. However, the ' deception started to fall apart when in 2012 a letter from the Department for Work and Pensions querying Mr Wycherley's approaching 100th birthday was sent, asking to set up an appointment to discuss his benefits.
Having spent all the money they had stolen and now saddled with growing debts, the couple fled their council home in Dagenham to Lille in northern France, where Christopher Edwards, a former credit controller, tried unsuccessfully to find work. He later telephoned his stepmother in England telling her of the bodies in the garden and she immediately tipped off the police.
Detective Chief Inspector Rob Griffin, of Nottinghamshire Police, said the couple realised "the game was up" when officers contacted them. The pair eventually gave themselves up to British police at a French railway station, voluntarily returning with them to the UK where they were arrested and later charged.
Mr Griffin, speaking after sentence, said the serious crimes of the "unusual couple" had entirely warranted their lengthy jail terms. "There was not a single emotion from either of them - as there has not been throughout this case - when they were sentenced," he said.
Related