The British jihadist who called for more Britons to join the ISIS fight in Iraq and Syria was a moderate young man who wrote just four years ago he wanted to be Britain's first Asian Prime Minister.
Nasser Muthana's Facebook page reveals a love for Chelsea football club and Call of Duty, but with a recently intensified interest in religious practice and a growing fury over the situation in Syria, saying it had been misrepresented by the media.
He had successfully applied to study at the Madinah University in Saudi Arabia, which focuses on Islamic subjects, where controversial Birmingham based preacher Abu Usamah attended, according to the Telegraph.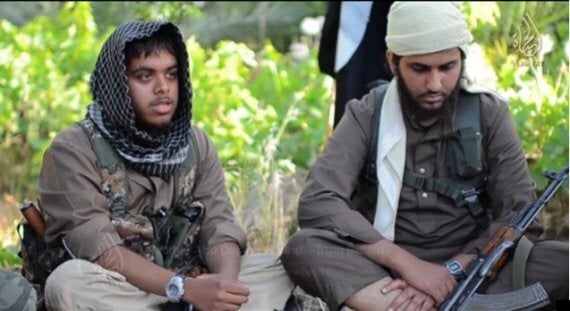 The boy who wanted to be prime minister
Ahmed Muthana spoke of his shock after his 20-year-old son Nasser appeared in a recruitment video for the group Islamic State in Iraq and Syria (Isis), urging UK Muslims to join insurgents in Syrian and Iraq.
Muthana, from Cardiff, said he feared his sons - 20-year-old Nasser Muthana, and 17-year-old Aseel Muthana - would be killed if they stayed in the country and says he believes they were brainwashed in the UK.
Nasser Muthana appeared in the Isis video alongside another young man from Cardiff, Reyaad Khan, 20. The pair knew each other from the same secondary school, the Guardian said.
Muthana senior told the newspaper: "I used to have him in my car. I'd take them to the mosque. He seemed fine. Like all of them."
Younger brother vanished after telling his parents he was going to a friend's house to revise for a maths exam, texting them to say the exam had been a "piece of cake" when he had skipped the test and headed for the Middle East.
Muthana said he felt his son had left down both his family and his country, saying: "This is my country. I came here aged 13 from Aden when I was orphaned. It his his country. He was born here in the hospital down the road. He has been educated here. He has betrayed Great Britain."
A mosque where the Muthana brothers worshipped, the Al-Manar centre in Cardiff, said it was not the source of radicalism and blamed the internet for affecting the pair. But the Daily Mail said Suadi cleric Mohammed al-Arifi, who has called for holy war and the overthrowing of Syrian president Bashar al-Assad's regime, spoke there in 2012.
It comes as Britain's security services do not have the capacity to monitor the sheer volume of Britons who have returned to the country after fighting with jihadist groups in Syria, a former MI6 director has said.
But the Financial Times reported that the Foreign Office was halving its counter-terrorism budget, slashing it from £30m a year to £15m as part of plans to cut £100m from the department's budget by next year.
Richard Barrett, a former MI6 director of global counter-terrorism, told the BBC it was impossible to predict how many of the 500 believed to be fighting in the Middle East would pose a threat to Britain. issued the warning following reports there could be as many as 500 Britons fighting in Syria.
"Clearly they'll have to prioritise and they'll have to choose those that they think are likely to pose the greatest risk," he said. "Beyond that I think they'll have to rely very much on members of the community and other people expressing their concern and worry about the behaviour of perhaps their returned friend or family member."
He estimated that "possibly up to 300 people have come back to the UK" already, and warned that intelligence services faced an "impossible" task in trying to track them.
He said that while recruiting networks across Europe suggested of greater radicalisation than people just going on their own, it did not necessarily indicate that people would progress from fighting in Syria to being a terrorist at home.
A Foreign Office spokeswoman said: "Countering terrorism is one of the Government's top priorities and it therefore remains one of the FCO's largest programmes.
"The FCO is not decreasing its work in this area - instead we are increasing our resources on the highest priority terrorist threats to the UK and UK interests, such as the Middle East and Africa."
Former Tory defence secretary Liam Fox warned that Britain's security services may need greater powers of surveillance to monitor British fighters returning from Iraq and Syria and said officials could need more freedom to intercept communications by extremists.
He told the Guardian that the UK needed to "reconsider" the argument of restricting the powers of the state, saying: "The whole area of intercept needs to be looked at. We have got a real debate, and it is a genuine debate in a democracy, between the libertarians who say the state must not get too powerful and pretty much the rest of us who say the state must protect itself."
Cressida Dick, the Metropolitan Police assistant commissioner and head of specialist operations, has also warned that Britain would feel the long-term consequences of the conflict, and young British Muslims who have travelled to fight in the war-torn country might commit violence when they returned.
Sir Peter Fahy, who leads on the Prevent counter-terrorism strategy for the Association of Chief Police Officers, warned that the video made the young men's trip look like a "Boy Scout camp" when the reality was "very brutal, very callous".
He said the whole community was needed to counter the extremist message.
"The Government does have some funding and is putting material on the internet but really we need the whole of the community to counter this narrative," he told ITV's Good Morning Britain.
"The trouble with this Isis video is it makes it look like a Boy Scout camp going out there, when in fact what they are calling for is Muslims to go out to kill fellow Muslims, often in cold blood, with summary executions of conscript soldiers and police officers.
"It is a very, very brutal thing they are calling on fellow Muslims to go and do.
"We need to get this message across. The trouble with that particular video is it makes it look very glamorous, that they are going on an adventure, when the reality is actually very brutal, very callous."
He said removing material from the internet was only one part of an overall strategy for countering the problem.
"We mustn't over-emphasise the power of the internet - we know that a lot of people have been radicalised in their own community by people who themselves have give this very perverted message," he said.
Popular in the Community