The Wimbledon queue - an annual tradition that may equal the hype around the event itself - is up to its usual lengthy standards this year with fans turning away from the disappointment of English football and hoping for another Scottish success in SW19.
Perhaps because of the disaster in the World Cup, tickets have been selling "quicker than we've seen", according to a Wimbledon official as a nation's hopes turn once more to Andy Murray.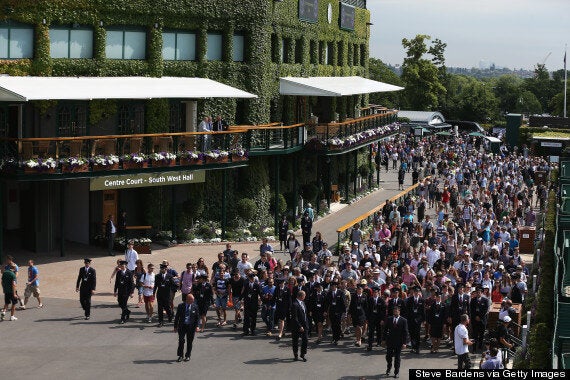 Tournament stewards escort the fans into the grounds on the opening day of Wimbledon
Having ended the wait for a British male singles champion at Wimbledon after 77 years, Murray will try to emulate Fred Perry once more by retaining the title.
One of Murray's biggest fans was at the front of the queue, having arrived at the venue at 7.30am on Saturday.
Stuart Bere, 39, a gardener from Lincolnshire, has booked the next two weeks off work.
He said of the queue: "It's buzzing. It's the best atmosphere it's been for years. The time just flew by and, to be honest, you're just chilling out."
After spending Saturday night on the pavement, and last night in a tent, Mr Bere said he was feeling fine.
"I've been sleeping. Now that I've had a coffee, I feel awake," he said, adding it was all worth the effort.
"We're going to see a British Wimbledon champion walk out (on Centre Court), which will be amazing," he said.
One woman who has been in the queue since 10am on Saturday is hoping for a double celebration.
Linda Loader, a lab technician from Yateley in Hampshire, is 58 today, and hopes that she will be celebrating not only her birthday but a Murray win as well.
She has followed the Scot's career "right from the start", and said she gets emotional just thinking about his successes.
Story continues after slideshow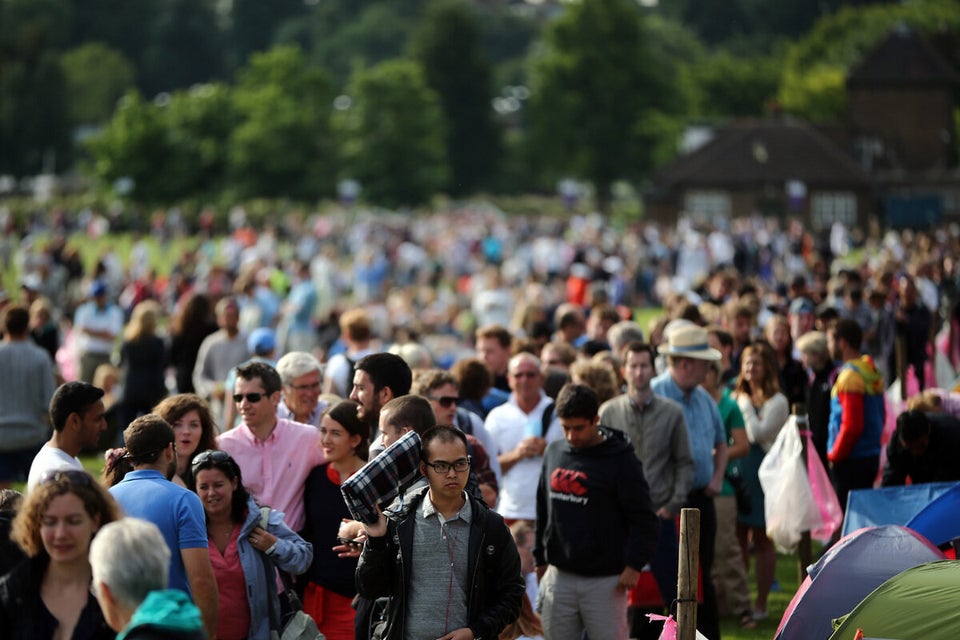 Tennis - 2014 Wimbledon Championships
After spending the last two nights in Wimbledon, she joked she was coping well "for a 58-year-old".
Ms Loader watched last year's historic final on television and said she and her friends sent text messages to each other throughout.
She is joined by her sisters-in-law Sandie Bishop, 47, also from Yateley, and Chris Allen, 57, from Cornwall.
Ms Allen said: "You're just running on adrenaline."
Birthday girl Ms Loader is looking forward to her time on Centre Court, and said: "I think it's going to be exciting from the point of view that so many people are going to be there."
Asked how he felt about having the hopes of a nation on his shoulders going into the 2014 championships, Murray said: "Wow."
But the Wimbledon champion is focused only on his own game.
"I'm here to try and win the tournament. That's it. My focus is solely on the first match, preparing properly for that," he said at a press conference yesterday.
"So I believe if I play my best tennis, I'll give myself a chance of doing well here. You know, putting myself in a position to win the tournament.
"But you can't start off slowly in these tournaments. You need to try and be on it from the first match. I'll be ready."
Popular in the Community