By presiding over two defeats and the worst England campaign at a World Cup finals since 1958, Roy Hodgson had already trod in Copacabana beach's quicksand patch. Yet even in a meaningless match against Costa Rica, he sunk further as the Three Lions ended the game with Steven Gerrard and Frank Lampard in midfield.
That's three World Cups - under three different coaches - England have sorrowfully exited with the duo in the team's spine. Hodgson had bullishly eulogised England's youngsters ahead of the soporific stalemate and "liked what I've seen around the hotel and in training over the last few days, and I'm now giving them the opportunity." Some opportunity.
The parallels with David Moyes' ill-fated reign at Manchester United are unmistakeable now. Out of his depth, Hodgson has lowered expectations to what feels like an all-time low and set mediocre standards amongst a group of players already accustomed to underachieving. He is fortunate the FA are as dithering as Moyes and seem reluctant to remove Hodgson from his Wembley office.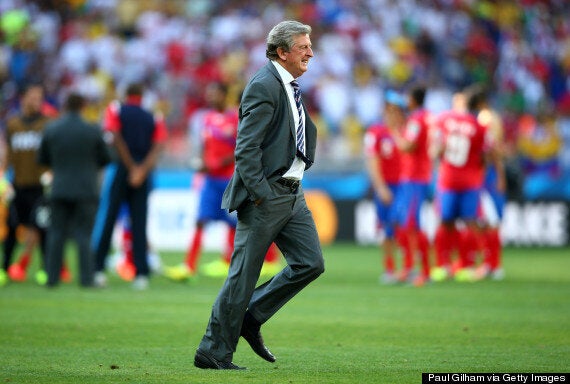 Out of his depth, Hodgson has lowered expectations to what feels like an all-time low and set mediocre standards
Gerrard and Lampard, for the betterment of England, probably played international football for the last time on Tuesday. Their exceptional club careers are not matched at national level, where they have attained over 100 caps each, played at three World Cups and three European Championships between them. However both have experienced disaster after personal disaster at tournaments, from blind back-passes to saved penalties to ghost goals to unwanted assists; the pair were just lucky to be in Brazil.
Fabio Capello is culpable for not initiating a cull in the aftermath of the 2010 finals. For a disciplinarian, he seemed bizarrely in thrall of the old guard, re-appointing John Terry as captain after adulterous accusations and mutineering in Rustenburg training camp during the joyless South Africa World Cup. It took Terry's outburst at Anton Ferdinand, interpreted as racial abuse by the Football Association, to end his international association with England but Gerrard and Lampard have limped on.
Their appearance against Costa Rica was an obvious parting gift for two decades' worth of commitment and loyalty. If a World Cup match is to be treated that frivolously then Hodgson should not have bothered with the pre-match claptrap when talking up future prospects.
The irony of Gerrard and Lampard's involvement is Hodgson had ostracised Rio Ferdinand and Ashley Cole, England's best players this century, in the process. They would have been invaluable in South America, as Hodgson's anxious defence gifted Italy and Uruguay two goals apiece, yet Ferdinand was treated amateurishly by Hodgson during qualifying while Cole was erroneously overlooked in favour of Luke Shaw.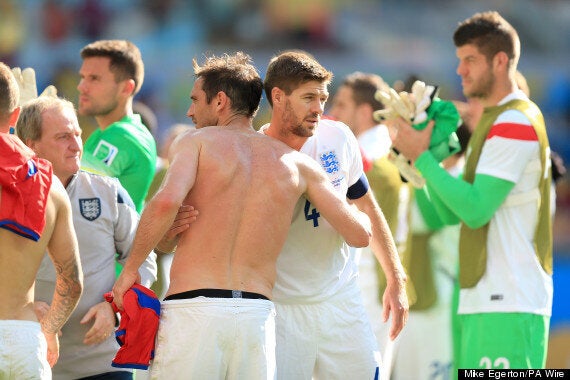 Lampard and Gerrard have experienced disaster after personal disaster at tournaments
England's bottom finish is humiliating and, irrespective of a dearth of coaching options to replace Hodgson, he should be sacked having refused to resign. Cesare Prandelli, who coached Italy to the Euro 2012 final and the Confederations Cup semi-finals, resigned immediately after the Azzurri were eliminated at the group stage. Hodgson should feel a pang of embarrassment.
The FA, wont to making an inexplicable decision, were wrong to award the former West Bromwich Albion manager a four-year contract. Numerous federations' coaches work on a tournament-by-tournament basis, and the four years Hodgson signed in 2012 was excessive. He is fortunate the Euro 2016 qualifying campaign is so simple even Scotland could qualify for France.
Hodgson stressed he would not have changed anything about England's approach. He was uncharacteristically bold (something Moyes was not renowned for at Old Trafford) by starting Raheem Sterling, yet his adventurousness also exposed his naivety despite 38 years of management. Gerrard was never going to thrive in a two-man midfield, Sir Alex Ferguson was pilloried for shafting Wayne Rooney onto the left-wing as far back as 2005 and the plan to stymie Andrea Pirlo was about as successful as psychiatrist Steve Peters' input.
Despite Italy and Uruguay's prestige, there was genuine optimism England would qualify for the knockout stages. As those two sides displayed against Costa Rica they are fading forces, yet be it tactical awareness or canny experience, England deserved to lose against both of them. Rooney made a salient observation following the Uruguay loss when he opined "you look at teams who have won the tournament over previous years and you can see that nastiness in them. I think we need to get that in us."
The mythical English decorum stipulates the players should not have cajoled Carlos Carballo to send Diego Godín off against Uruguay but England must be that streetwise in the future if they are to end a trophy drought that will stretch to half-a-century at the next Euros.
Too many England players treated the ball like a hot potato. Michael Carrick experienced a wretched season with Manchester United but would have provided a more suitable option than the pointlessly picked Lampard, selected solely for experience - of failure. Danny Welbeck is a fantastic ball retriever but that should not necessarily secure him an attacking role in the side. That was just how Moyes treated him, too.
Related