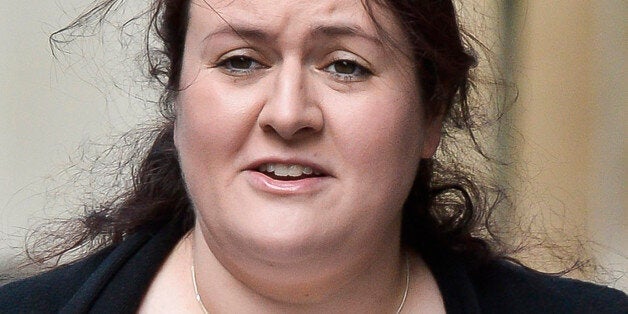 A lying law graduate who falsely accused her boyfriend of a series of rapes has been jailed for three-and-a-half years. Rhiannon Brooker, 30, falsely claimed Paul Fensome, 46, forced her to have sex with him on five occasions and faked injuries to suggest he had beaten her.
The Birmingham law graduate even alleged that Mr Fensome caused her to have a miscarriage by punching her in the stomach. Bristol Crown Court heard Brooker falsified the "wicked" allegations so she would have an excuse for failing her legal exams at the University of the West of England.
She repeatedly told tutors at the university, in Bristol, that her performance suffered from "extenuating circumstances". Mr Fensome, a 6ft 8in heavy metal fan, was arrested, charged and held in custody for 36 days before police confirmed he had clear alibis for the dates of the alleged rapes.
Brooker, of School Road, Frampton Cotterell, South Gloucestershire, signed a statement admitting the allegations were false - but later retracted it. A jury of 10 men and two women convicted Brooker of 12 charges of perverting the course of justice between May 2011 and January 2012 following an eight-week trial.
The charges related to five false claims of rape, six of assault and one of false imprisonment. Judge Julian Lambert said Brooker, who was too "distraught" to be present in court while her sentence was passed, had lied in an "utterly wicked" way. "Rhiannon Brooker was a bright star and shining example of what can be achieved by those who lack special privileges," the judge said.
"All that went terribly wrong with tragic consequences when she began to lie. These lies had a terrible, corrosive effect. The effect was like ripples spreading through a pool of sadness. The effect continues today. Rhiannon Brooker lied and lied and lied again and was relentless in her attempts to mislead."
Brooker's lies led to Mr Fensome's arrest, charge and detention in Horfield Prison, where he was subjected to abuse by fellow inmates. Judge Lambert said he had sat through "hour after hour" of video interviews in which Brooker claimed she had been raped by Mr Fensome.
"What I observed was someone of high intelligence who went to significant devious lengths to pervert the course of public justice," he said. "The conduct was utterly cynical, calculating, determined and repeated." The judge said two people suffered "dreadfully" due to Brooker's actions - Mr Fensome and Brooker's nine-month-old baby, who cannot be named for legal reasons.
"What the defendant did here was cold, calculated, sustained, repeated and under any analysis utterly wicked," he added. Prosecuting, David Bartlett said Brooker's lies could have resulted in Mr Fensome, an innocent man, receiving a substantial prison sentence.
"There can be no doubt that if Mr Fensome was convicted of five rapes, six assaults and one false imprisonment, he would have faced a very long term of imprisonment, measured in double figures," Mr Bartlett said. "Despite his good character, a sentence of life imprisonment would have been considered. Miss Brooker has shown no remorse."
Brooker submitted a statement containing the false allegations to her tutor in April 2011, with police called the following month. The law graduate repeated her lies in police interview, including in detailed video accounts given to specially trained officers. Mr Fensome spent 36 days in custody, after which he was subjected to an electronic tag and curfew and had to report to police up to six times a day.
But in January 2012, prosecutors offered no evidence against Mr Fensome as phone records and work rosters from his job as a railway signalman proved he could not have committed the attacks. Mr Fensome, who has since received £38,000 in compensation from Avon and Somerset Police and reconciled with his wife, submitted a victim impact statement to the court.
"My life has been turned upside-down and ripped apart. My family and I have been put through an immense amount of stress and heartache, which continues to the present day," he said. "If I had not been able to prove my whereabouts, I could have been locked away for something that I had not done which would have lost me my career, my home - everything I have worked so hard for."
Representing Brooker, Sarah Elliott QC, said Brooker's life had changed greatly since the birth of her baby in September last year. "The real punishment for Miss Brooker is obvious in this case - it is being separated from her nine-month-old child," Miss Elliott said. "It is not exaggeration to say that every single day in prison will be agony for her as a result of that."
Miss Elliott, describing the case as "unique and tragic", said no motive had been established for Brooker's actions. Speaking after the case, Chief Superintendent Sarah Crew, force lead for rape and sexual offences at Avon and Somerset Police, said officers were initially taken in by Brooker.
"It would be a travesty if this case were to undermine the confidence and experiences of victims," she added. "We want to assure all victims of rape, sexual assault and domestic abuse that we will listen to and support you every step of the way." James Ward, crown advocate for the Crown Prosecution Service, added: "This case was brought both to protect the integrity of genuine rape allegations and victims of rape and because of the devastating effects false allegations of sexual offending can have on genuine victims, innocent people so accused and their families."