Controversial Saudi preacher Mohammad al-Arefe, who has been banned from Britain after allegedly urging young British men to fight in the Middle East, has said he will fight his ban.
He told HuffPost UK on Thursday that he "rejected right-wing media claims" that he radicalised British Muslims during his visits to the UK.
Al-Arefe, who has visited the UK twice in the past year, was subject to an extensive campaign to ban him from the UK before he conducted his tour of mosques and fundraising dinners in June last year. But The Huffington Post UK reported at that time that the Home Office had no intention of banning the preacher, who had previously been banned from entering Switzerland.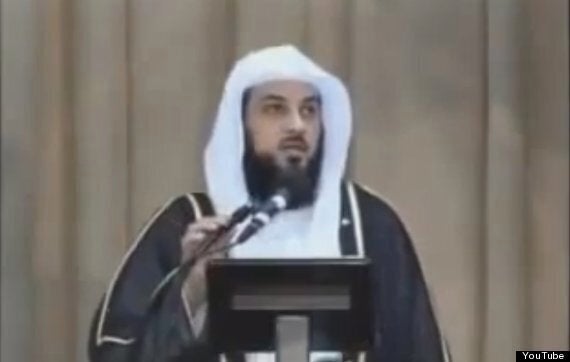 Mohammad Al-Arefe, who has been banned in the UK
The radical Sunni preacher, who is alleged to have made vocally anti-Shia statements and is accused of stirring up sectarian divisions, was able to enter Britain last year and give talks in several mosques.
Those mosques include ones attended by the three young British Muslims featured on a now infamous ISIS recruitment video, posted on YouTube, urging more to come to fight in Iraq and Syria.
"My position vis-a-is ISIS is very clear, I am vehemently opposed to the brutal methods employed by many of their fighters and condem categorically their extremism," Al-Arefe told HuffPost UK. "I have personally published a number of academic works highlighting the numerous fallacies in their pernicious and divisive ideology.
"I have had the pleasure of lecturing at a number of institutions in the United Kingdom and have never called for young British Muslims to go abroad and fight in either Iraq or Syria. To suggest otherwise is simply untrue. I will explore all legal avenues to ensure that such claims do not go unchallenged unless an official apology is issued."
"We can confirm Mohammad al-Arefe has been excluded from the United Kingdom," a Home Office spokesperson said in a statement.
"The Government makes no apologies for refusing people access to the UK if we believe they represent a threat to our society.
"Coming here is a privilege that we refuse to extend to those who seek to subvert our shared values."
Tell Mama, which montiors anti-Muslim and inter-Muslim prejudice, had written to the Home Secretary regarding Al Arefe's presence in last year, backed by anti-fascist campaigners Hope Not Hate, but received no response to their concerns.
"Al Arefe is on You Tube videos abusing the Shia and telling young men to fight in Syria," Tell Mama founder Fiyaz Mughal told HuffPost. "He did this in Cairo many months ago and then landed in the UK thereafter. His fiery rhetoric and utter disdain for the Shia means that he should not set foot on the UK.
"We do not want to import the Syrian crisis in the UK. In that way, he should join those on the list barred entry from the UK."
WHAT IS THE DIFFERENCE BETWEEN SUNNI AND SHIA MUSLIMS?

Sunni and Shia Islam are the two major denominations of Islam. Around 90% of the world's Muslims are Sunni, and that is reflected in British demographics.
Sunnis are a majority in most Muslim communities: in Saudi Arabia, South East Asia, China, South Asia, Africa, and some of the Arab world. Shia make up the majority of the population in Iran, Iraq, Lebanon, Azerbaijan, and Bahrain.
The division centres on the schism which occurred after the death of the Prophet Muhammad in 632, over who would be his successor.
The divide has influenced conflicts across the world, most recently in Pakistan, Yemen, Iraq and Bahrain. In Syria, President Assad is an Alawite Muslim, a Shia sect. But the majority of Syrians are Sunni, and the conflict there has become increasingly sectarian.
Related