Women competing at the Wimbledon Championships are having to play braless due to the All England Club's "archaic" all-white clampdown, former champion Pat Cash claims.
Players have had to cope with new rules introduced on any inclusion of colour on their playing attire, with a coloured trim of just 1cm width now permitted.
However 1987 Wimbledon champion Cash claims it has forced some of the female players to play braless and he has pulled out of the masters competition in protest.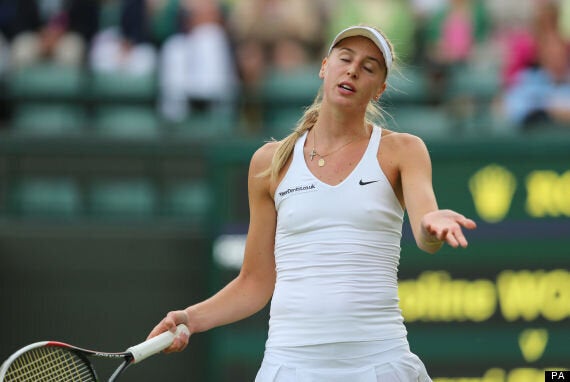 Naomi Broady did not sport a bra during her two matches at Wimbledon this week
"Some of the girls have been told to go back and change their bras and tops because they had slight colour on them," Cash said on BBC 5 Live.
"I believe some of the girls didn't have suitable sports bras and had to go without them. It has absolutely gone ridiculous. It's archaic thinking."
In a letter sent to players prior to the Championships, tournament referee Andrew Jarrett said: "Undergarments that either are or can be visible during play (including due to perspiration) must also be completely white and contain no more than 1cm of coloured trim."
An All England Club spokesman said they would not comment on the bra matter.
Britain's Naomi Broady, who lost in the second round to Caroline Wozniacki this week, did not sport a bra during her two matches.
Popular in the Community