After 48 matches the World Cup group stage is over and on the first day of the finals when there is no football to sate your appetite, here is a Twitter recap of the finals' first two weeks...
1. There have been more than 300 million Tweets related to the #WorldCup since group play began.
Whether cheering after a big goal, predicting the outcome of the next match, or chewing on the latest controversy, fans came to Twitter to discuss the World Cup — more than 300 million times so far.
Just over two weeks into the #WorldCup and the tournament is already becoming one of the most talked about events on Twitter of all time. To give you a sense of scale for this volume of Tweets, sent over a 15-day period: we saw more than 150 million Tweets about the 2012 Summer Olympics in London over 16 days.
2. The Brazil vs. Croatia match drove the most Twitter conversation.
The opening match between host country Brazil (@CBF_Futebol) and Croatia (@HNS_CFF) saw the most Twitter conversation during a match in real-time thus far with over 12.2 million Tweets. Here are the top five most-tweeted matches during group play:
3. Marcelo (@12MarceloV) scoring his team's own goal in the opening match was the most-tweeted moment.
Three of the top five most-tweeted moments occurred during Brazil's opening match vs. Croatia on June 12. Here are the top five plays that generated the biggest peaks of Twitter conversation, measured in Tweets per minute (TPM), during the group stage:
Brazil's Marcelo (@12MarceloV) scored on team's own goal during the June 12 match vs. Croatia: 378,085 TPM
Clint Dempsey (@clint_dempsey) goal against Portugal on June 22 that put USA up 2-1: 304,603 TPM
Brazil's Neymar (@neymarjr) first goal in the June 12 match vs. Croatia: 280,265 TPM
Portugal's Pepe (@officialpepe) receives a red card for a head-butt on Germany's Thomas Müller (esmuellert_) and is ejected from the June 16 match: 261,026 TPM
Brazil's Oscar (@oscar11) goal in the June 12 match vs. Croatia: 256,953 TPM
4. Argentina's Lionel Messi is the most-mentioned player.
Argentina's Lionel Messi and Brazil's Neymar Jr. (@neymarjr), who have both scored four goals in group play, are the most mentioned #WorldCup players so far on Twitter. And thanks to the infamous biting incident, Uruguay's Luis Suárez, is the third most-mentioned player on Twitter during the #WorldCup group stage.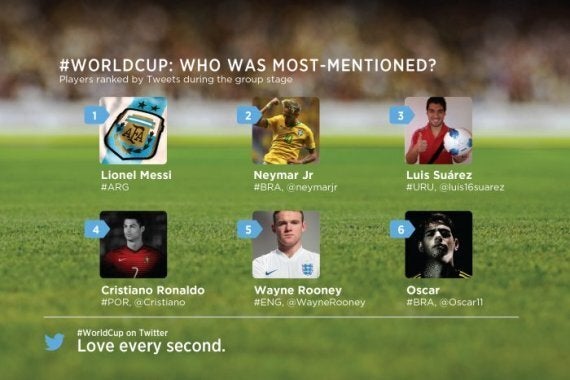 Italy striker Mario Balotelli (@FinallyMario) tweeted about the fact that England's fate could be determined by Italy against Costa Rica. With over 177,000 Retweets, it's the most shared Tweet of the World Cup. Balotelli's cheeky Tweet resonated around the world — it has been viewed over 17 million times, as illustrated in this chart:
Fans around the world have been adding color to #WorldCup Tweets using hashflags to cheer on their team. So we tallied up all of the Tweets with hashflags since the games began on June 12 to predict who would win the tournament in the World Cup of Tweets: