Shia LaBeouf reportedly chased a homeless man around Times Square, shortly before he was arrested for "disorderly conduct" during a performance of 'Cabaret' in New York.
The star was allegedly seen yelling at the homeless man and demanding that he hand over what appeared to be McDonald's bag, just hours before he was seen being led out of the Studio 54 theatre in handcuffs.
Shia in a ripped t-shirt at a police station following his arrest
A bystander, who claims to have seen the actor "dodging pedestrians" in Times Square to catch up with the homeless man, told the New York Post: "At first I thought the bum had stolen something from him. But the bum was responding in almost a joking manner."
Another witness added: "He really wanted whatever was in that bag. He had so much focus … If there were French fries in the bag, maybe he really wanted to eat them.
"He was dodging people and yelling, 'Yo, come on!' … He was on a mission. It was so bizarre."
The newspaper claims that Shia then headed to the Studio 54 theatre, where he sat through the first half of 'Cabaret' but just couldn't seem to keep his mouth shut, to the annoyance of those around him.
A fellow audience member said: "Shia was being lewd, grunting and yelling in a lascivious way, 'Oh yeaaaaaaaaaaah.' It was really odd and creepy."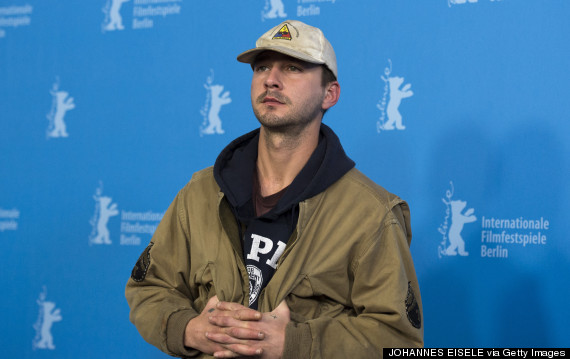 Shia LeBeouf
The actor was reportedly then seen smoking a joint and even falling out of his chair during the star of the show Michelle Williams' solo, prompting security to call the police and have him removed.
The New York Post reports that the actor was then held in custody, where he attempted to spit at police officers and yelled "f*** you", "do you know who the f*** I am?" and even allegedly came up with an impromptu rap on the spot about how he wanted to be freed.
Well you've got to channel your frustration somehow, haven't you?
This isn't the first time that Shia's erratic behaviour has made the headlines, as earlier this year he arrived at the premiere of his film 'Nymphomaniac' sporting a bag over his head with the message "I am not famous anymore" scrawled on it.
This followed a scandal where it was alleged he had plagiarised someone else's work for a short film that he had produced.
href="http://www.facebook.com/HuffPostUKEnt"target="_hplink">LIKE US ON FACEBOOK

| FOLLOW US ON TWITTER