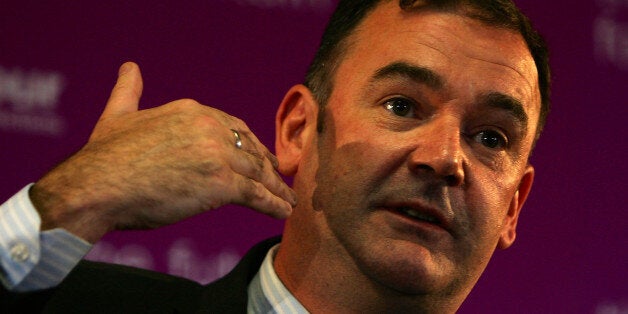 The five things you need to know on Sunday 29 June 2014...
1) CRUDDAS BLASTS TEAM ED'S 'DEAD HAND'
On Thursday, Ed Miliband told me that Labour was "united" behind him and his leadership. Perhaps he should have had a word with his party's policy chief, Jon Cruddas, beforehand. From the Sunday Times splash:
"Ed Miliband's policy chief has launched a coded attack on the Labour leader for creating 'cynical' policies designed only to 'chime with focus groups'. Jon Cruddas accused Miliband's inner circle of wielding a 'profound dead hand at the centre' to stop the party adopting bold policies. He attacked Labour's plans to cut jobseeker's allowance from those aged 18 to 21 unless they undergo training as 'punitive' and suggested welfare cuts had been adopted only to placate the media and floating voters. At a meeting of the left-wing pressure group Compass last weekend, Cruddas complained that plans drawn up by Labour's policy working groups had been 'parked' by the leadership and replaced with 'cynical nuggets of policy to chime with our focus groups and press strategy'... A tape of Cruddas's comments has been passed to The Sunday Times."
It was always a risk bringing Cruddas into the top team, given his famed inability to tolerate bullshit and his no-nonsense, blunt approach to political debate.
And what's the lesson for MPs of all political stripes? There's no such thing as a 100% off-the-record briefing. You're always being recorded. Your opponents are everywhere.
Ironically, Miliband has a shiny new policy announcement in, of all papers, the Sunday Times:
"In an article for The Sunday Times, Miliband outlines plans to spend £30bn on developing infrastructure and skills in cities outside London during Labour's first term in office. The cash would be funnelled from central government to local enterprise partnerships, which are part-run by local businessmen. Labour says it would bethe biggest transfer of power away from Whitehall for a century and treble the sum made available by the coalition government...The plans have been drawn up by Lord Adonis, the Labour peer whose report Miliband will launch in Leeds on Tuesday."
2) NIGE BLASTS DAVE ON EUROPE
The Labour leader isn't the only leader coming under fire from colleagues today. Ed Miliband may have a 'dead hand', according to Jon Cruddas, but David Cameron has no 'negotiating hand' according to Lord Lawson. From the Independent on Sunday:
"David Cameron's woes over Europe deepened last night after a senior member of Margaret Thatcher's Cabinet said the current Prime Minister had thrown away his entire negotiating hand in Brussels. Former chancellor Nigel Lawson, in an interview with The Independent on Sunday, said Mr Cameron should have threatened to campaign for Britain to leave the EU as a way of strengthening his negotiating position with fellow European leaders. Instead, the Prime Minister had 'made it quite clear that he doesn't want to exit … so he has no negotiating hand to speak of', Lord Lawson said. The withering criticism will add to the pressure on Mr Cameron following the election of Jean-Claude Juncker, an arch-federalist opposed only by Britain and Hungary, as European Commission president by an overwhelming majority of European leaders in Brussels on Friday."
The new anti-Isis alliance consists of Iraq, Iran, Syria and the United States. Astonishing, eh? From the Observer:
"The stunning sweep made by the Isis insurgents through eastern Syria and northern Iraq has rattled the region over the past three weeks, shattering alliances and forging new ones as quickly as Iraq's northern cities have fallen. In its wake, the battle lines for the inevitable showdown with Isis are becoming ever clearer, rewriting the distinction between friend and foe, and even how wars in Iraq are fought."
The report quotes a senior Iraqi political figure as saying: "Old enemies are now sharing intelligence. Even the Iranians are seeing some of the CIA work on Da'ash [a name used for Isis]."
Meanwhile, speaking on the Andrew Marr show, foreign secretary William Hague said western support for the Iraqi government would depend on the latter adopting a new, inclusive, non-sectarian approach to running the country. "We do have to stress their responsibility for this," Hague told Marr, adding it would not be ""wise" for the British to be involved in any military intervention inside the country.
BECAUSE YOU'VE READ THIS FAR...
Watch this video of a baby goat using a rather patient horse as a climbing frame. You know you want to.
There are plenty of pundits in the papers, and politicians in parliament, questioning whether or not it was right to spend up to £100m of taxpayers' money bringing Rebekah Brooks to trial. The former News International boss was cleared on all phone hacking charges earlier this week. But, speaking on the Andrew Marr show on BBC1 this morning, the former director of public prosecutions, Keir Starmer, defended the decision to prosecute Brooks.
"What's been exposed is hacking at a high level, widespread hacking, and the question was who knew about it, and some of those questions have been answered by this trial... Has anything really changed? The answer to that is yes. Before this trial...there was a feeling that journalists were above the law; I don't think there is that feeling anymore... So far as Rebekah Brooks is concerned, the judge determined on a number of occasions that there was a case to answer, so it was a perfectly good case to bring."
Speaking on the Marr show this morning, William Hague distanced himself from the Tories' decision to hire Andy Coulson as the party's communications chief. It was, of course, George Osborne who pushed for the hiring of the latter by David Cameron.
5) A VERY POLITICAL PRINCE
Former New Labour spin doctor Lance Price once said Rupert Murdoch "seemed like the 24th member of [Tony Blair's] cabinet". Maybe Prince Charles was the 25th. From the BBC:
"The Prince of Wales tried to persuade Tony Blair's government to expand grammar schools, former education secretary David Blunkett has said. In a BBC Radio 4 documentary examining the constitutional role of the prince, Mr Blunkett said Prince Charles 'didn't like' it when his request was refused. He discussed complementary medicine and climate with other Labour ministers... Former environment minister Michael Meacher recalled that he and the Prince 'would consort together quietly' to affect policy on climate change and genetically modified crops. He said they worked together 'to try and ensure that we increased our influence within government'."
From the Sunday Times/YouGov poll:
That would give Labour a majority of 18.
Andrew Rawnsley, writing in the Observer, says: "Cameron was right about Juncker. Which makes his defeat more dire."
Matthew D'Ancona, writing in the Sunday Telegraph, says: "The power of friendship is what did for Andy Coulson."
Patrick Cockburn, writing in the Independent on Sunday, says: "John Kerry's search for moderates is five years late."
And, in case you missed it on Friday, here's my in-depth interview with Ed Miliband on his leadership, phone hacking, Iraq and the England football team.
Got something you want to share? Please send any stories/tips/quotes/pix/plugs/gossip to Mehdi Hasan (mehdi.hasan@huffingtonpost.com), Ned Simons (ned.simons@huffingtonpost.com) or Asa Bennett (asa.bennett@huffingtonpost.com). You can also follow us on Twitter: @mehdirhasan, @nedsimons, @asabenn and @huffpostukpol
Popular in the Community