Two American tourists will got on trial in North Korea for "perpetuating hostile acts", one for leaving a bible in his hotel room.
The state news agency KCNA said Jeffrey Edward Fowle and Matthew Todd Miller had given testimony that confirmed the authorities' suspicions about the pair.
"The relevant organ... is carrying on the investigation into them and making preparations for bringing them to court on the basis of the already confirmed charges," it said.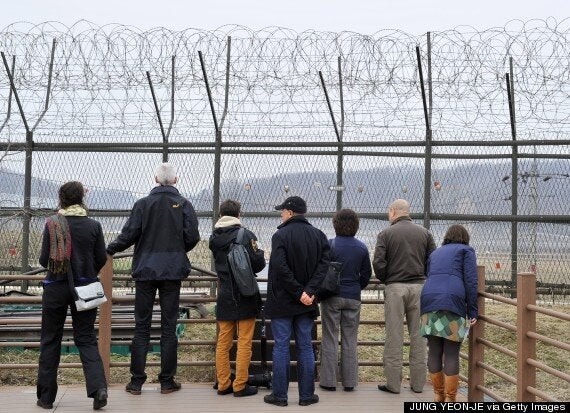 Visitors look toward the north side over a military fence at Imjingak peace park near the demilitarized zone (DMZ) dividing the two Koreas
Fowle, an Ohio father-of-three whose family say he was on an adventure holiday, was arrested in April after he reportedly left a bible in a hotel room.
Miller, 24, was arrested that same month after he apparently ripped up his visa at immigration and demanded asylum in North Korea.
Separately North Korea is also holding Kenneth Bae, a Korean-American missionary sentenced to 15 years of hard labor on charges of trying to overthrow the government.
A 75-year-old Australian, John Short, was also detained for a fortnight earlier this year for distributing missionary material in the capital Pyongyang. He was deported after he signed a "confession".
Last October, another 85-year-old Korean war veteran Merrill Newman was arrested in October and held for over a month for "killing North Korean soldiers and citizens when he served in the army". He made a video confession and was released, and later said he had been warned he could face 15 years in jail for spying if he did not cooperate.