Judy Murray has warned there are not enough young girls playing tennis as she launches a new grassroots programme, Miss Hits, to inspire female participation from an early age.
Judy is captain of Britain's Fed Cup side - the international team competition for women tennis stars - and fears the UK's grassroots set-up needs addressing.
Judy, who has been watching her son Andy Murray's progress at Wimbledon, said: "I loved all sports when I was young, I wanted my kids to enjoy sport so I was always playing actively with them, whatever they wanted to play."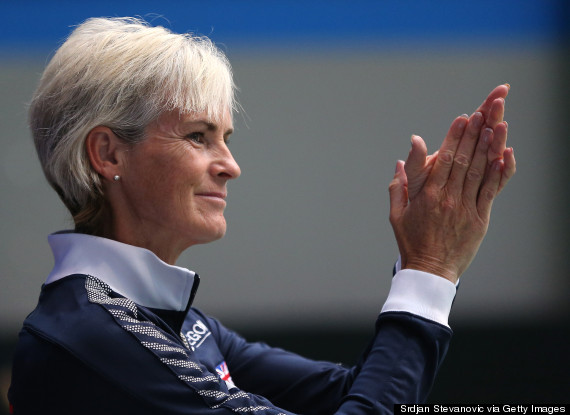 She adds: "But it's not every parent that does that with their kids anymore. It's much easier to hand them a DVD or a CD or something and sit and watch that.
"I think parents generally have less time - maybe more money and less time - so they are paying people to look after their kids and do the activity with them, rather than doing it themselves."
She went on: "The things that are trendy for kids to play with nowadays tend to be sedentary things, you sit and twiddle your thumbs or you watch something on a wide screen and that is just a fact of life."
Judy was speaking at the launch of a programme she has designed to encourage girls aged five to eight years old to play tennis.
The Miss Hits scheme uses sponge balls and plastic bats to make the sport more fun and easier to pick up, compared to the current set-up which is "too serious too soon".
SEE ALSO:

From Billie Jean King To Maria Sharapova, Why We Love Women In Tennis
Judy also called for more female coaches, and praised her son's decision to hire former Wimbledon champion Amelie Mauresmo.
"It certainly raised awareness and became a huge talking point," she said. "It definitely shows that if you have the skills, the knowledge and there is a personality fit, there is absolutely no reason why women can't coach at the top end of any sport."
She added: "A lot of the coaches we have at entry level are young guys, they have no children of their own, no experience of it. Little boys are a whole lot easier."
When Judy was asked if the Miss Hits programme was her legacy to British tennis, she joked: "It's one of them, (I) think there has been a few."
The scheme will be launched in London, Edinburgh, Newcastle and Bristol this autumn before being expanded next year.
Here are some of the fiercest female tennis players on the court (past and present) and why we love them.