It is estimated that there were 12.9 million incidents of domestic violence acts against women in the UK in 2013, and one project is aiming to throw the disturbing realities of the crime into the spotlight - all by using our favourite cartoon characters.
No Violence Against Women is a project by Italian artist and activist Alexsandro Palombo.
Alexsandro, who is based in Milan, uses characters from the Simpsons, Snow White, the Flintstones and Wonder Woman to highlight the plight some women go through while presenting the facade of a happy family life to the outside world.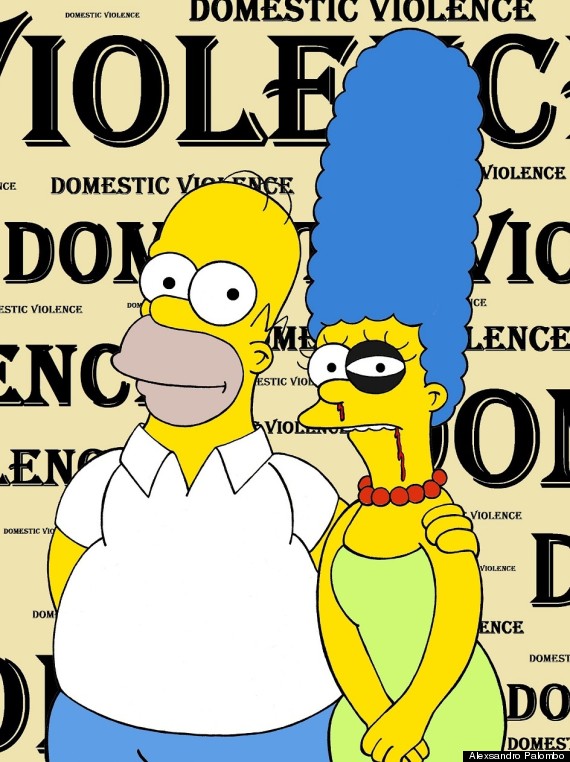 "I wanted to give visibility to a problem that affects a great amount of women all over the world," Alexsandro told the MailOnline.
"Domestic violence is a problem so widespread that its victims and perpetrators could be anyone. Even in couples that appear to be normal."
The disturbing images show some of the world's most well-known female cartoons bloodied and battered as they stand with their male counterparts.
The images are hard to look at, highlighting that we shouldn't be ignoring the millions of incidences of domestic violence that happen around the world each year.
An image of all the characters together bears the stark question: 'What Kind of Man are You?' while the rest of the images speak for themselves.

This is not the first time that cartoon characters have been used by the provocative artist.
After he lost his own leg two years ago, Alexandro published a project entitled 'Do You Still Like Us?' which invited debate about the ways that people with disabilities are treated.
SEE ALSO:

ManKind's Domestic Violence Video Shows The Double Standards Between Male And Female Victims

Norwegian Domestic Violence Awareness Campaign Exposes Truth Behind 'Happily Ever After'