Ghouls are trying to cash in on Rolf Harris' convictions for sex offences by snapping up his paintings at all-time-low prices in the hope they later rocket in value, experts have claimed.
Harris, 84, will be sentenced on Friday after he was found guilty of 12 counts of indecent assault for sexually abusing four girls aged between seven to 19.
Since his conviction, his art work has plummeted in value with some of his most famous pieces losing up to 90 per cent of what they were previously projected to sell for.
Antiques expert and auctioneer Mark Stacey told the Radio Times: "We all grew up with him, didn't we? It wasn't unheard of for a good Rolf Harris painting to make £20-£30,000 or more.
"My personal feeling is that for the foreseeable future you would be lucky if you got 10% of that now."
But it has emerged ghoulish investors in the art world have spotted an opportunity to profit from the case.
Nigel Robertson, who runs Bluestone Art in Lincoln, has a now almost worthless collection of signed Harris pieces and says competitors are trying to take advantage of this.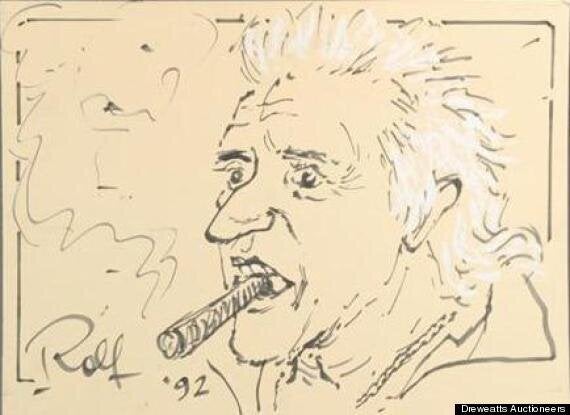 'A little bit here...' Rolf Harris' portrait of Jimmy Savile that sold for £4,500 and is, presumably, also worthless
He said: "Since Rolf Harris was charged, there have been several calls to the gallery from collectors looking to pick up his art.
"It's the same as the stock market. People take a punt. Quite a lot of people have been buying at reduced prices from me and others.
"I have heard the same story from other galleries across the country."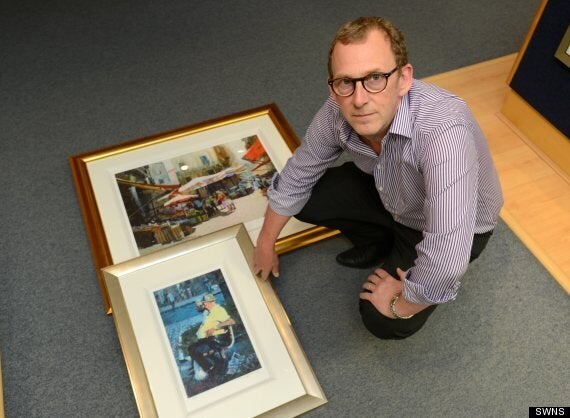 'It's the same as the stock market. People take a punt'. Dealer Nigel Robertson with 'valueless' Rolf art
Mr Robertson, who is now planning to destroy the Harris art work, admitted at the moment the pieces were "virtually valueless."
He added: "I think they will be destroyed. We have five pieces left. It's our stock, so it's a loss to us.
"It's a very sad situation. A lot of artists do lead wild lives – drugs, sex and rock and roll.
"But socially there's a line that can't be crossed and I think Rolf Harris has crossed that line.
He added: "I don't think there's a separation between the art and the man.
"He was a genius. He was a fantastic artist. His originals sold for in excess of £100,000.
"They were very collectible and reached very high prices compared with the original price on the market, but these convictions render them pretty much valueless."
Meanwhile, Harris is reported to be putting his affairs in order ahead of being sentenced tomorrow, when he is likely to be sent to prison.
Harris was pictured being escorted from his riverside family home on Wednesday by people believed to be his legal advisors, the Daily Mirror reported.
His wife Alwen and daughter Bindi are believed to be spending time with him at the family home ahead of his sentencing.
Harris' estate is valued at around £11 million, though it is under threat from the prospect of compensation claims of his victims, the Daily Telegraph reported.