Nico Rosberg has vowed to wreck Lewis Hamilton's bid for home glory this weekend and further extend his advantage in the Formula One world title fight.
Rosberg heads into Sunday's British Grand Prix with a 29-point lead over Hamilton after a three-race burst that has sapped the momentum from the Briton who had earlier won four in succession.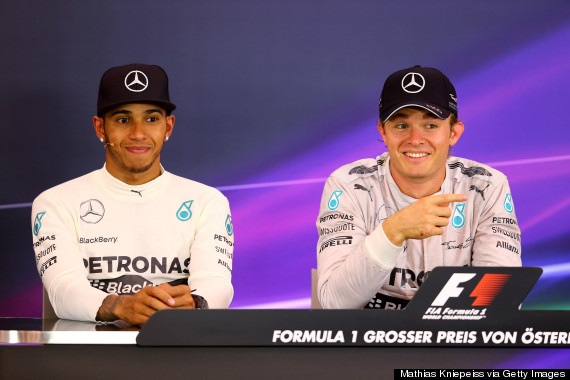 Rosberg had had the upper had on Hamilton for the last three races
Hamilton is in need of a morale-boosting triumph at Silverstone to reignite his championship challenge after finishing runner-up to his Mercedes team-mate in two of the last three races, sandwiched by a retirement.
Rosberg, though, has other ideas, and is looking to post back-to-back wins at the track following his success last year when the race was overshadowed by a number of tyre blowouts, including to Hamilton.
The 29-year-old German has even gone so far as to wind up Hamilton by insisting it is not his home race and instead is more relevant to the team based at Brackley just eight miles away.
"For sure the momentum has been on my side now and I need to try to make the most of it because it comes and goes," said Rosberg.
Story continues after slideshow
"I need to try to prolong it and keep it going. Recently I've had a better rhythm and got the results. More things have gone right than wrong.
"At the same time, I don't really see it as Lewis' home race here. I see it more as our home race, as a team.
"I want to do the best job possible because I know it can be a great gift to all my colleagues working in the factories, their families, kids, everything if I can win here like last year.
"So that's what I'm here to do, and of course, I'm trying to beat Lewis like everywhere else."
From Hamilton's perspective, he is aware British eyes are on him to provide some relief in what has so far been a disappointing summer of sport.
Andy Murray's exit from Wimbledon this week was the latest cruel blow for British fans who had likely been fuelled with high hopes of glory come the start of the warmer months.
But in recent weeks England have lost in rugby union to New Zealand, cricket to Sri Lanka, while obviously there was the demise of Roy Hodgson's troops in the World Cup.
SEE ALSO:
It means many eyes will now be on Hamilton to lift the country out of the sporting doldrums.
Appreciating the pressure on his shoulders from a highly-expectant public, Hamilton added: "We are going to do our utmost to try to represent and perform for the country.
"You never know how the weekend's going to go, you never know how people have developed, improved.
"But of course, with Mercedes as a leading team, hopefully we'll have a good shot this weekend.
"I'll do everything I can to bring at least a little bit of joy and add to the great success that some of the top athletes have."