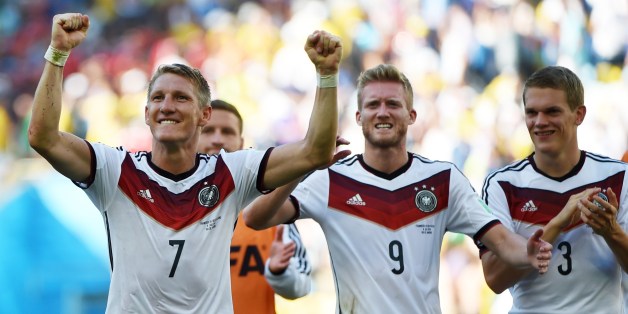 PATRIK STOLLARZ via Getty Images
A first-half Mats Hummels header decided France and Germany's mundane quarter-final as Die Mannschaft reached the last four stage of the World Cup for the fourth successive time.
Here are five talking points...
EFFICIENCY IS BACK
When asked why Germany laboured to victory against Algeria, Per Mertesacker shot back: "What do you want? Shall we play pretty and get kicked out in the semis again?" Four years on from eviscerating Argentina 4-0 in the last eight, Germany, for all their array of attackers and aesthetic defenders, were mostly efficient against France. There was little resistance from the French and Germany were canny enough not to expend energy, despite some profligate finishing and a brief scare when Manuel Neuer palmed away a late Karim Benzema shot.
Bastian Schweinsteiger and Sami Khedira were watertight and, on occasion, cynical, when protecting their defence, Mats Hummels was man of the match and Thomas Müller was indefatigable. Germany began this tournament flamboyantly with a 4-0 win against Portugal, however the ease with which Ghana startled them a fortnight ago looks to have compelled Joachim Löw to adopt a more pragmatic approach. It was appropriate Hummels' winning goal came via a set-piece.
FRANCE MEANDER TO DEFEAT
Didier Deschamps will argue he had three forwards on the pitch at the final whistle although France were so impotent at times it seemed like they were leading, rather than losing. This was the first time they trailed in Brazil and they never looked capable of engineering a comeback, despite the play-off recovery they enjoyed against Ukraine in November. Deschamps' side looked disjointed when Loïc Rémy was thrown on and the introduction of Olivier Giroud only exacerbated the sense of misdirection, especially when the man he replaced, Mathieu Valbuena, was one of the more productive forwards. How misleading the stats are that Neuer made more saves than Hugo Lloris.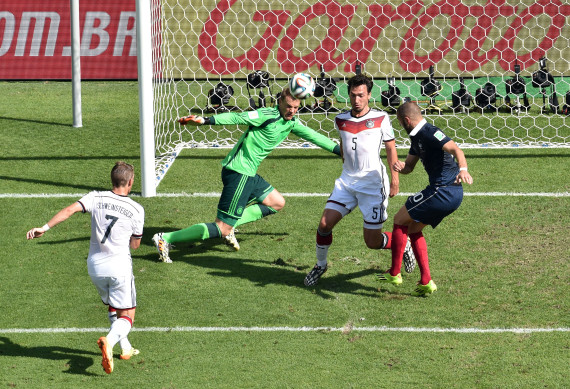 Hummels denies Benzema in the first-half
HUMMELS PROVES VALUE
Philipp Lahm's switch to right-back dominated the team news chit-chat but Mats Hummels' return was undeniably more important to Germany's victory. Aside from his match-winning goal, he was impregnable in defence and twice blocked goalbound Benzema attempts as Jérôme Boateng was caught napping. Boateng actually performed better and that was primarily thanks to Hummels' presence. Serene on the ball, few centre-backs rival his reading of the game and he is one of a handful of defenders who can be regarded as world-class.