A woman who was filmed racially abusing passengers on a train in Sydney has been arrested.
Sue Wilkins was recorded calling an Asian woman a "g**k", mimicking her accent, and pulling her eyes back as she jeered her for coming to "our country".
Footage of the incident was uploaded to YouTube and had been viewed more than 100,000 times at time of press.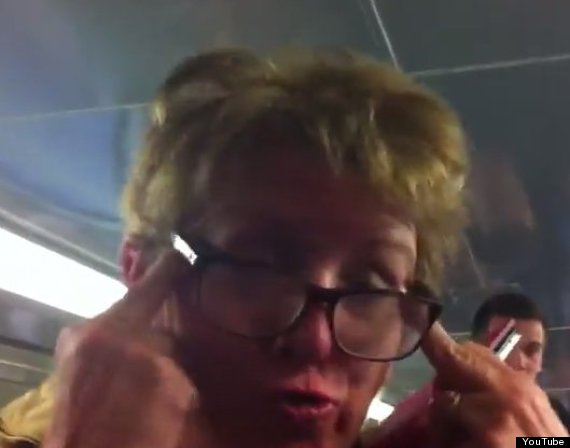 Sue Wilkins was recorded pulling her eyes back and mimicking an Asian woman
ABC News reports Wilkins was arrested on the New South Wales Central Coast on Thursday.
Assistant Police Commissioner Mitchell described the incident as "totally abhorrent".
Wilkins will face a Sydney court next month, the news channel writes, where she could face a $500 fine if she is found guilty of offensive behaviour.
In the footage, Wilkins at first expresses her anger that a group of children on the train did not give their seats up for her.
She then turns her fury onto adult passengers, fixating on an Asian woman and hissing at the man standing next to her: "Oh, look at this bogan here, he's got a g**k. Oh look at it, isn't it sad that he can't get a regular girlfriend, he's got to get an Asian? And she probably thinks he's rich."
SEE ALSO 'The G**ks Of Hazzard': Is Skateboard Company 'Profiting From Racism' Or Is Asian Slur Simply 'Tasteless'?
On Thursday Wilkins publicly apologised to her victim.
Speaking to Ninemsn, she said there was no excuse for her outburst and that she was embarrassed about the footage.
The 55-year-old said: "It's not nice what I did to that lady.
"It wasn't nice to say that to her because it's not nice when people say that to me… call me white trash and fatso.
"I know how it hurts and I shouldn't be saying it to other people."
Unemployed Wilkins said she had been upset about being scammed out of $100,000 by a Dutch man she met on a dating website and was tired after spending the day searching for a job.
She added: "I had a rotten day, I've been chasing work for quite some time now. It's awful what I said to that woman, I do agree."