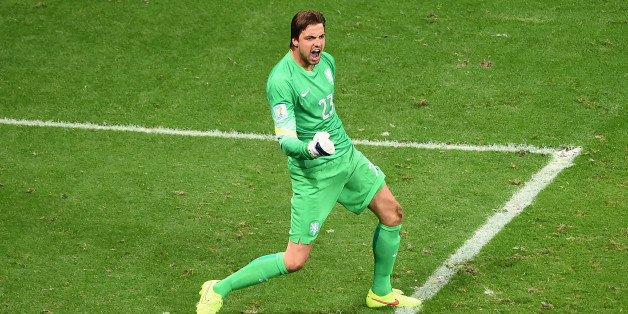 Laurence Griffiths via Getty Images
Louis van Gaal literally showed his Bayern Munich players he had the balls to make big decisions and he did it again when Holland goalkeeper Jasper Cillessen was substituted for Tim Krul ahead of their World Cup quarter-final penalty shootout with Costa Rica.
Holland's record from 12 yards is almost as wretched as England's. Although they won their last shootout against Sweden in 2004, the Dutch were eliminated from Euros '92, '96 and 2000 on penalties and were also ejected by Brazil on penalties in the 1998 World Cup.
Krul, though, saved two Costa Rican spot-kicks and Robin van Persie, Arjen Robben, Wesley Sneijder and Dirk Kuyt all scored to give Oranje a 4-2 shootout victory and set up a semi-final with Argentina. Krul was so prepared he was warming up 20 minutes into extra-time.
"Frans Hoek, the goalkeeping coach, came to me and said: 'If we have a sub left there's a chance you'll have to come in,'" Krul said. "And then it happened.
"We had looked at them, but we didn't learn anything. The power was standing still and then going in. Me and Frans Hoek worked on it.
Van Persie added: "This was thought of by the manager. We knew Tim was very good at stopping penalties. I thought it was great he was brought in."
Van Gaal is one of the few coaches who have been brave enough to send on a goalkeeping penalty specialist. Invariably, outfield players are brought on and the only kick they get is from the penalty spot, but it is difficult to think of as high-profile a switch as the one Van Gaal made in Salvador on Saturday night.
Cillessen reacted encouragingly to the substitution, although he must have felt a pang of humiliation. Moments before his 121st minute withdrawal, he thwarted Marcos Ureña and wasn't aware what Van Gaal had planned.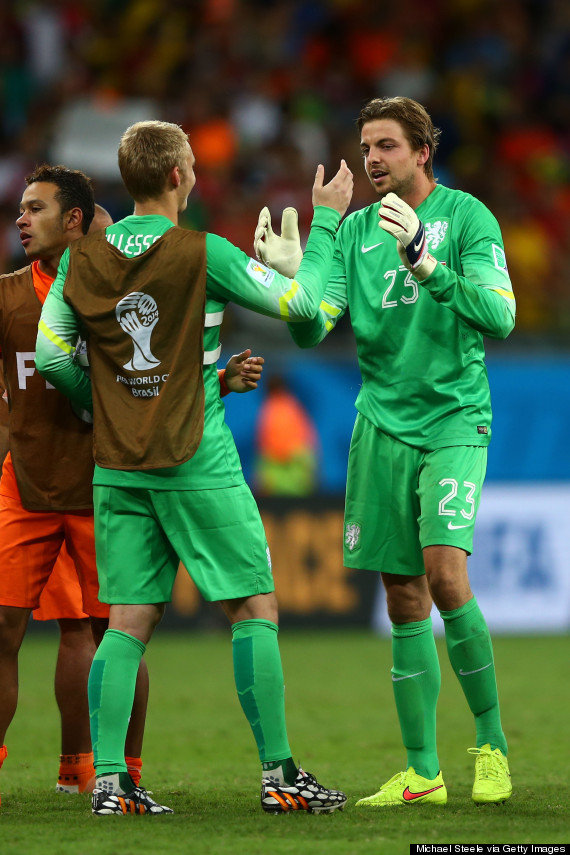 Cillessen was quick to congratulate Krul after his penalty shootout heroics
"There is no question about who will start next game, it will be Cillessen," Van Gaal clarified after the match. "But we felt Krul was the better choice here
"We told Krul that he would be a possibility for the penalties, but we didn't tell Cillessen, as we didn't want to ruin his preparation.
"We have practiced penalties, I believe when you're used to a certain shot you'll be more comfortable taking that shot.
Sir Alex Ferguson instructed Tim Howard to warm-up with penalties looming in the 2005 FA Cup final with Arsenal but ultimately stuck with Roy Carroll and the Ulsterman was beaten five times.
Van Gaal's intervention highlighted not just his bravery, which has never been doubted, but his decisiveness. The drinks breaks against Mexico in the previous round masqueraded as tactical time-outs and Holland benefitted from his salient management again.