A British pub has toasted the Tour de France coming to town by pouring the world's largest ever glass of beer at 3,664 pints - one for each kilometre of the race. The Fleece Countryside Inn in Ripponden, Yorkshire, smashed the previous record of 2,638, which was achieved in California in 2009.
Organisers had to climb up scaffolding to top the enormous vessel with the locally-brewed Stod Fold's Gold ale as thousands of spectators watched.
And they managed to fill it to the brim with time to spare before racers came through Ripponden for the second stage of the Tour.
Angus Wood, co-founder of Stod Fold Brewing Company which produces the pale ale and masterminded the world record bid, said: "We thought it would be a great way to toast the success of the Tour de France's Yorkshire leg.
"We are so pleased we beat the record. The race has been fantastic and we managed to fill the giant glass to the top before the Tour rode passed the pub.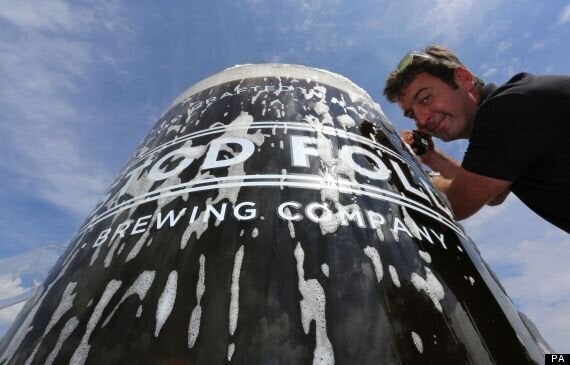 Angus Wood with his glorious creation
"I'm sure some of those cyclists would have been thinking a nice pint will go down a treat, but they had their heads down and were pedalling fast.
"I imagine they will have to wait another three weeks before they can enjoy a drink."
Thirsty cycling fans reaped the benefits as the ale was re-used by a catering company who sold it at the roadside where the race was snaking through the town.
Eric Johnson held the previous world record for the largest glass of beer at 2,638 pints, which was achieved in California in 2009.