British doctors have been warned to look out for symptoms of the deadly Ebola virus, now sweeping through West Africa.
British health officials have been sent to Liberia, Sierra Leone and Guinea, and memorandums to port authorities in Britain have warned officials to look out for symptoms from those returning from visiting relatives.
"Travellers returning from tropical countries should always seek rapid medical attention if they develop flu-like symptoms (such as fever, headache, diarrhoea or general malaise) within three weeks after return, and be reminded to mention to their health care provider that they have recently travelled," the NHS official advice states. Public Health England has also issued detailed advice to health workers from aid organisations travelling to help treat the afflicted.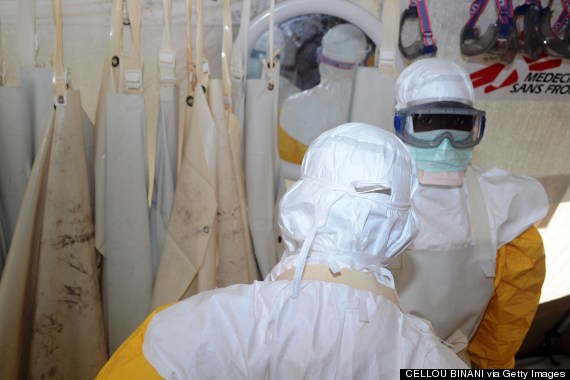 Doctors Without Borders (MSF) wearing protective gear at the isolation ward of the Donka Hospital in Conakry, where people infected with the Ebola virus are being treated
Glasgow organisers of the 2014 Commonwealth Games have said that they do not suspect that they will need to quarantine any teams.
A joint statement issued by NHS Greater Glasgow and Clyde, Health Protection Scotland and Glasgow 2014 said: "Based on current advice from the World Health Organisation, we estimate that the risk to the delegates from Sierra Leone is extremely low.
"Nevertheless, we are monitoring the situation on a daily basis and communicating with international colleagues to ensure we are up to date with all appropriate and available information so that we can assess and communicate any change in risk.
"Members of the Sierra Leone 2014 team will not be treated any differently from those arriving from other countries.
"Human-to-human transmission of the Ebola virus is primarily associated with direct or indirect contact with blood and body fluids of infected individuals.
"Standard precautions will be applied in dealing with all clients and patients attending Commonwealth Games medical venues during games time."
Ebola is one of the world's most deadly diseases, highly infectious and likely to kill 90% of those who catch it. Victims suffer high temperature, vomiting and diarrhoea, followed by internal bleeding and multiple organ failure.
Described as "out of control" by Dr Bart Janssens, director of operations for MSF, the current epidemic is already the worst in history, with 467 people dead and almost 300 other suspected or confirmed cases.
And no cure exists. Health workers that are able to treat victims can only attempt to keep the victims comfortable and their temperatures down - and they must dress from head-to-toe in protective suits.
Ebola Outbreak Provokes Shift in Attitudes Towards Health Care and Burial Rituals in Sierra Leone

In Terms of Numbers Affected and Geographic Region, This Is the Worst Ebola Outbreak Ever

Ebola Panic Spreads In West Africa As Locals Accuse Aid Workers Of Spreading Deadly Virus
Prof Dilys Morgan, from Public Health England, told Metro: 'Because the incubation period is up to 21 days there's a slight risk that cases may turn up in the UK but that risk is very low.'
Jeremy Farrar of biomedical research charity the Welcome Trust said last week that radical action was now needed to stop the outbreak becoming a full blown epidemic. "We have more than 450 deaths so far - and not a single individual has been offered anything beyond tepid sponging and 'we'll bury you nicely,'" Farrar told Reuters. "It's just unacceptable."
"There are candidate vaccines out there, and candidate drugs, and whilst I absolutely agree that the most important things are infection control and making sure people can't pass it on, ultimately you do have to move these things out and start offering them to people," Farrar said.