Three suspects in the murder of a Palestinian teen burned to death in a suspected revenge attack have apprently confessed to killing Mohammad Abu Khdeir and dumping his body in a forest outside Jerusalem.
Six people, several believed to be teenagers, have been arrested in connection with the crime which followed the murder of three Israeli teenagers as they hitchhiked in the West Bank.
The mother of one of the six suspects told Ynet: "We're shattered and this thing is very difficult for us. My son has nothing to do with this and he will go free. This is crazy because he's only 16."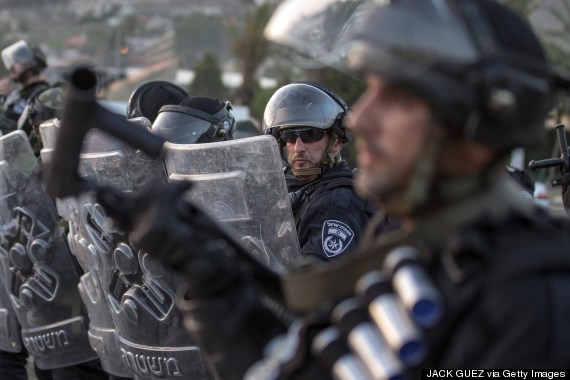 Israeli riot police secure a street during clashes with Palestinian protesters
Petah Tikva Magistrate's Court in Jerusalem has extended the remand of five of the six suspected in the kidnapping and murder of Abu Khdeir by eight days, with the remand of the sixth suspect extended by five days.
According to the lawyer for two of the six suspects, all have been denied access to legal representation.
"It's a grave decision that there's a warrant preventing me from meeting my clients. The warrant constitutes a critical blow to principles of justice that every civilized country should lean on. It can't be that suspects, particularly youths and teens, are prevented from meeting their attorney," Benzi Kebler said.
Police have also apparently linked the killing of Abu Khdeir to the attempted kidnapping of a 9-year-old Palestinian boy Musa Zalloum the previous day, Israeli media has reported.
Public Security Minister Yitzhak Aharonovitch released a statement condemning the murder.
"The State of Israel is a country that abides by, and enforces, the law, and will continue to take determined action against all those who violate the law," the statement read. "I ask that everyone show responsibility and work to prevent further disturbances.
"This was a shocking and unacceptable act which any sane person, certainly in a strong and democratic country such as the State of Israel, must strongly condemn."
The six are suspected of being members of a terror organizations, memberships in an forbidden organization, abduction for the sake of murder, the murder of a minor, conspiring to commit a crime, possession of weapons and ammunition and committing a crime motivated by racism.
According to an autopsy report compiled by Israeli doctors and a Palestinian coroner, Abu Khdeir suffered a head injury but was burned alive, with 90% of his body charred.
Israeli Prime Minister Benjamin Netanyahu spoke to Mohammad's father, Hussein Abu Khdeir, on Monday morning.
"I would like to express my outrage and that of the citizens of Israel over the reprehensible murder of your son," he said. "We acted immediately to apprehend the murderers. We will bring them to trial and they will be dealt with to the fullest extent of the law. We denounce all brutal behavior; the murder of your son is abhorrent and cannot be countenanced by any human being."
Two Hebron-based Hamas operatives have been named by Israel as prime suspects in the murder of the Jewish teenagers. Marwan Qawasmeh and Amer Abu Eishe have so far not been apprehended by police.
On Sunday, it was reported that the uncle of the murdered Israeli teenager Naftali Fraenkel offered his condolences Sunday in a phone call to Hussein Abu Khdei.
"We expressed our deep empathy with their sorrow, from one bereaved family to another bereaved family," Yishai Fraenkel said, according to Ynet. "I think it's very good they seem to have found the culprits. We expressed our absolute disgust with what had happened. He accepted our statements, it was important for him to hear it."
The bodies of Eyal Yifrah, 19, Gilad Shaar, 16, and Fraenkel, 16, were found on Monday. On Wednesday, Frenkel's family condemned the killing of the Palestinian teenager, 16-year-old Muhammad Hussein Abu Khdeir.
Last week, Muhammad's father told the New York Times he did not expect justice for his son. But he added: "I am against kidnapping and killing. Whether Jew or Arab, who can accept the kidnapping and killing of his son or daughter? I call on both sides to stop the bloodshed."
But much of the rhetoric from both sides has been one of blood and anger. Rioting has taken place in both Jewish and Arab areas of Jerusalem. And last week, the head of the World Bnei Akiva Jewish youth movement called for the "blood of the enemy" and for the IDF to take Palestinian foreskins as trophies after the discovery of the Israel teenagers' bodies. Rav Noam Perel later apologised for his post, but executives from the movement are now meeting to consider whether to ask for his resignation.