A photographer mother tried to jokily recreate the famous 'Coppertone' 1950s ad where a girl's bathing suit is being pulled down by a small dog.
But what was meant to be a light-hearted snap for Jilly White has turned sour after Facebook banned her for 24 hours, saying she violated their rules on nudity and children.
White said to WBTV: "I posted the photo on Coppertone's Facebook. We thought it would be cute because of the old Coppertone ad and her tan line looked like that."
However, a user complained and she was suspended after she ignored a request to remove the photo. What really irked White was the suggestion that this was even a pornographic image.
She said: "I despise pornography and anything to do with it. I would never ever post a pornographic photo. I am anti-porn."
After the ban, White replaced that picture with a version that has "a big Emoji face on the area of the butt crack."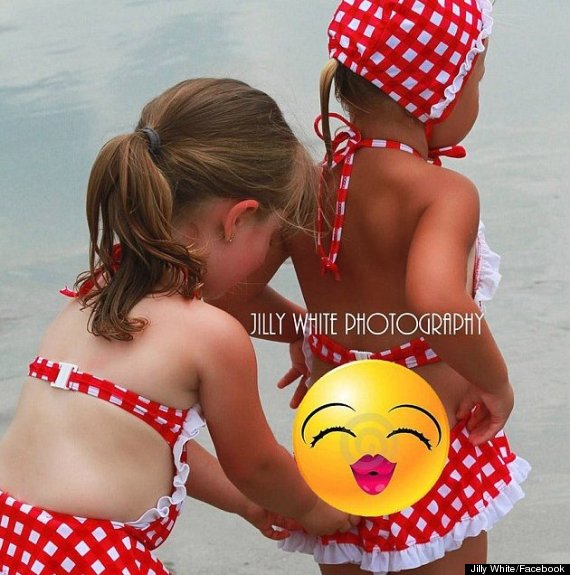 That was also reported by a user – however, Facebook said that this picture meets its terms and conditions.
Facebook defended its action, saying: "It is hard. With over 1 billion people using Facebook we have to put in place a set of universal guidelines that respect the views of a wide range of people.
"These policies are designed to ensure Facebook remains a safe, secure and trusted environment for everyone on Facebook.
"Facebook has a strict policy against the sharing of pornographic content and any explicitly sexual content where a minor is involved. We also impose limitations on the display of nudity. We aspire to respect people's right to share content of personal importance."
Facebook isn't the only site to have hit the headlines after getting trigger-happy with their nudity ban. Two weeks ago, mummy blogger Courtney Adamo, had her Instagram account temporarily blocked over the weekend for posting a picture of her young daughter flashing her bare belly.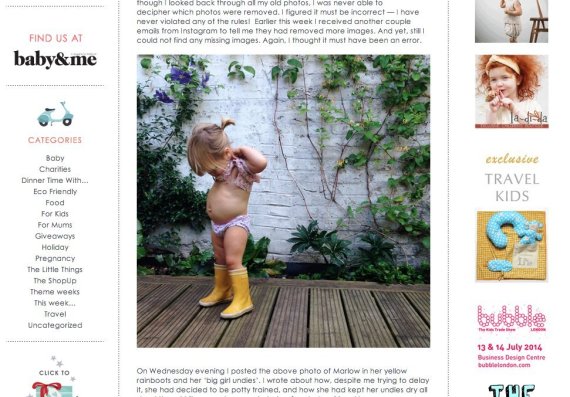 This photo, originally on Instagram, prompted Courtney's account to be disabled
Her account had been disabled on Thursday evening "without warning and without notice", after Instagram users reported her posts as violations of site's community standards. Courtney concedes that she had received a few warning emails from the site, but paid no attention as she thought "it must have been a joke".
Speaking to HuffPost UK Lifestyle, Courtney said: "I've never posted nude photos of my children. I've always posted what I believe to be the most wholesome and pure photos of my family. I really thought that it must have been a joke."
SEE ALSO:

Mummy Blogger Has Instagram Account Blocked For Posting 'Nude' Photo Of Daughter

Facebook Breastfeeding Photo Ban Lifted After #FreeTheNipple Campaign
Do you think the image should have been banned?