Since October 2012 the nation has been rocked by Operation Yewtree, a tide of sexual abuse allegations, investigations, convictions and acquittals centering around high-profile male celebrities, many of whom were once national treasures.
There have been 17 arrests in total; with five convictions and a handful on police bail, with others have incurred no further action.
But while the men have taken centre stage their families have also been in the spotlight, often displaying unwavering loyalty during the trial period, despite the abhorrent accusations and awaiting the final verdict.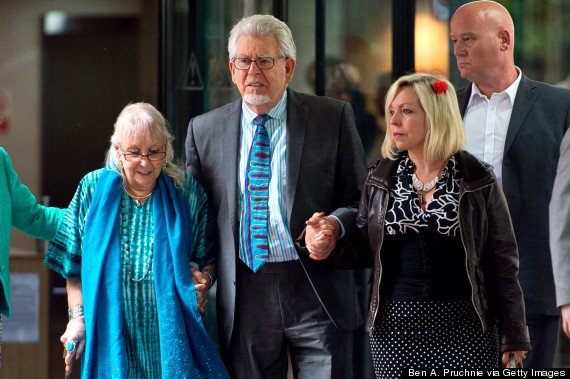 Rolf Harris leaves court with his wife Alwen Hughes and daughter Bindi Harris after being found guilty of 12 indecent assault charges at Southwark Crown Court after a seven week trial on June 30 2014
Take Rolf Harris, who was convicted for five years and nine months on Friday. Each morning - apart from the day of sentencing - he arrived hand-in-hand with Alwen, his wife of 56 years, and his daughter Bindi.
Similarly, Coronation Street star William Roache, was flanked by his two sons and daughter Verity throughout the trial, all of whom broke down in tears when their father was cleared of all counts in February.
But what makes a family or partner stand by the accused in spite of allegations?
Sheri Jacobson, psychotherapist and clinical director at Harley Therapy, who works with individuals going through similar situations, told HuffPost UK Lifestyle that family behaviour at this time ultimately boils down to trust and protection.
"At times like these families congregate and bind around the accused to protect them," she told HuffPost UK Lifestyle. "Generally speaking we trust our loved ones and will instinctively believe them to be innocent."
It might seem hard to understand from an outsiders point of view, but Sheri says this behaviour is intrinsic to human nature.
"We're very social creatures. We bind towards our loved ones and have a very strong desire to support them," she says. "We see this with mothers who have sons who engage in criminal activity or undesirable behaviour - they will offer unconditional support and that happens across generations."
This sense of the collective is very important to an evolutionary standpoint, argues Sheri.
"If everyone was very individual, rational and logical, then we wouldn't have close family ties which can be very productive and community building."
Of course many believe that showing a united front in the face of these allegations is nothing but smoke and mirrors.
Under questioning by prosecutor Sasha Wass QC, Rolf Harris's daughter Bindi admitted that while the family walked into court together each day, they had travelled to Southwark separately.
Bindi told the court: "My husband takes me to my dad's manager's house. We then get the Tube...to London Bridge, then I go to the coffee shop, then when mum and dad get here, I go down and sit in the car, then we drive round and then we get out and have photos taken by the press and then I sit in the cafe all day."
When asked whether the public appearances were staged, Bindi replied: "No, it's just I want to be there for my mum and dad and I want to be seen to be."
Sheri Jacobson says that staying united in front of the media will help families cope with judgement from the general public, but it isn't easy to fake it. "Key body language signals will give it away, such as holding hands while looking the other way," she says.
But, besides public displays of togetherness, how can trials affect the relationships behind closed doors?
Michael Kallenbach, HuffPost UK blogger, relationship expert and couples counsellor, says: "It must be a very trying time under any circumstances for a family member to attend any court case or trial, let alone under the glare of such widespread publicity – and the strain that this puts on a marriage or relationship is quite enormous."
Sheri adds: "The family will be feeling many conflicting emotions - torn between wanting to protect their loved ones while also processing the fact that abhorrent accusations are being made against them.
"Day-to-day life is interrupted and punctuated by the need to fight, which adds pressure on the relationship and drains an individual's emotional resources. This can lead to stress, lack of appetite, changes to libido - all symptoms typical of anxiety and possibly depression."
Of course, Sheri adds, how an individual deals with this information comes down to personality, no two reactions are the same. When pressed for a more detailed explanation, she likens the emotional process to follow a losing a loved one.
"The emotions might follow the stages of bereavement," she says. "These could manifest in shock and disbelief, followed by sense of blame or anger whether at the accused or the authorities making the allegations."
The emotional turmoil will reach a crescendo if a guilty verdict is reached, says Michael.
"A guilty verdict is a double blow to a family, not only have they lost the accused but the relationships they whole-heartedly believed and defended in have been shattered."
"A relationship is built on trust and honesty," he adds. "But when the secrets and are confirmed, all of that goes out the window and it's very hard to pick up the pieces."
"I think it's a terrible tragedy, on victims, but also for the families of those accused."
So how can a family begin to rebuild after such an ordeal?
"They have to give themselves the time and space to explore mixed emotions, to discover how they truly feel about the situation," she says. "Sometimes this is best left until after the event, to allow them to gain perspective and figure out whether they are able to accept what took place or not."