British Airways has adopted an even harsher security line than the United States recommends, promising that passengers who cannot power up their smartphones before their US-bound flight will be barred from boarding.
The new rules mean passengers whose phones fail to power up during a flight connection, could be stranded at a foreign airport, unable to board their flight.
And even more frustratingly for passengers, Virgin Atlantic are not prepared to tell customers how they will be applying the new rules. The airline issued an irritatingly vague statement to HuffPost UK, saying it would "not disclose specific security details," but said regulations would be "adapted at short notice should there be a need to do so".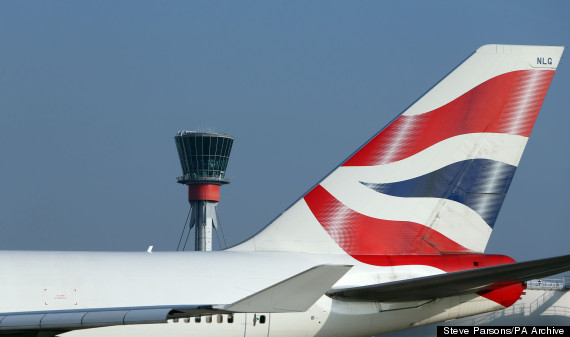 British Airways has adopted an even harsher security line than the United States recommends
Thomas Cook told HuffPost UK it would allow passengers who pass the rest of the security checks to board the flight if they left their drained phone behind or arranged for it to be forwarded on.
Monarch and Thomson Holidays have yet to issue statements on what British passengers can expect to have to comply with when they fly to the US.
Guidelines issued on Sunday by the US Transportation Security Administration state that any gadgets will be confiscated if the battery is dead and the owner fails to switch them on, because they could contain hidden explosives. "If your device doesn't switch on, you won't be allowed to bring it onto the aircraft," guidance said, but it does not specifically ban passengers from flying.
But British Airways' own rules now state that passengers will not just have their devices confiscated, but will not be allowed to fly - at all. An iPhone's battery can drain in as little as four hours if it is used constantly, especially if playing games or watching films, which passengers may be likely to do whilst travelling.
A spokesman from British Airways told the Daily Mail: 'If [customers] are unable to power up their electronic device they will not be allowed to fly.
"If it does not power up then it cannot be placed in hand or hold luggage. We advise our customers to please do all they can to ensure that any electronic device they have is fully powered before you arrive at the airport.
"For people transferring we advise that they use electronic devices sparingly if they are going to fly on a long journey before getting to London and then transferring on to a US destination.
"Safety and security is our top priority at all times and we continue to work closely with airports and governments around the world.
"We are complying with the US regulations and would advise customers to arrive in good time for their flights both at check-in and also at the boarding gate."
And BA said there would be strictly limited facilities for charging phones, denying passengers the ability to quickly prove their phones are not improvised explosive devices.
Last week the Department for Transport said undisclosed extra measures at British airports were not expected to cause ''significant disruption'' to passengers and noted that the official UK threat status remained unchanged.
Changes were announced after Washington Homeland Security Secretary Jeh Johnson ordered beefed up security at foreign airports from where aircraft fly directly to the US.
US officials were reported to have said the move was the result of intelligence that al Qaeda's chief bomb maker, Ibrahim Hassan al-Asiri, who is thought to be based in Yemen, had linked up with jihadists in Syria to pass on his skills.