A 28-bedroom country manor on a five-acre estate and a one-car garage have both gone on the market for the same price - £500,000.
We've said it before - but this is all the evidence you need that the London property market has done utterly mad.
The garage is in ultra-desirable Kensington but it does not have 28 bedrooms, 19 reception rooms, an incredible ballroom and eight bathrooms.
Moreton House, near Bideford in north Devon, does have all these things but is on the market for the same amount. It's apparently worth as much as a Kensington garage but we reckon you could park way more cars here
The Grade II mansion "gentleman's residence" is spread over 34,250sq/ft - around 35 times the size of the average UK home and more than half the size of a football pitch. It has also five acres of grounds.
That makes it a lot bigger than the garage, which is 8'5" and 9'2", stretching back a total of 17'9".
The "substantial and secure" garage has been described as being large enough to accommodate a Bentley Continental of Range Rover - though it is around eight times the price of a new 4x4.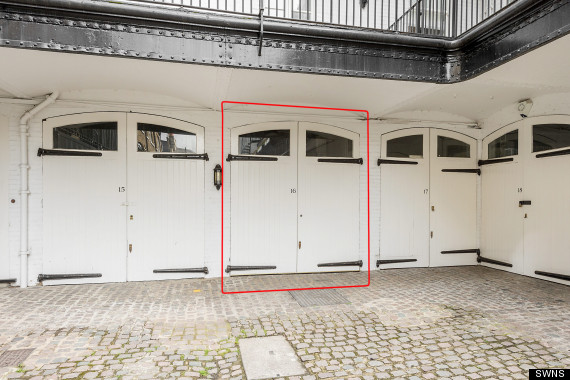 If you have a very expensive car, this way more expensive garage could be a good place to put it
James Gibbs, land and new home director at Jackson-Stops & Staff, said Moreton House was priced so low because it was "too big".
"It is priced like this because it is so large. If it was a tenth of the size it would probably still be the same price so you're basically getting 90 per cent free.
"It could be a school, a hotel, converted into apartments or be used as a single home for someone with a lot of furniture."
It has most recently been used as boarding school.
THE SURREAL WORLD OF LONDON PROPERTY PRICES:
£500,000 is around £100,000 more than the average price of a home in the capital and almost three times the £172,000 paid on average for a home in England and Wales last month.
Estate agent Marina Collett said the garage attracted that price because it is located in "one of the most desirable neighbourhoods in the world".
She added: "This substantial and secure garage is discretely located just to the west of Palace Gate in Kensington, one of the most desirable neighbourhoods in the world and a very different market to the rest of the country.
"Purely its location alone, moments from Kensington Gardens and Kensington Palace, makes this garage a valuable asset."
Henry Pryor, a buying agent and property expert, added: "While it is out of the reach for most of us mere mortals, I am sure someone will see it as a reasonable price."