SEE ALSO George Clooney's Daily Mail Attack: Why Is The MailOnline Taking The Blame?
The Daily Mail has issued an apology to the actor George Clooneyafter it ran a story claiming his fiancee's mother did not approve of their upcoming wedding on religious grounds.
Writing exclusively in USA Today, the furious 53-year-old launched a blistering attack on the publication, accusing it of behaviour that "should be criminal."
At around noon on Wednesday the newspaper issued the following statement: "The MailOnline story was not a fabrication but supplied in good faith by a reputable and trusted freelance journalist.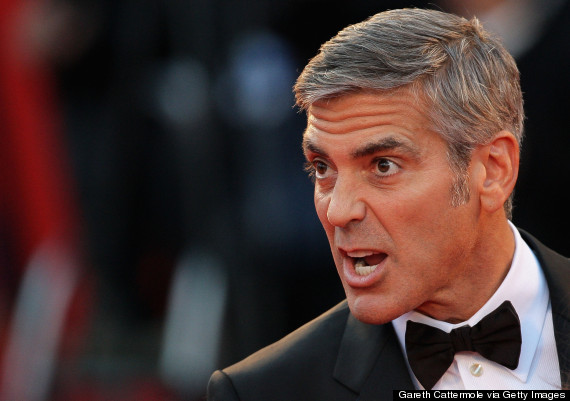 George Clooney launched a blistering attack on the Daily Mail
"We only became aware of Mr Clooney's concerns this morning and have launched a full investigation. However, we accept Mr Clooney's assurance that the story is inaccurate and we apologise to him, Miss Amal Alamuddin and her mother, Baria, for any distress caused."
Of the original story, Clooney wrote: "It says Amal's mother has been telling 'half of Beirut' that she's against the wedding. It says they joke about traditions in the Druze religion that end up with the death of the bride.
"Let me repeat that: the death of the bride."
Clooney points out Alamuddin's mother is not Druze and hasn't even been in Beirut since the pair started dating in September last year.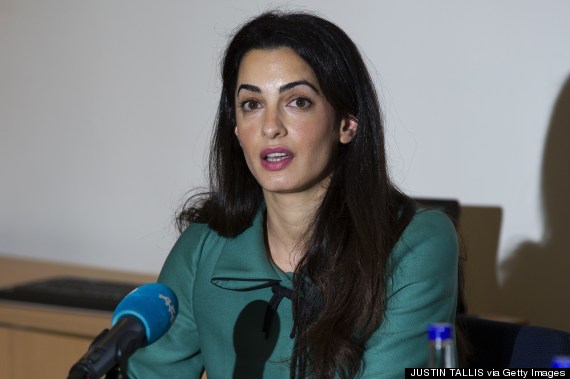 Clooney is set to wed human rights lawyer Amal Alamuddin
Dismissing the stream of pregnancy and wedding plan rumours the tabloid also publishes, he continued: "But this lie involves larger issues. The irresponsibility in this day and age, to exploit religious differences where none exist, is at the very least negligent and more appropriately dangerous.
"We have family members all over the world and the idea that someone would inflame any part of that world for the sole reason of selling papers should be criminal."
As of Wednesday morning, the article in question appeared to have been edited online, and focused mainly on a picture spread of both Alamuddin's and Clooney's mothers embracing in Italy ahead of the reported forthcoming nuptials.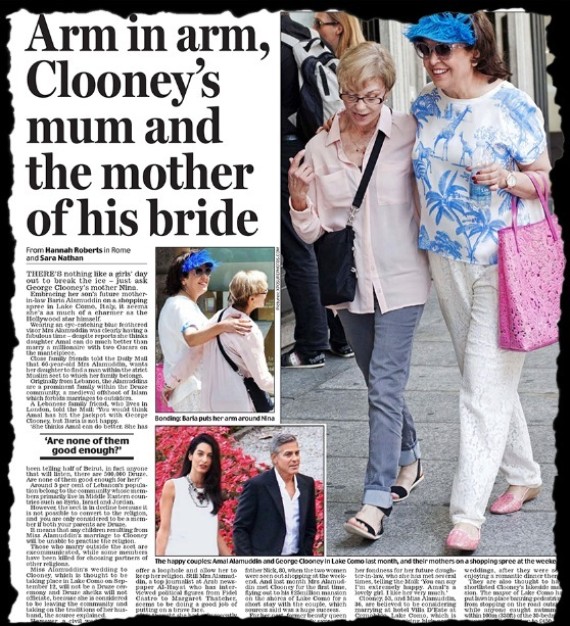 The Daily Mail article as it appeared in the newspaper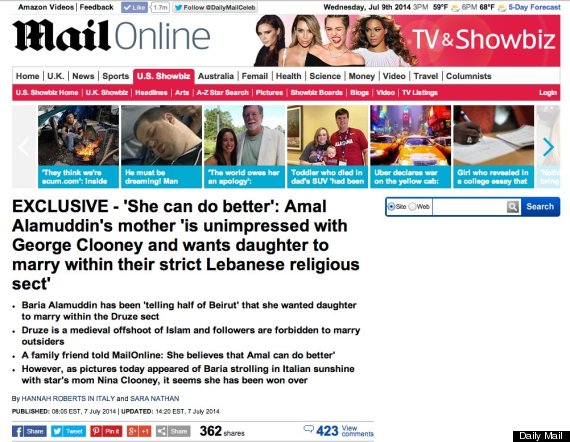 ... And how it appeared online
Titled: "PICTURE EXCLUSIVE: Mothers in arms! Baria Alamuddin and Nina Bruce bond in Lake Como despite claims Amal's parent is not happy she's marrying George Clooney."
The piece made much about the women's apparent close bond, though wrote it: "…seems out of step with comments made to MailOnline about Baria's feelings towards her daughter's husband-to-be.
"A source said Baria wanted her to marry within their strict Lebanese religious sect, according to close family friends.

As of midday on Wednesday the MailOnline had removed the article
"High profile human-rights lawyer Amal, 37, was born in Beirut to a prominent and highly respected family within the Druze sect, a medieval offshoot of Islam, who are forbidden to marry outsiders."
Shortly afterwards, the page was removed.
Clooney's op-ed ends with a stinging blast at the paper: "The Daily Mail, more than any other organisation that calls itself news, has proved time and time again that facts make no difference in the articles they make up.
"And when they put my family and my friends in harm's way, they cross far beyond just a laughable tabloid and into the arena of inciting violence.
"They must be so very proud."