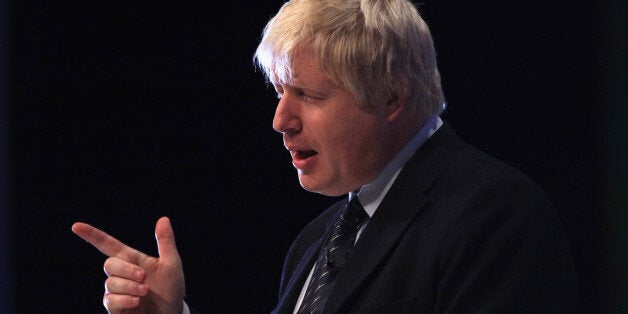 Water cannon have been shipped to the UK and are being prepared for use in London despite police not yet having official permission to deploy them, Mayor Boris Johnson has confirmed.
Speaking to the Police and Crime Committee at City Hall this morning, Boris said the cannon are being worked on at a secret location.
He said: "They are being prepared for use in this country and obviously we await the certificate from the Home Office."
Home secretary Theresa May has to grant permission for them to be used on the UK mainland; they have been available in Northern Ireland for several years.
When asked whether they will be used in London this summer, Boris said: "I would oppose the use of water cannon except in the most exceptional circumstances.
"There are very few circumstances in which I would wish to see water cannon deployed at all. This novel use of crowd control should be properly tested. I have said very clearly and publicly that I will be happy to have a go myself."
Metropolitan Police commissioner Sir Bernard Hogan-Howe told the committee that the work on the three cannon, bought from Germany, includes making sure they have cameras fitted to allow evidence gathering. He said: "We think it will be rarely used and rarely seen. We don't expect to see it deployed hardly at all." Water cannon used during a protest in India in 2013
May has maintained a cautious approach over whether she will licence the machines, which have been linked to serious injuries including broken bones and blindness.
Speaking on Whitehall last month she said: "There is a decision to be taken about water cannon and I will make sure that that decision is taken on the right basis. There are health and safety issues that need to be looked at very carefully."
Nick Clegg has dismissed arguments that the water cannon could have been used to control the 2011 summer riots as "fanciful".
Under current plans, an independent ethics panel, headed by barrister Lord Carlile, will look at when water cannon should be used if they are licensed by May - who has already ruled out providing central government funding for the machines bought by Scotland Yard.
The Mayor of London and Scotland Yard have bought three 23-year-old machines from Germany, at a cost of around £200,000.
Thousands of officers from the British mainland have already been trained in how to work with the cannon because they were sent to help police in Northern Ireland with security for the G8 summit last year.
The move to use the machines outside Northern Ireland has sparked protests backed by German pensioner Dietrich Wagner, who was left with horrific injuries and blinded after being hit by a water cannon during a protest in Stuttgart in 2010.
Related