Apologies from the Daily Mail are as rare as a nun on the Sidebar of Shame. But a furious George Clooney isn't having any of it.
In another piece for USA Today, Clooney said: "There is one constant when a person or company is caught doing something wrong. The coverup is always worse." Clooney issued a blistering brush-off to the Mail Online's apology
The Daily Mail released a statement on Wednesday in which it insisted the "MailOnline story was not a fabrication, but supplied in good faith by a reputable and trusted freelance journalist."
It added: "We only became aware of Mr Clooney's concerns this morning and have launched a full investigation. However, we accept Mr Clooney's assurance that the story is inaccurate and we apologise to him, Miss Amal Alamuddin and her mother, Baria, for any distress caused."
But the Daily Mail, Clooney said, had fabricated the source of its story by saying it was "based the story on conversations with senior members of the Lebanese community."
"The problem is that none of that is true," Clooney continued, adding that the original Mail story never cites that source, but on four different occasions refers to "a family friend" that spoke directly to the Mail.
"So either they were lying originally or they're lying now," the Monuments Men star added. He said that the Mail also knew they were "lying" about his fiancee Amal Alamuddin's mother being Druze, having written several other articles previously pointing out that she was not. "The Mail knew the story in question was false and printed it anyway," Clooney said.
"What separates this from all of the ridiculous things the Mail makes up is that now, by their own admission, it can be proved to be a lie. In fact, a premeditated lie," he concluded. "So I thank the Mail for its apology. Not that I would ever accept it, but because in doing so they've exposed themselves as the worst kind of tabloid. One that makes up its facts to the detriment of its readers and to all the publications that blindly reprint them."
The following quote from a "Lebanese family friend" is used in both the print and online versions:
"You would think Amal has hit the jackpot with George Clooney, but Baria is not happy.

"She thinks Amal can do better. She has been telling half of Beirut in fact anyone that will listen, there are 500,000 Druze. Are none of them good enough for her?"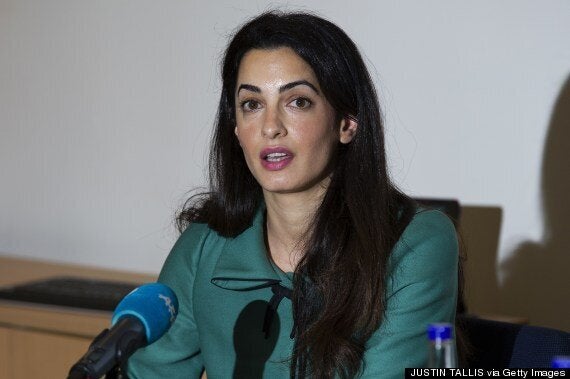 Clooney is set to wed human rights lawyer Amal Alamuddin
In Clooney's original USA Today op-ed he pointed out that "Amal's mother is not Druze. She has not been to Beirut since Amal and I have been dating, and is in no way against the marriage – but none of that is the issue".
"I'm of course, used to the Daily Mail making up stories- they do it several times a week – and I don't care. If they fabricate stories of Amal being pregnant, or that the marriage will take place on the set of Downton Abbey, or that I'm running for office, or any number of idiotic stories that they sit at their computers and invent, I don't care," he continued.
"But this lie involves larger issues. The irresponsibility, in this day and age, to exploit religious differences where none exist, is at the very least negligent and more appropriately dangerous.
"We have family members all over the world, and the idea that someone would inflame any part of that world for the sole reason of selling papers should be criminal."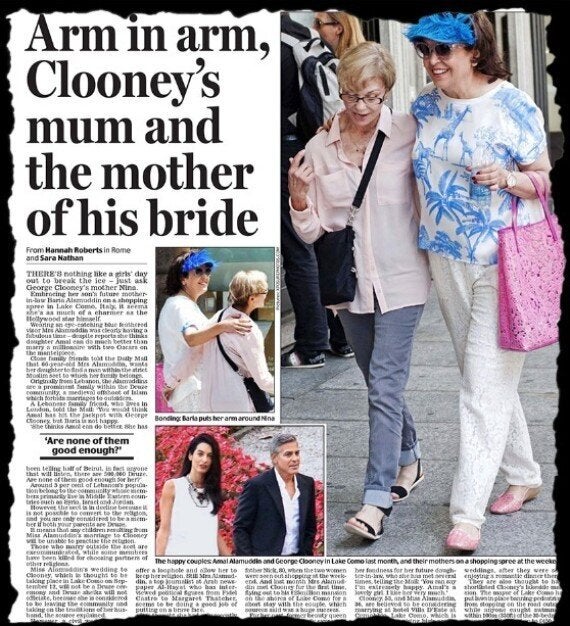 The Daily Mail article as it appeared in the newspaper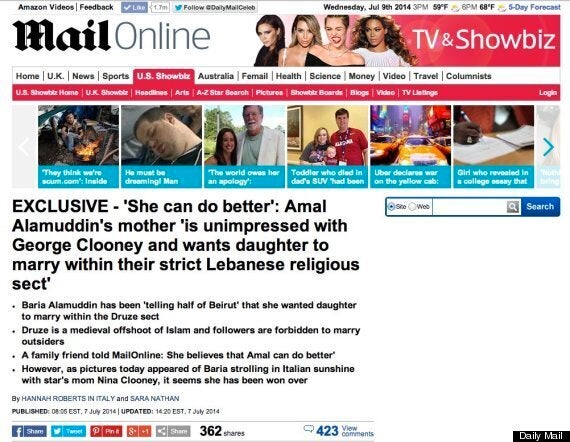 ... And how it appeared online
Both versions state Baria wanted her daughter to find a man within the DruzeMuslim sect they incorrectly state the family is part of.
The print version of the story states: "Those who marry outside the sect are excommunicated, while some members have been killed for choosing partners of other religions."
While the online version expands: "There can be harsh penalties for those Druze who marry outsiders. Several women have been murdered for disobeying the rules. Last year a Sunni Muslim man had his penis severed by the male relatives of a Druze woman who defied her family by marrying him.
"The friend added: 'There have been a few jokes in the family about the same thing happening to George'."
In Clooney's piece he claims the newspaper made reference to family "jokes" about tradition in the Druze religion "that end up with the death of the bride."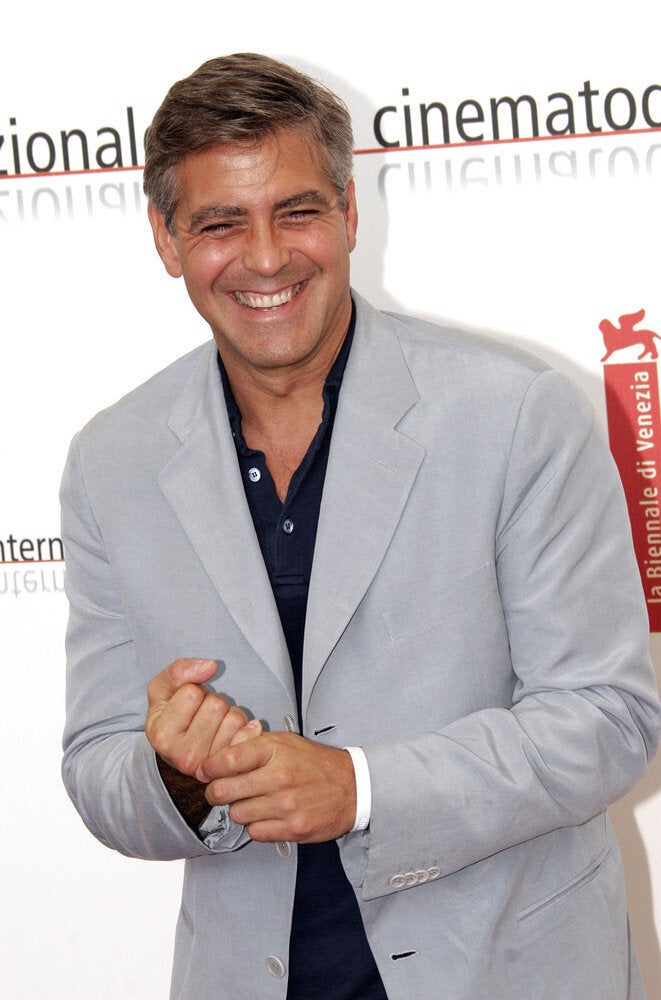 George Clooney through the years