Tens of thousands of music fans are enjoying the second day of T in the Park, with big name acts including Calvin Harris and Paolo Nutini still to perform. Revellers swapped their sunglasses for waterproofs and wellies as rain fell over Balado in Kinross-shire during the afternoon. Organisers described the opening day atmosphere of the weekend-long event as "tremendous" as the crowds said farewell to the site after 18 years of hosting the festival. Kiesza, the Stranglers, Katy B and Scottish band Twin Atlantic performed on the main stage, with Calvin Harris set to bring the party to a close later tonight.
Michelle Young, 30, from Paisley, said the Scottish DJ was a big attraction this year. She said: "We were here last year to see him and he was absolutely brilliant, he got everyone totally up for it and the place was rocking. It will be exactly the same tonight. This year has just been as awesome as ever. We come every year and love it - we wouldn't come back if we didn't think it was worth it." Carrie Binks, 26, from Renfrew, was enjoying her first year at T in the Park. "It's absolutely great, we're loving it. It's been amazing so far and that's without Paolo Nutini, who we are still waiting to see. It's as cool as I thought it would be - it's been amazing." Biffy Clyro headlined the first day, with performances from Ed Sheeran and Ellie Goulding also seeing the crowds party in glorious sunshine.
Cameron Hilton, 21, from Edinburgh, said the rain did not make any difference to the mood among the revellers. "Why would a bit of rain matter? Everyone's happy at T. It's a brilliant weekend, with two of my favourites - Calvin Harris and Arctic Monkeys." Elbow, Bombay Bicycle Club, John Newman, the Human League and the 1975 also performed today for the crowd of up to 85,000. Police said crime levels remained low, with 22 people arrested since the camp site opened on Thursday, mostly for petty crime and minor drugs offences.
Chief Superintendent Kevin Lynch said: "We urge fans to continue to take care, particularly around drink and drugs. Our message is to remember that pills of many different colours and designs can be toxic and kill. Don't risk it. Fans should also avoid bringing valuables on site and ensure that their belongings are secure at all times. We're keen to see everyone stay safe and have a fantastic time."
The stage will be packed up at Balado tomorrow for the final time after Arctic Monkeys perform as the festival moves to the Strathallan Castle estate in Perthshire next year. Other performers over the weekend include the headliners of T in the Park's first year in Kinross-shire - the Charlatans and Paul Weller. Festival director Geoff Ellis said: "It's been wonderful, the whole event's gone really really well. Glorious sunshine on Thursday and Friday for campers getting set up on dry ground, today light drizzle but nothing we can't cope with. Yesterday Biffy Clyro really rocked it. It's always been their dream to play or headline T in the Park, and now they've played 10 times. That's a record, nobody else has ever done that, and they really blew everybody away last night, a fantastic show.
"Today Paolo Nutini, Calvin Harris, Elbow, Rudimental, Pharrell Williams - a fantastic line-up and topping off tomorrow with Paul Weller, Jake Bugg, Bastille, and finishing up with the Arctic Monkeys." He added: "We're waving bye-bye to Balado, and it'll be sad to leave because it's served us well for 18 years. It's been a good, practical site. Where we're going to at Strathallan Castle, it's a beautiful country estate, so a very different site to here, but still with some big open fields for the main arenas, and it will maybe have more of a boutique feel because you're not seeing the whole site from any one place, so it'll be like a voyage of discovery through the tree-lined avenues. It'll be a different feel, but the same size, and it'll still be T in the Park, with the same unique passion and atmosphere, and that atmosphere last night was tremendous walking through the crowd, and everyone's just so happy, all friendly. It's a real privilege to be part of such a great festival."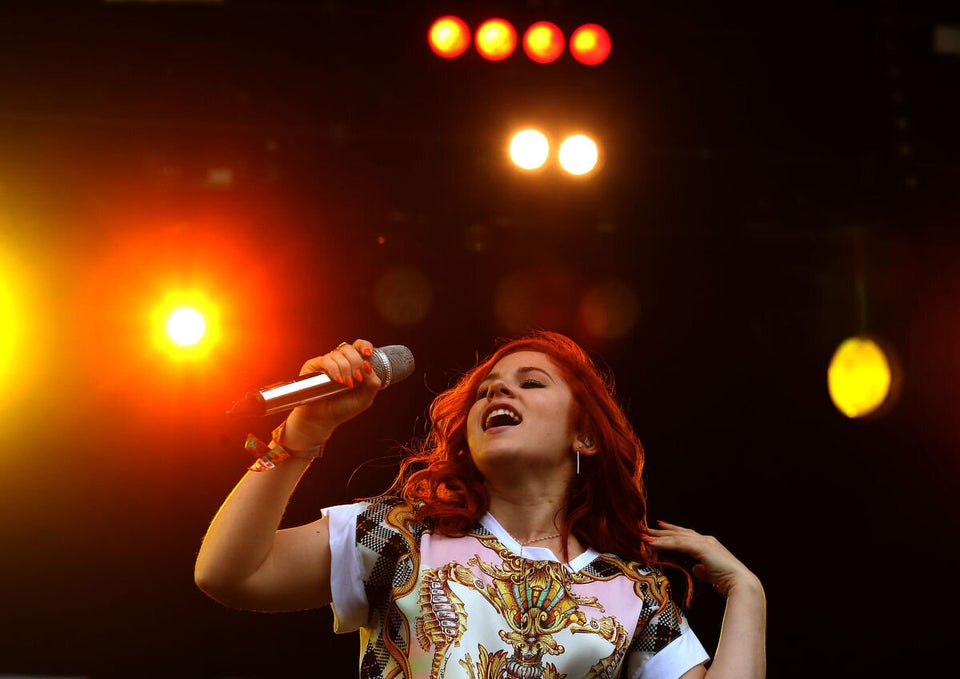 T In The Park