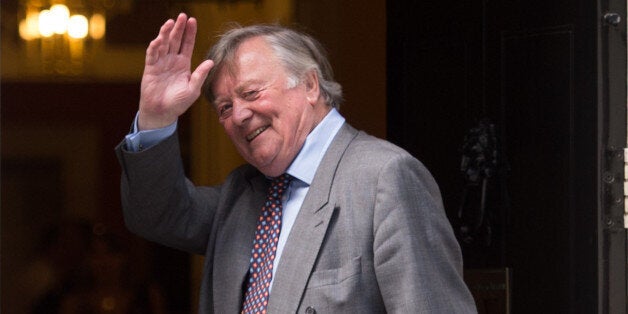 Veteran Tory minister Ken Clarke has retired from Government bringing to an end a front bench career stretching back to 1972.
David Jones has also been sacked as Welsh secretary as the Prime Minister began a reshuffle of his Cabinet ahead of next year's general election.
A source close to Clarke confirmed the 74-year-old was stepping down from his role as minister without portfolio.
Former Welsh secretary Mr Jones said he had been asked to stand down by Mr Cameron, who is expected to take the opportunity to promote more women into key posts.
Jones said: "The Prime Minister is carrying out a reshuffle. He is reshuffling the team and he has asked me to stand down. I totally understand his decision."
Clarke smiled and waved to photographers as he entered No 10 earlier, as speculation gripped Westminster about who the winners and losers would be in Mr Cameron's plans.
Former Tory leader Lord Howard of Lympne said: "Ken has made the most extraordinary contribution to our public life. In particular I think he was an outstanding chancellor of the exchequer."
He told BBC Radio 4's PM: "He always speaks his mind. We've been capable of maintaining a friendship over all these years despite the fact that we have quite often disagreed with each other on political issues. I think that says a great deal about the kind of person he is."
Alongside Clarke, the Prime Minister is also expected to say goodbye to Cabinet veteran Sir George Young and promote a host of younger talent, including some of the stars of the 2010 intake.
Those tipped for advancement include employment minister Esther McVey - who was also seen entering No 10 - education minister Liz Truss and ministerial aide Penny Mordaunt.
Other MPs tipped for promotion include Margot James, Amber Rudd and Harriett Baldwin, as the Tory leader seeks to counter criticism that his government is still dominated by men.
Former defence secretary Liam Fox, a darling of the Tory right, could make a comeback to the political front line nearly three years after quitting in a row over his special adviser.
There is growing speculation that Eric Pickles could be shifted to chief whip, with his communities and local government brief potentially being handed to a new Cabinet entrant.
David Willetts, who attends Cabinet as universities minister, is said to be under threat, as are Environment Secretary Owen Paterson and Leader of the House Andrew Lansley.