Now that the World Cup is over, football's attention once again turns to the domestic league with Sky TV revealing its Barclays Premier League live match schedule for the first four months of the 2014-15 season.
The schedule includes all of last season's top four at least six times and every club at least three times. Viewers can also look forward to seeing seven live Manchester United fixtures - including Louis van Gaal's toughest tests against Manchester City, Arsenal and Chelsea.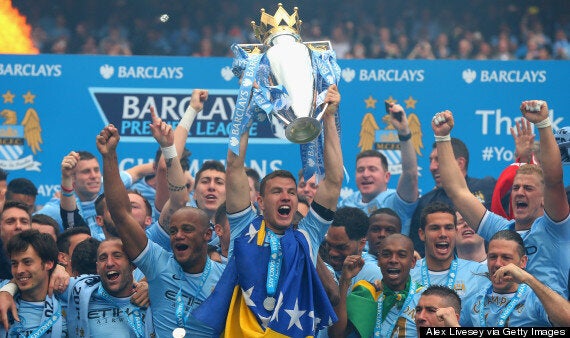 Arsenal and Crystal Palace will kick off the new Sky TV Premier League schedules
Premier League champions City begin their title defence away to Newcastle United on Sunday 17 August but before that Arsenal will kick off the new season when they host Crystal Palace at the Emirates on Saturday 16 August.
See the full schedule below:
Arsenal v Crystal Palace, Sat 16 5:30pm
Newcastle United v Manchester City, Sun 17 4pm
Burnley v Chelsea, Mon 18 8pm
Everton v Arsenal, Sat 23 5:30pm
Hull City v Stoke City, Sun 24 1:30pm
Manchester City v Liverpool, Mon 25 8pm
Everton v Chelsea, Sat 30 5:30pm
Tottenham Hotspur v Liverpool, Sun 31 1:30pm
Leicester City v Arsenal, Sun 31 4pm
Liverpool v Aston Villa, Sat 13 5:30pm
Manchester United v Queens Park Rangers, Sun 14 4pm
Hull City v West Ham United, Mon 15 8pm
West Ham United v Liverpool, Sat 20 5:30pm
Leicester City v Manchester United, Sun 21 1:30pm
Manchester City v Chelsea, Sun 21 4pm
Arsenal v Tottenham Hotspur, Sat 27 5:30pm
West Bromwich Albion v Burnley, Sun 28 4pm
Stoke City v Newcastle United, Mon 29 8pm
Aston Villa v Manchester City, Sat 4 5:30pm
Chelsea v Arsenal, Sun 5 2:05pm
West Ham United v Queens Park Rangers, Sun 5 4:15pm
Queens Park Rangers v Liverpool, Sun 19 1:30pm
Stoke City v Swansea City, Sun 19 4pm
West Bromwich Albion v Manchester United, Mon 20 8pm
Swansea City v Leicester City, Sat 255:30pm
Burnley v Everton, Sun 26 1:30pm
Manchester United v Chelsea, Sun 26 4pm
Queens Park Rangers v Aston Villa, Mon 27 8pm
Manchester City v Manchester United, Sun 2 1:30pm
Aston Villa v Tottenham Hotspur, Sun 2 4pm
Crystal Palace v Sunderland, Mon 3 8pm
Queens Park Rangers v Manchester City, Sat 8 5:30pm
West Bromwich Albion v Newcastle United, Sun 9 1:30pm
Swansea City v Arsenal, Sun 9 4pm
Arsenal v Manchester United, Sat 22 5:30pm
Crystal Palace v Liverpool, Sun 23 1:30pm
Hull City v Tottenham Hotspur, Sun 23 4pm
Aston Villa v Southampton, Mon 24 8pm
Sunderland v Chelsea, Sat 29 5:30pm
Southampton v Manchester City, Sun 30 1:30pm
Tottenham Hotspur v Everton, Sun 30 4pm