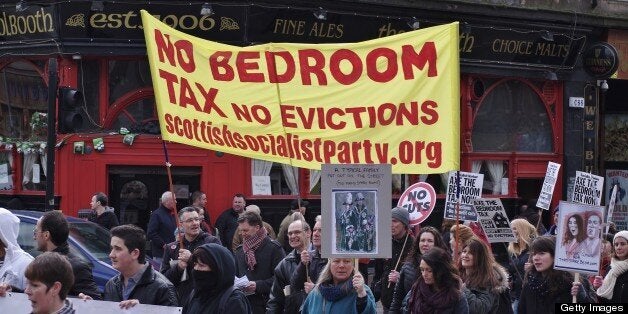 Almost 60% of households affected by the "bedroom tax" changes were in arrears as a result of the cut to their housing benefit, an internal Government review has found. Under the policy, social tenants deemed to have a spare room see their rent eligible for housing benefit reduced by 14%, rising to 25% if they have two or more extra bedrooms.
The review found that there was widespread concern that those affected were "making cuts to household essentials" or incurring credit card or payday loan debts to make up the shortfall. The Government was accused of "sneaking out" the report on the day of the Cabinet reshuffle, and Labour described the policy as "cruel".
Some 20% of those affected had paid none of the shortfall and 39% had only paid their landlords part of the money owed, the interim report for the Department for Work and Pensions (DWP) found. The report found 522,905 households were affected by the policy in August 2013, which equates to 11.1% of social tenancies.
Some 4.5% of claimants downsized to avoid being hit by the measure within the social housing sector within six months of the removal of the spare room subsidy (RSRS) policy coming into force in April last year. The report found 18% of affected claimants said they had looked to earn more, rising to 50% of those who said they were unemployed and seeking work.
But the report said: "Landlords reported that, five months into the RSRS, 41% of tenants have paid the full RSRS shortfall, 39% have paid some and 20% have paid none. There was widespread concern that those who were paying were making cuts to other household essentials or incurring other debts in order to pay the rent."
Some 57% of claimants were cutting back on household essentials and 35% on non-essentials in order to pay their shortfall. A quarter of claimants (26%) said they had borrowed money - 21% from family and friends, 3% said they had borrowed on a credit card and 3% had taken payday loans - although it was not known whether they had a history of borrowing for other purposes. Some 10% had used savings and 9% been given money by their family.
The report said: "Landlords state that they will eventually evict RSRS-affected non-payers, though at the time of the research most were currently only in the early stages of this process. Many landlords expressed concern that collecting rent from people who can't afford to pay whilst in their current circumstances is damaging relations between landlords and tenants."
The DWP said rent arrears in the social sector were nothing new, around 50% of housing association tenants were in arrears before the RSRS came into force and the latest figures showed arrears were falling. Officials highlighted the £345 million made available to support people affected by the changes - £20 million of which went unspent.
The department said its wider package of housing benefit reforms were set to save the taxpayer over £6 billion between 2011/12 and 2014/15 and reduce expenditure by £2 billion annually compared to its forecast level. Work and Pensions Secretary Iain Duncan Smith said: "This department is delivering some of the biggest welfare reforms in over 60 years, designed to return fairness to the system, and we are on track to make the £6 billion savings we had previously set out.
"At the same time we are helping to make sure our housing benefit reforms have a transformative effect on the lives of those who in the past were faced with a system which trapped people into cycles of workless and welfare dependency. The scaremongering by those opposed to our welfare reforms - in particular our housing benefit reforms - has been proven to be without substance, and we are already seeing the effects of people moving into work."
But TUC general secretary Frances O'Grady said: "The Government has shamefully sneaked out a report, under the cover of the reshuffle, that lays bare the damage wreaked by the bedroom tax. It shows how people affected by the tax are simply not able to move and instead are being pushed into rent arrears. As a result, many could end up losing their homes altogether.
"Government claims that the bedroom tax will free up under-occupied housing stock are farcical. The number of households affected by the tax during the first five months of its operation has fallen by less than 5%. The bedroom tax is widely feared by tenants and the verdict from landlords and housing support workers is equally damning. Fewer than one in ten landlords say that government help for struggling tenants is working well and local authorities report that it is making it more difficult for them to house homeless single people.
"The bedroom tax is one of the most pointlessly cruel welfare policies instigated by a Government that remains determined to take away the safety net that so many rely upon. It is shameful that ministers are now trying to hush up the damage it's causing."
Shadow work and pensions secretary Rachel Reeves said: "Today the Government admitted that over half of those paying the bedroom tax are in arrears. This shows their bedroom tax has made life harder for thousands of people. David Cameron should scrap his cruel and costly tax on bedrooms; if he won't, a Labour government will."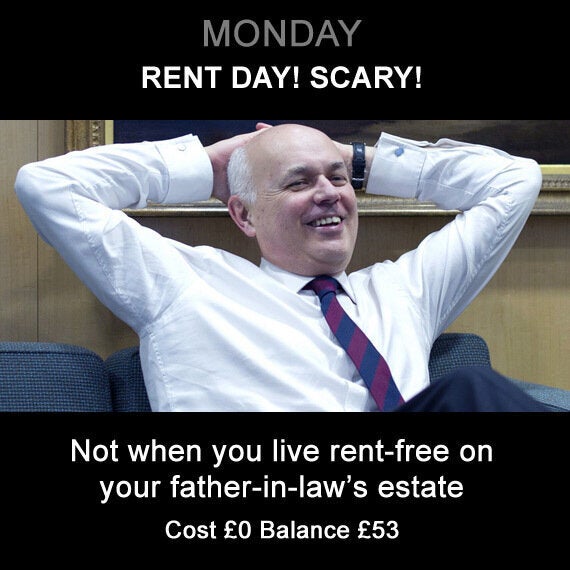 Iain Duncan Smith's £53 Week
Popular in the Community