Would you like a patch which makes salad to taste like steak? A machine which lets people allergic to animals keep pets? Or how about a program which scans your body and builds your clothes?
These are just some of the incredible entries which were shortlisted in a worldwide design competition - and they're all the ideas of students.
The Electrolux Design Lab competition is now in its 12th year, with the 2014 theme revolving around the idea of creating healthy homes. There are three categories - air purification, culinary enjoyment and fabric care - and students from as far as Venezuela, Taiwan and South Korea making the top 35 semi finalists list.
The top six finalists will be chosen by Electrolux experts in October and invited to a final event and awards gala in November.
First prize will be awarded to the student who the judging panel highlight as creating a ground-breaking design solution of the future. This student will receive 5,000 Euros and a six-month paid internship at an Electrolux global design centre.
Last year's winner was Mab, an automated cleaning system consisting of hundreds of flying mini-robots that clean all types of surfaces.
The two runners up in the 2013 competition were Atomium, a 3D printer that uses molecular ingredients to construct food, layer by layer, and the Breathing Wall, an integrated wall air cleaning concept for people who live in urban areas and want to relax and rest in a home with fresh air.
Here's just a few examples of the entries which really blew our minds:
Designer: Sorina Răsteanu
University: West University Of Timisoara, Romania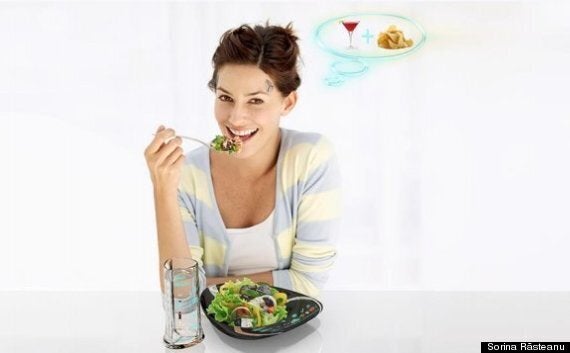 Set to Mimic is a set of smart kitchenware that recreates tastes and smells of your food to your preference. By placing a noninvasive transparent gel patch with a microchip on your head, the plate and glass communicates wirelessly with your brain, to make you experience a taste or smell from the past by tapping in to your memory. That way you can eat a carrot but have the impression that you'reeating an ice cream or a steak, which makes it easier to lead a healthy life.
Designer: Iker Legarda Gabiria
University: Mondragon University, Spain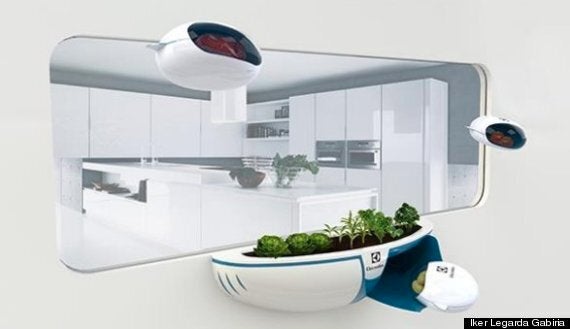 Izotz is an ecological food storage system which also grows food. The concept conserves food as fresh as the first day over months thanks to effortless and environmentally friendly vacuum technology. The system covers leftover food in a biopolymer spray which leaves no taste or smell on the food and is easy to peel off and used again. Energy consumption is also scaled to minimum as half of the storage is outside the building to make use of the low temperature during winter and it has self-supplied renewable energy from the solar panels used as exterior material.
Country: United Kingdom / France
Designer: Couvert-Castera Anne
University: Central Saint Martins School, London, United Kingdom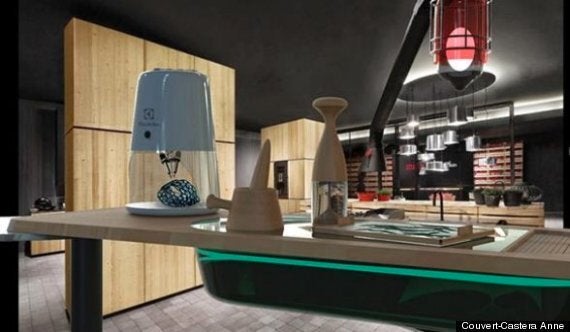 Grow Your Own Proteins is a kitchen mini station that allows you to grow your own spirulina algae, which is one of the richest protein sources on earth. It contains a spectrum of nutrients and essential amino-acids that help your body remove toxins and regenerate its cells. The system consists of a harvesting tank, a drawer containing the algae drier, hand tools, utensils to process the algae and a 3D food printer that lets you turn your algae paste into any shape you like. The system is controlled via a projected interface that gives advice and guidance on how to process the algae and take care of your aquaculture. By letting people cook healthy and tasty protein based food in a creative way, Grow Your Own Proteins has a positive impact on the environment as it can help reduce the consumption of resource demanding animal protein.
University: Estonian Academy of Arts, Estonia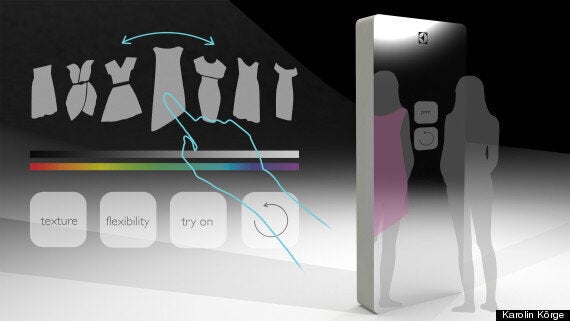 Zero waste is a trendy wardrobe that never goes out of style. The system allows the user to make new clothes without creating any waste by using old clothes as a raw material to print the new ones. You simply fill the device with old garments and scan you're your body measurements, then select the style and colour of garment on a touch screen catalogue and have the garment 3D printed and ready to wear. The printable raw material used for the garments is provided with the concept, it is recyclable and easily reconstructed by this wardrobe with a minimalistic design. The eco-friendly wardrobe system supports the sustainable lifestyle by saving up the time and money as well as helping to keep the environment clean.
Designer: Ingrida Kazėnaitė
University: VDA Kaunas Faculty, Lithuania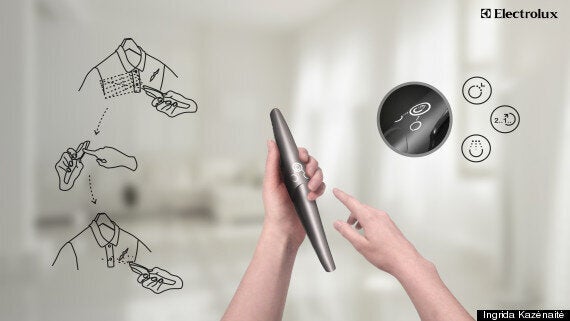 Fabric Pen is a sewing kit in your pocket which mends your ripped clothing by printing a patch of same fabric on the damaged area. It is a quick way to mend and retouch your damaged clothing or to design and personalise your old ones, so you don't have to throw old clothes away and continuously buy new garments. With fabric pen you scan the type of fabric material your clothing are made of along with fabric colour then print a patch of the same fabric on the damaged area. The printed patch attaches itself to loose threads and masks itself into the pattern. When the patch gets in contact with oxygen it solidifies into instant non-woven materials. You can remove it, wash it and re-weave it, or just start all over again.
Designer: Eduardo Luis Chacón López
University: Universidad de los Andes ULA, Venezuela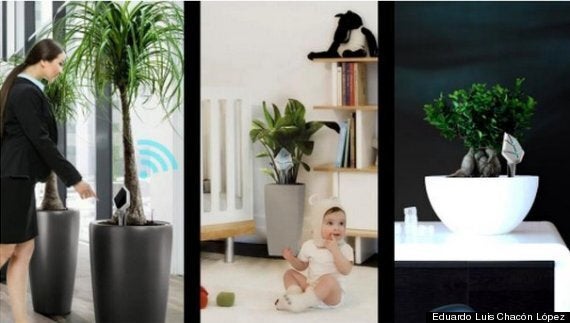 Air & Life concept condenses the humidity of the air for the nourishment of the plants, thus enabling houseplants be more effective in their natural cleaning process. The device stimulates and promotes green living in indoor environments, helps us take better care of our surroundings and also helps its users in health care preventing respiratory and allergic diseases. Air & Life is also an indoor air management system by measuring the status of air pollution as well as humidity and state of purification in the entire home.
Designer: Michał Pośpiech
University: The Jan Matejko Academy of Fine Arts, Poland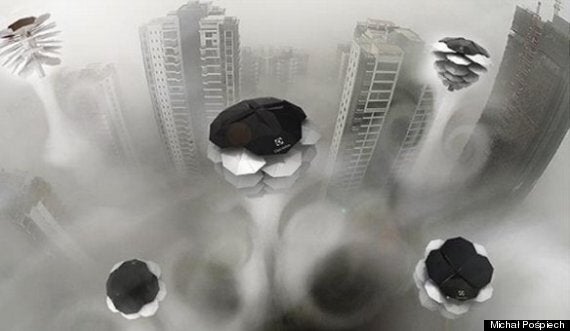 UrbanCONE creates healthy microclimates outdoors as it can purify the air around the entire city – as well as in our homes. The device lifts up and flies in the air thanks to ultra light construction and photovoltaic solar panel wings moving according to the resemblance of a jellyfish. The purification is made by exchangeable filters that lie underneath the wings of the cones. UrbanCONE is an automatic, radio-controlled smart device, which clusters in population centers with greater need for filtration.
Designer: Thanut Chaovakul
University: Silapakorn University, Thailand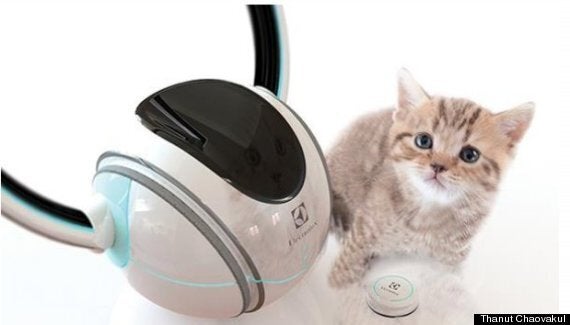 Petollar makes it possible for people with allergies to have pets. It consists of one small piece, the Minuze that is attached to the pet, that disperses negative ions in the dirt floating in the air, and one larger piece, the Petollar, that uses suction to remove the impurities. In addition to cleaning the air, Petollar also lets the user locate the pet if it runs off.
Popular in the Community