UPDATE: Esther McVey Defends 'Demeaning' Daily Mail, Paper's Own Staff Are Appalled
You may have spotted some breaking news from the Daily Mail this morning - some women put on clothes and went to work.
The tabloid chose to travel back to the 1950s and covered David Cameron's dramatic reshuffle with a fashion critique of the new "girls" on the Downing Street "catwalk."
In the "heinously sexist" coverage the Mail's Catherine Ostler gave her "style verdict" on the new appointments, which examined Employment Minister Esther McVey's "don't mess with me" lipstick and "turbo-charged hair", Environment Secretary Liz Truss's "patriotic" red, white and blue ensemble and Claire Perry's wedges and "statement necklace".
Because, in 2014, women in positions of power can't possibly be appointed based on their intelligence or political views, instead, let us focus on their hemlines and hairdos.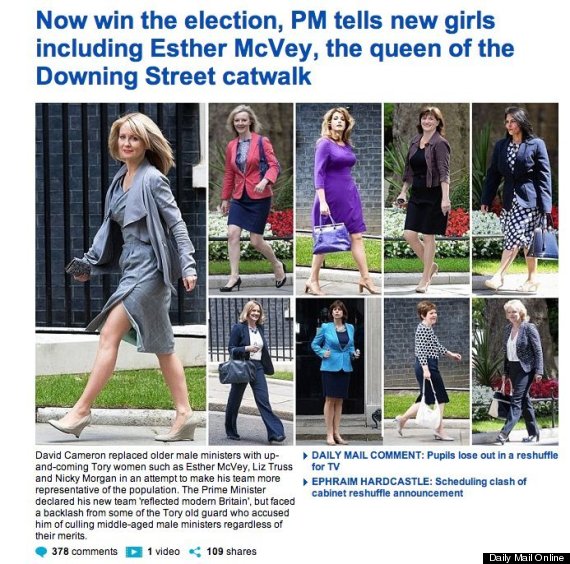 The Daily Mail political cat walk, what they really mean. pic.twitter.com/iUGIC3ievV

— TechnicallyRon (@TechnicallyRon) July 16, 2014
READ MORE: Nick Clegg Has Perfect Response To 'Sexist' Daily Mail Reshuffle Coverage
McVey was the main focus of the vacuous analysis, with the paper practically salivating over her "thigh-high slit skirt."
"She sashayed into Downing Street… her blonde mane was thrown backwards as in a shampoo advert," the paper remarked.
"No longer shrouded in black tights.. Esther is clearly keen to show off her toned legs," it adds.
Her "bust emphasising" dress is a little too much for the family-friendly paper however, and it warns: "She needs to tone it down a little for attending Cabinet meetings."
Even the Mail's own Business Correspondent, Becky Barrow - who is departing the tabloid to go to the Sunday Times - has slammed the paper's coverage:
One thing that I will not miss about working for the Mail: unspeakably awful and demeaning spreads about women. pic.twitter.com/DqIS86kYDm

— Becky Barrow (@beckymbarrow) July 16, 2014
Eleanor Mills, the Editorial Director of The Sunday Times, branded the coverage "retrogressive for women."
But, asked if the coverage could put off women from politics, the Mail's Quentin Letts argued that the reshuffle "focused very strongly on image over ideology."
"Image was very much the driver," he insisted.
But as former duty prime minister John Prescott astutely remarked, what if the same style of coverage was given to male politicians?
In the interest of balance, here's #dailymailcatwalk #downingstreetcatwalk pic.twitter.com/5nBWyVPWUT

— John Prescott (@johnprescott) July 16, 2014
I'm sure The Daily Mail will run with this tomorrow, right? pic.twitter.com/8mNM4VAl7P

— Jamie DMJ (@JamieDMJ) July 16, 2014
Nick Clegg won the internet for the day with this tweet, where, for once, the deputy prime minister came out of a negative situation triumphantly:
What I wore to the office today. Fingers crossed the Mail approves. Hope I don't look too '80s cabin attendant'. pic.twitter.com/bVy7wCkfrG

— Nick Clegg (@nick_clegg) July 16, 2014
But asked about the Daily Mail's spread, McVey told the BBC Wednesday: "Oh, you know what, it highlights all those wonderful women."
Celebrating the coverage of female politicians, she told Sky News: "All I can say is it's fantastic having women in powerful positions."
Nevertheless, many responded with fury to the "belittling" style of reporting, branding it "everyday sexism" and accusing the paper of setting "female politics back years":
Hang on, so you're saying the Daily Mail ISN'T a shining beacon for equality and progress? This is BRAND NEW INFORMATION.

— Jamie (@jtlovell1979) July 16, 2014
PRETEND you're a Quantum Physicist who's successfully built a time-machine by simply buying a copy of today's Daily Mail. @TwopTwips

— Abbey Bloom (@AbbeyBloom) July 16, 2014
And the Daily Mail does it again. More women in government than at any other point in British history, and what do they have a 2 pgs on..?

— Martin Hulme (@ProfessorOdessa) July 16, 2014
Well done Daily Mail you've done it again. Denigrating the achievements of women to a sleazy side show! pic.twitter.com/tWUKHUyLSf

— Suzanne Halliwell (@SJHalliwell) July 16, 2014
I see the Mail was surprised by women wearing clothes on the way to work again #everydaysexism

— Ali B (@MsTick68) July 16, 2014
Cynical feminism like Cameron's results in sexist stories like the Daily Mail's approach to women in cabinet "catwalk".

— Andrew Fergusson (@andrewfergusson) July 16, 2014
Mail's catty misogyny re women MPs is revolting but nothing new. Would be more tweet-worthy if they'd focused on their politics instead.

— Chris Wills (@crispeater) July 16, 2014
Oh FFS Mail! MT SkintLondon: 'The Downing St Catwalk' because hey, that's what a street is when women walk down it! pic.twitter.com/XsNzYApVBq

— Vicki Kelsall (@vickikelsall) July 16, 2014
In honour of the Mail's article on women MPs outfits...I'm in a Next grey, striped shirt, jeans from Debenhams and Kermit the Frog socks.

— Chris Hubbard (@hubbardcj) July 16, 2014
Mail has uncanny knack of capturing attitude to women politicians.

Forget their politics I want to know hemlines & accessories (said no one)

— Julie Minns (@kenningtonkitty) July 16, 2014
The Daily Mail really is a farce, Tory reshuffle brings women into cabinet & Mail leads with what they're wearing!! Is it still the 1950s?

— Brian Cruyff (@BarrySpex) July 16, 2014
Why don't women go into politics? Because in 2014 editors of Daily Mail still think their primary contribution to public life is cosmetic

— Lucie Shuker (@lucieshuker) July 16, 2014
Considering the demographic of the Mail, others queried why its readership is predominantly female.
@FelicityMorse The Mail: for women who hate women

— Jack Seale (@jackseale) July 16, 2014
Can someone explain to me why so many women read the Daily Mail? pic.twitter.com/L7OCoT5FQI

— James Randerson (@james_randerson) July 16, 2014
Appropriately, in the Times, ex-Home Secretary Jacqui Smith offered a "woman's guide to surviving in cabinet" - warning that the new female ministers "must be on their guard against sexism".
She added: "Most irritatingly, your clothes and appearance will be commented on. Most of the time, you need to dismiss this as sexist nonsense."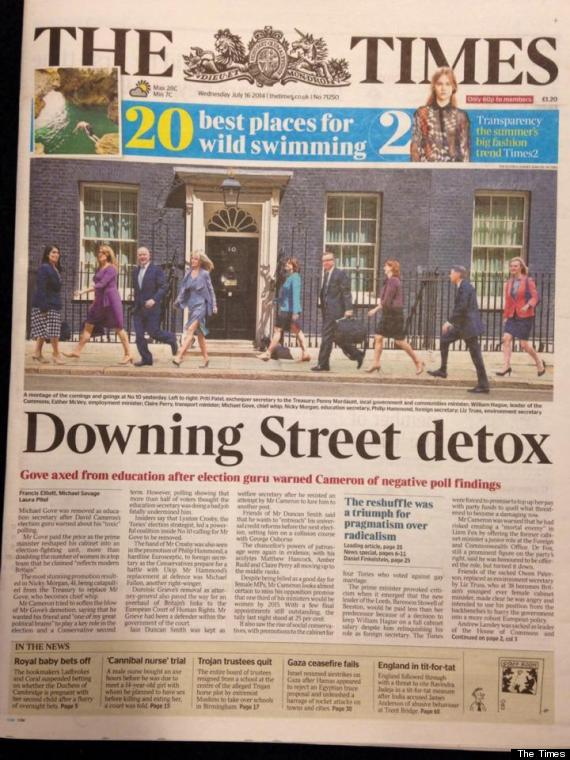 The Guardian's Anne Perkins argued that the "Downing Street spin operation" has been "treating the entire process as a media management exercise intended to reverse the impression that Cameron has a problem with women".
She added: "Instead it confirms it. It diminishes the women who have been promoted to find themselves branded as token appointments in a piece of extended stage management."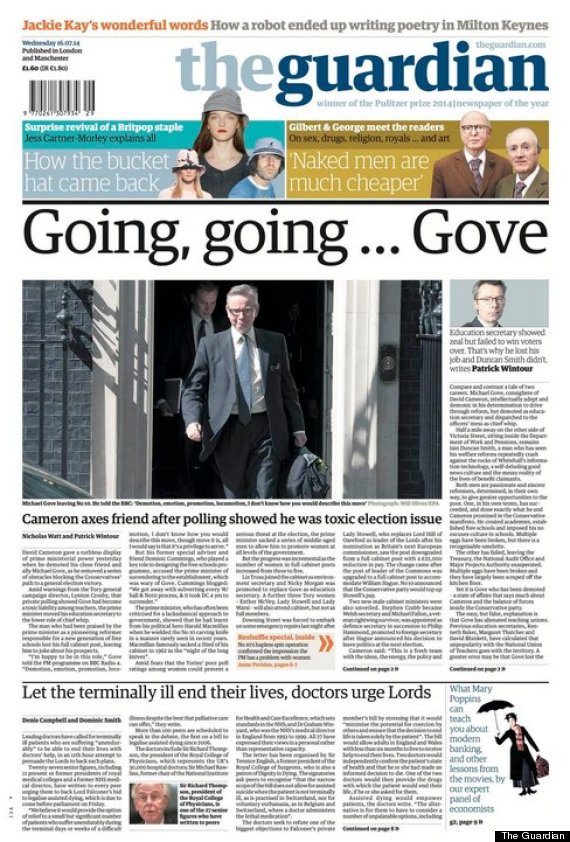 McVey could be forgiven for having been left rather underwhelmed by the reshuffle, as the Liverpudlian former TV star was trumpeted for a much more august promotion.
McVey, who was merely given "attending cabinet" status but kept in position, had long been one of the phalanx of female Tory ministers trailed as set for promotion in Cameron's dramatic reshuffle on Tuesday.
The minister was even billed as a potential "minister for TV" that would seek to help "refresh" the cabinet, but outgoing education secretary Michael Gove snatched the job for himself.
McVey's fate, missing out on a cabinet-level post, was not shared by other female Tory ministers, who did enjoy elevation to be full cabinet ministers, like new education secretary Nicky Morgan.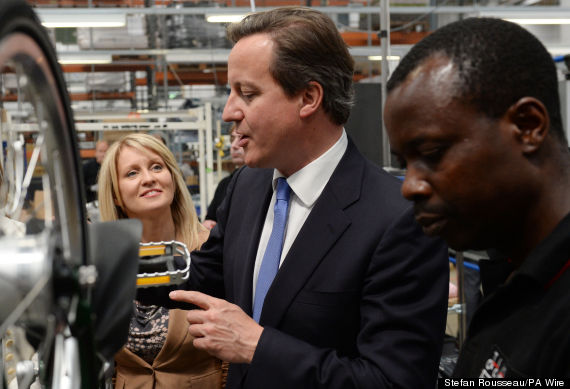 Minister for Employment and Disabilities Esther McVey looks at Prime Minister David Cameron during a tour of the production line at Brompton Bicycle Ltd in Brentford, Middlesex on Wednesday