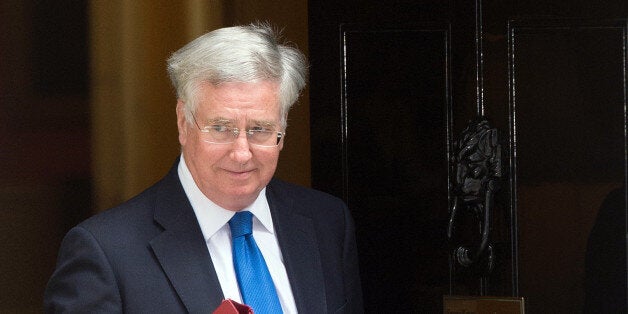 David Cameron has assembled a eurosceptic cabinet in his reshuffle in an effort to tackle the threat posed by Ukip, the new defence secretary has said.
Michael Fallon said "the country is Eurosceptic now" and stressed that only the Conservatives would champion reform in Brussels.
The prime minister appointed Philip Hammond, who has said he would vote to leave the EU unless powers are clawed back, as Foreign Secretary in a sign of his efforts to combat Nigel Farage's party.
Fallon said: "It's certainly a eurosceptic cabinet, but the country is eurosceptic now. We think Europe has been on the wrong lines and you have seen a prime minister prepared now to veto things coming from Europe, who has achieved a budget cut for the first time ever and he is promoting reform in Europe."
Asked if the reshuffle contained a message aimed at Ukip supporters, he told BBC Radio 4's Today programme: "Of course we want people to vote for the only party that really can make change in Europe.
"Ukip would simply leave, that's not the answer. The answer is to get the reforms we want and to get public opinion behind them. This is the only party now that is offering people that choice and the only party that is championing reform.
"So we certainly want people who may have flirted with Ukip at the recent European election to understand how we can get change in Europe and understand that the Conservative Party is the only party that can deliver that change."
The removal of Dominic Grieve from his post as attorney general and Ken Clarke's retirement from the Cabinet were also seen as a signal of a tougher attitude from the Government over the European Convention on Human Rights.
Fallon said: "Many people have been extremely frustrated by the process by which we are able to deport people who have no connection with this country, weren't born here, aren't citizens of this country, want to commit terrorist acts against this country and we have not been able to get rid of them.
"It's taken years to get rid of some of these well-known figures and I think most people would want reform to make sure that we can deport quickly people who threaten our security and have got no right to be here."
Cameron will finish his reshuffle of junior ministerial ranks today before taking questions in the Commons and heading to Brussels to push for Lord Hill of Oareford to be given a plum role in the European Commission.
Cameron and Gove both dismissed speculation that he had been demoted, despite unions expressing glee after he lost his status as a full Cabinet member and took a £30,000 pay cut.
The PM described the MP as "one of my big hitters, one of my real stars, one of my great brains", arguing that he would be on the front line in the run-up to next May.
Gove insisted he had been given the choice of staying at education, but took the decision to move for an "exciting" role.
He is now expected to join a "core" election team around the prime minister, with William Hague, who has given up the frenetic job of foreign secretary to become leader of the House of Commons.
Meanwhile, a series of established figures were culled in favour of women, with the highest-profile casualty Owen Paterson losing his environment brief to Liz Truss.
Treasury minister Nicky Morgan, 41, who replaces Gove, and new Environment Secretary Truss, 38, are the first mothers in the Cabinet since the resignation of Maria Miller in April.
Cameron named former public relations executive Lord Hill as his nominee for European Commissioner, giving his job as Leader of the Lords to Lady Stowell of Beeston - the peer who guided gay marriage legislation through the Upper House.
There was a backlash when it emerged that Lady Stowell was not due to inherit her predecessor's status as a full Cabinet member and would not be paid as much either.
Downing Street stressed that there was a legal limit on the number of Cabinet ministers, pointing out that former foreign secretary Mr Hague was remaining as a full member despite moving to a theoretically lower-ranked job as Commons Leader.
They later backtracked by indicating the Conservative Party would top up Lady Stowell's salary to the same level as Lord Hill's.
Mr Cameron added another female face around the Cabinet table as former TV presenter Esther McVey, who keeps her job as minister for employment and disabilities, will attend the weekly meetings at 10 Downing Street without being a full member.
Also attending will be Matt Hancock, a key ally of Chancellor George Osborne, who took the energy minister role vacated by Mr Fallon, as well as being minister for Portsmouth. David Jones was sacked as Welsh secretary and replaced by Stephen Crabb.