NEW YORK -- Following the noxious scenes in Murrieta, California earlier this month in which women and children from Central American were greeted by flag-waving mobs shouting, "go home" and "you're not welcome", the ugly face of American populism was given another airing on Tuesday as protesters descended on the small town of Oracle, Arizona, to rally against the transfer of 40 immigrant children to a local academy for troubled youths.
Yet unlike in Murrieta, those demonstrating against the arrival of the destitute and vulnerable were met by a counter protest organised by pro-immigrant supporters, with heated exchanges between the two groups highlighting the bitter rift sparked by the growing humanitarian disaster coagulating on the US-Mexican border.
One demonstrator held a sign saying, "Send 'em to Coyote Obama". An opposing protester held a placard saying, "Give me your tired, your poor, your huddled masses yearning to breathe free". One Oracle resident told local TV station KVOA that he was there to protect the "sovereignty of our nation" by "protesting the invasion of the United States by people of foreign countries".
Compounding the tension in Oracle, a Republican running for the state Congress saw a bus full of children near to a housing facility for undocumented workers and tweeted a picture, with the warning, "Bus coming in. This is not compassion. This is the abrogation of the rule of law." Unfortunately, for Adam Kwasman, who posted the picture, the bus was filled with local school children travelling to a YMCA camp. He later apologised to reporters for his mistake.
As it transpired, the actual immigrant children never turned up, despite residents being forewarned days in advance by the local sheriff that Homeland Security was planning to bus in people that had been caught illegally crossing the border to be placed in the town's Sycamore Canyon Academy.
Sheriff Babeu, who was subsequently accused of inciting the anti-immigrant protests, said that he learned of the plan to house the children in Oracle through "whistleblowers". In a statement, Babeu said: "We already have our hands full fighting the drug cartels and human smugglers. We don't need unaccompanied juveniles from Central America being flown into Arizona, compliments of President Obama. Local residents have every right to be upset and to protest."
Thousands of migrants have flooded across the US border in recent months, many hoping to escape violence in Guatemala, El Salvador and Honduras, placing a strain on the existing border processing facilities. This has led to what author Chip Berlet described in a recent interview on MSNBC as a "nativist, anti-immigrant panic", a type of paranoiac episode often characterised by talk of "disease, crime and radical ideas" that has a long history in US political culture.
The influx has been described by Obama as a "humanitarian crisis", with more than 50,000 unaccompanied children being detained as they attempted to cross from Mexico into Texas. Even former vice-presidential Republican nominee Sarah Palin has spoken out (against her party), demanding that the issue of "young illegal aliens flooding across our border into horrendous conditions be taken care of. Now".
Immigration has become a hugely divisive issue in recent years, with Congress refusing to enact much-needed reform. It has also been unwilling to grant the $3.7 billion requested by the president to help mitigate the growing disaster on the country's southern border. Under the current administration, increased resources have been sent to shore up security, while an estimated 2 million migrants have been deported from the US.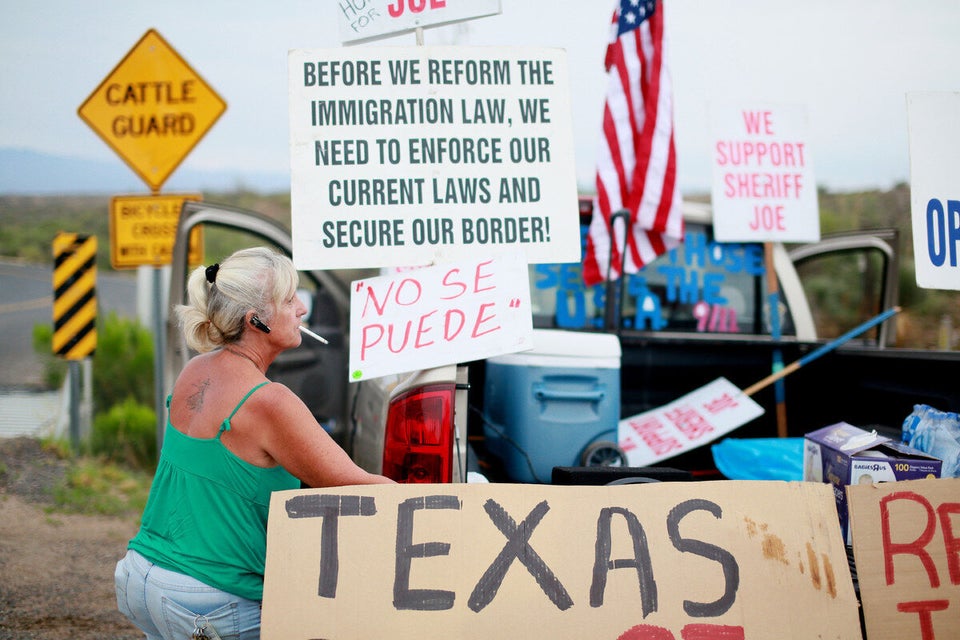 Oracle Protests
Related