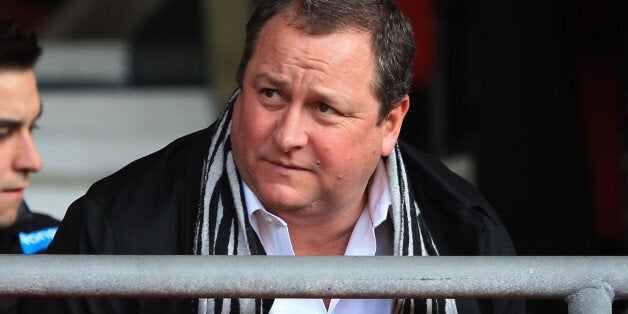 Sports Direct tycoon Mike Ashley has given up his right to a potential multi-million pound windfall, meaning that the retailer's 3,000 full-time employees stand to benefit.
Ashley's surprise U-turn, bowing to City pressure, means that Sports Direct's full-time staff will get a bigger slice of the windfall from the 25 million shares.
The retailer's shareholders voted earlier this month for a bonus plan that would give £200 million worth of shares to the staff, including Ashley, if earnings double by 2019, in their fourth attempt to push through a big payout for the tycoon, who owns 58% of the company.
The four-year plan, which has the potential to grant 25 million shares worth around £180 million to 3,000 employees including Ashley, came under fire from investor lobby groups as well as the Institute of Directors.
Sports Direct's remuneration committee, which had been due to decide on the number of shares available to Ashley in the scheme, was told after discussions with the tycoon that he did not wish to participate.
Ashley, who is owner of Newcastle United Football Club, has not received a salary or bonus since the retailer floated in 2007, although he netted £929 million in the flotation and has since banked hundreds of millions of pounds selling shares in the business. He owns 58% of the company.
Chairman Keith Hellawell said Ashley wanted to ensure that the bonus scheme, which recently rewarded some 2,000 staff with shares worth around £68,000, was used to incentivise staff and help the company meet targets.
He added: "Following recent unhelpful speculation surrounding his potential allocation, he is determined to ensure that there is the maximum number of shares available for the eligible employees."
Ashley has also said he does not expect any other incentive scheme to be proposed to shareholders over the four years of the current bonus plan.
To achieve the payout the firm's earnings will have to hit £480 million at the end of the 2016 financial year and rise to £750 million by 2019. In results due this week, Sports Direct is expected to report earnings of around £327.1 million.
Sports Direct has around 400 UK stores and operations in 19 countries in Europe. It also owns brands including Dunlop, Karrimor and Slazenger.
Just over 60% of the shareholders eligible to vote backed the current plan at a special meeting at the company's headquarters earlier this month.
In April, the company pulled a proposal that could have awarded Mr Ashley more than £70 million based on targets for this year and 2015. The business initially tried to hand Mr Ashley a bonus in September 2012, but again failed to win enough investor support.
The Local Authority Pension Fund Forum criticised the current scheme, saying that it was inappropriate to establish an incentive plan with a single board member in mind.
Forum chairman Kieran Quinn said: ''This arrangement creates a bias in favour of Mr Ashley as well as the impression that he is creating the scheme for himself."
Popular in the Community