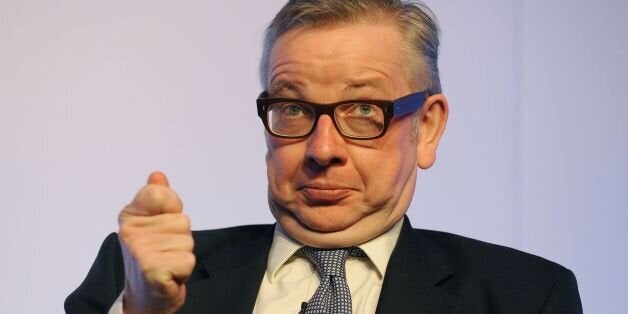 Michael Gove's first day on the job as chief whip did not go to plan. Not only did he lose a Commons vote, he also got stuck in a toilet.
The former education secretary was just settling into his new role as Tory backbench enforcer-in-chief, when Labour called a surprise vote on allowing the Office for Budget Responsibility (OBR) to audit its manifesto. A move opposed by the government.
The ambush caught Conservative and Lib Dem MPs off-guard and Labour won 203 votes to 16. It was almost even worse for Gove, as the vote was called when he was in the toilet in the wrong voting Lobby. "The vote was called when he was in the loo," a Labour source wryly observed. The new chief whip had to run out of the 'aye' lobby before he accidentally voted against the government.
Bill Esterson, a Labour MP who was in the same toilet as Gove at the time, told The Huffington Post the new chief whip appeared not have the "faintest idea" that he should perhaps be marshalling the troops for the vote. "He didn't have a care in the world, he was chatty and charming, as he can be," he said.
"I went to the loo, Michael Gove came out of the cubicle and spoke to me to apologise for the fact that he, having changed jobs, wasn't going to come to the education select committee," Esterson, a member of the committee, said. "I was joking with him, he laughed and left. It dawned on me, why was the government chief whip in the aye lobby when he knew full-well there was a vote."
Esterson added: "On the first day on the job he was in the wrong division lobby stuck in the toilet, in a vote they lost because they were confused."
William Hague defended his colleague by noting that "knowledge of who is in the toilets in whatever lobby is a very important piece of information for any chief whip." The new leader of the Commons added: "I take this as evidence that he was carrying out his duties very assiduously."
Nick Clegg could barely disguise his glee this morning at Gove's demotion from education secretary. The Lib Dem leader, who has frequently clashed with Gove over education policy, told LBC Radio that he hoped David Cameron's reshuffle would bring to an end the "divide-and-rule approach to teaching".
"I would like to think that with a change of personnel we can now turn the page and instead of denigrating teachers, we can celebrate what many, many teachers across the country do."
The chief whip usually occupies a front bench position throughout many Commons debates. However Gove was conspicuously absent from his new seat during today's business Questions. Perhaps he was rooting around in the toilets again.
Related