The five things you need to know on Tuesday 22 July 2014...
1) MILIBAND TAKES ON THE ISRAELIS
Ed Miliband hasn't had much to say about Israel's bombardment, and ground invasion, of Gaza and the mounting civilian death toll inside the strip - until, that is, yesterday.
"Miliband said the incursion into Gaza is likely to help Hamas' recruiting efforts, and undermines Israel in the eyes of the international community. "I don't think it will help win Israel friends," he said. 'I don't think this will make the situation better. I fear it will make it worse... As a party we oppose the further escalation of violence we have seen with Israel's invasion of Gaza,' he said. 'I defend Israel's right to defend itself against rocket attacks. But I cannot explain, justify or defend the horrifying deaths of hundreds of Palestinians, including children and innocent civilians.'"
Strong stuff from the Labour leader - his anti-Zionist mother, Marion Kozak, a Holocaust survivor, must be proud of him.
Whether the Israelis will give a damn is another matter. David Cameron has reiterated his "staunch support" for the Jewish state and has had little to say about the X Palestinian dead - "grave concern" is the phrase I think he belatedly and half-heartedly deployed yesterday. Barack Obama, meanwhile, continues to declaim "Israel's right to defend itself" from rockets - but without Miliband's qualifier about Palestinian dead.
Miliband, incidentally, was in DC to get a "brush by" meeting with the Leader of the World, as craved by every British leader of the opposition and he got a 25-minute sitdown with Obama and his national security adviser Susan Rice. They talked Ukraine, Gaza, Scotland, climate change and the future of the EU, among other issues. Check out the official photo that was released (below) - the Labour spin team won't be too pleased with that rather large table placed between their man and the prez.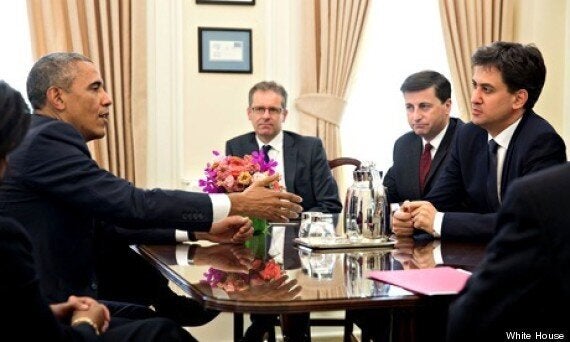 "Mr Miliband also arrived with a House of Commons plastic bag containing his gifts for the president. A Labour spokesman said the bag contained three DVDs — the original versions of House of Cards, State of Play and The State Within. "Given the number of US political dramas on our screen, we thought we would showcase a few British-made examples," said the spokesman, who stressed that all of the DVDs were in a US compatible format."
The Sun tries to be a party pooper: "Miliband accused of abandoning Britain to stage Obama PR stunt."
2) LIBS AND LABS SITTING IN A TREE...
My HuffPost UK colleague Ned Simons has this rather nice scoop about the possibility of a Lib-Lab coalition post-May 2015 - and it's been picked up by several papers including the Telegraph and the Mail. Ned writes:
"The next general election will produce a Liberal Democrat-Labour coalition government, the Lib Dem energy secretary Ed Davey has predicted. Davey let slip the forecast while speaking at a conference organised by the left-leaning Lib Dem Social Liberal Forum group in Shoreditch, East London, on Saturday. His comments offer an insight into the strategic thinking of the party leadership as May 2015 draws near... He said: 'If we were negotiating again and I hope we will be, but probably with the Labour Party this time ... that would be my prediction, I think because we are used to coalition politics, we would negotiate even better.'"
3) DAVE GOES ALL GODWIN ON VLAD
"David Cameron last night lost patience with Vladimir Putin's 'bluster and obfuscation' and called on Europe to impose 'hardhitting sanctions' on Russia after the downing of Flight MH17. In his strongest intervention since the disaster, which killed 298 people, the Prime Minister invoked the spectre of the Second World War and compared Russia's aggression to that of Nazi Germany. He said Russia was facing a 'defining moment' in its history and expressed his frustration with European Union countries, including France and Germany, which have failed to back his calls for the toughest possible sanctions against Moscow."
The real question, as journalist Edward Lucas put it on the Today programme this morning, is: "What happens next?"
BECAUSE YOU'VE READ THIS FAR...
Watch this video of comedian John Oliver take on America's prison problem.
4) WHAT'S 20 MILLION QUID BETWEEN FRIENDS?
Hillary Clinton was recently slammed for claiming she and her multimillionaire ex-president husband Bill were "dead broke" after her failed 2008 campaign for the Democratic presidential nomination. Will former British PM Tony Blair be similarly slammed for claiming, in a speech to Blairite thinktank Progress yesterday, that he's *only* worth £20 million? I doubt it. There's a reason they call him 'Teflon Tony'.
"Tony Blair hit back at claims that he has become a member of Britain's super-rich yesterday by insisting that he is actually worth less than £20 million. The former prime minister said he was not motivated by money and that suggestions his wealth had reached £100 million were 'greatly exaggerated'. He said the claims had led his wife, Cherie, to ask him where all their money had gone."
"Mr Blair was quizzed about his "new life" after Downing St during an appearance marking the 20th anniversary of his election as Labour leader. He used the address to tell Labour that its best chance of winning the next election was to reach out beyond its "comfort zone" and fight from the political centre ground."
5) GOODBYE GRIFFIN... AND GOOD RIDDANCE
Is this the end of a (far right) era? From the Guardian:
"Nick Griffin has been replaced as leader of the British National party, the far-right group has announced. The BNP's website said Adam Walker, a former teacher who this year was struck off the teaching register for life, had been appointed acting chairman after Griffin 'stepped aside', two months after he lost the party's only seat at the European parliament in a disastrous set of election results. Griffin, who was declared bankrupt in January, had 'taken up the position of president', it said, adding that the national executive was 'united in their support' for his replacement."
From today's Sun/YouGov poll:
That would give Labour a majority of 44.
Rachel Sylvester, writing in the Times, says: "Pragmatists v romantics: the Tory dilemma."
Steve Richards, writing in the Independent, says: "The intensity of the adulation for Blair ought to concern Labour's 'new' man."
Got something you want to share? Please send any stories/tips/quotes/pix/plugs/gossip to Mehdi Hasan (mehdi.hasan@huffingtonpost.com), Ned Simons (ned.simons@huffingtonpost.com) or Asa Bennett (asa.bennett@huffingtonpost.com). You can also follow us on Twitter: @mehdirhasan, @nedsimons, @asabenn and @huffpostukpol@huffpostukpol