Leaders of pro-Russian separatists in Ukraine have agreed to hand over the bodies of victims of the Malaysia Airlines crash, along with the plane's black boxes, and to allow international investigators access to the site, Malaysia's prime minister has announced. Najib Razak said he had secured agreement from Alexander Borodai, the self-proclaimed prime minister of the "Donetsk People's Republic", after days of behind-the-scenes efforts to establish contact with those in control of the crash site.
His announcement came as David Cameron called on Russian president Vladimir Putin to end his support for separatists and warned Moscow it faced international isolation, including a "new range of hard-hitting economic sanctions" from the EU. In a statement to the House of Commons, Mr Cameron said Russia was facing a "defining moment" and warned that Europe would fundamentally change its relations with its giant eastern neighbour if Mr Putin continued to foment violence and instability in Ukraine.
The United Nations Security Council was due to vote on a resolution tabled by the UK and Australia demanding "safe, full and unfettered access" to the crash site for international investigators and for the bodies of victims - many of which are being held in refrigerated train carriages - to be handled with respect and dignity.
Foreign Secretary Philip Hammond will tomorrow meet EU counterparts in Brussels at a meeting in which the UK hopes to accelerate the implementation of extended sanctions on specific Russian businesses, organisations and individuals, as well as discussing broader sanctions which could target wider sectors of the Russian economy, such as financial services, energy exports, trade and defence co-operation.
In a statement, Mr Razak said he had spoken personally to Mr Borodai and agreed that the remains of 282 victims of the crash, accompanied by six Malaysian members of the recovery team, will be moved by train this evening from Torez to the city of Kharkiv, where they will be handed over to Dutch officials.
The remains will be flown to Amsterdam on a Dutch C130 Hercules, together with the Malaysian team. The black boxes were due to be handed over to a Malaysian team in Donetsk this evening, said Mr Razak. Independent international investigators will be guaranteed "safe access to the crash site to begin a full investigation of the incident", he said.
"I must stress that although agreement has been reached, there remain a number of steps required before it is completed," said Mr Razak. "There is work still to be done, work which relies on continued communication in good faith. Mr Borodai and his people have so far given their co-operation.
"I ask that all parties continue to work together to ensure that this agreement is honoured; that the remains of our people are returned, that the black box is handed over, and that the international team is granted full access to the site. Only then can the investigation into MH17 truly begin; only then can the victims be afforded the respect they deserve. We need to know what caused the plane to crash, and who was responsible for it, so that justice may be done."
Mr Cameron told MPs: "The world is watching. President Putin faces a clear choice in how he decides to respond to this appalling tragedy. I hope he will use this moment to find a path out of this festering and dangerous crisis by ending Russia's support for the separatists. If he does not change his approach to Ukraine in this then Europe and the West must fundamentally change our approach to Russia."
Following phone calls in recent days with European leaders including German chancellor Angela Merkel and French president Francois Holland, Mr Cameron said that for too long there had been "reluctance" on the part of some European nations to face up to the implications of the unrest in eastern Ukraine. He said: "It is time to make our power, influence and resources felt.
"If Russia does not change course then we must be clear Europe must keep increasing the pressure: Russia cannot expect to continue enjoying access to European markets, European capital, European knowledge and technical expertise while she fuels conflict in one of Europe's neighbours," the PM told MPs.
"We must do what is necessary to stand up to Russia and put an end to the conflict in Ukraine before any more innocent lives are lost." Mr Cameron, who also discussed the Ukraine crisis at a meeting of the National Security Council, dismissed Mr Putin's "bluster and obfuscation" over the crash and rejected claims that Ukraine's armed forces could have fired the surface-to-air missile that downed the Malaysian jet at 33,000ft.
"The picture is becoming clearer and the weight of the evidence is pointing in one direction: MH17 was shot down by an SA-11 missile fired by separatists," he said. French arms sales and German dependence on Russian fossil fuels have been seen as possible barriers to tougher measures, but Britain will argue in Brussels that the whole union must share the burden.
Chancellor George Osborne said the UK was prepared to take an "economic hit" to put pressure on Moscow. Deputy Prime Minister Nick Clegg said that the EU had so far failed to "act with the right collective resolve", but that the downing of flight MH17 had brought about "a change of mood" among "previously much more reticent" EU states.
Mr Clegg said: "At the end of the day, the Russian economy is far, far more dependent on access to the European market than the other way round. It would be, in my view, a betrayal of the collective clout that we have in the EU - the world's largest single market with 500 million consumers - it would be a betrayal of the clout that we could wield to good effect if everybody were only to look at their own national economic interests, given what is at stake here."
Mr Putin warned Western powers not to use the incident to advance "vested interests" at Russia's expense. "No one has the right to use this tragedy for any kind of vested interest in the political sense. Such incidents should unite people rather than separate them," said the Russian president.
"It is necessary that all people who are responsible for the situation in the region of Ukraine improve their responsibility to their own people, and to the people of the countries whose representatives have been victims of this crash. We need to do everything to ensure the security and safety of the observers and the experts working at the crash site."
The separatists placed bodies from the downed Boeing 777 in refrigerated train carriages in the rebel-held town of Torez, nine miles from the crash site, and said they would remain there until the arrival of an international aviation delegation. They also claimed the plane's black boxes had been recovered and would be handed over to the International Civil Aviation Organisation.
Labour leader Ed Miliband said evidence was growing that the MH17 crash was "not simply a tragedy but a crime". Speaking to the Centre for American Progress think-tank during a visit to Washington DC, Mr Miliband said: "This is a moment of reckoning for Europe. We know enough about this disaster to know that this is a moment when Europe needs to show its strength as well as its sorrow.
"It is evident from Russia's continuing actions in Ukraine that the international community has not done enough to show that Russian aggression cannot be allowed to stand. Europe's economic well-being relies upon the upholding of international norms and international law. Our collective security requires every European country to accept its responsibility. European unity must not be an excuse for European inaction."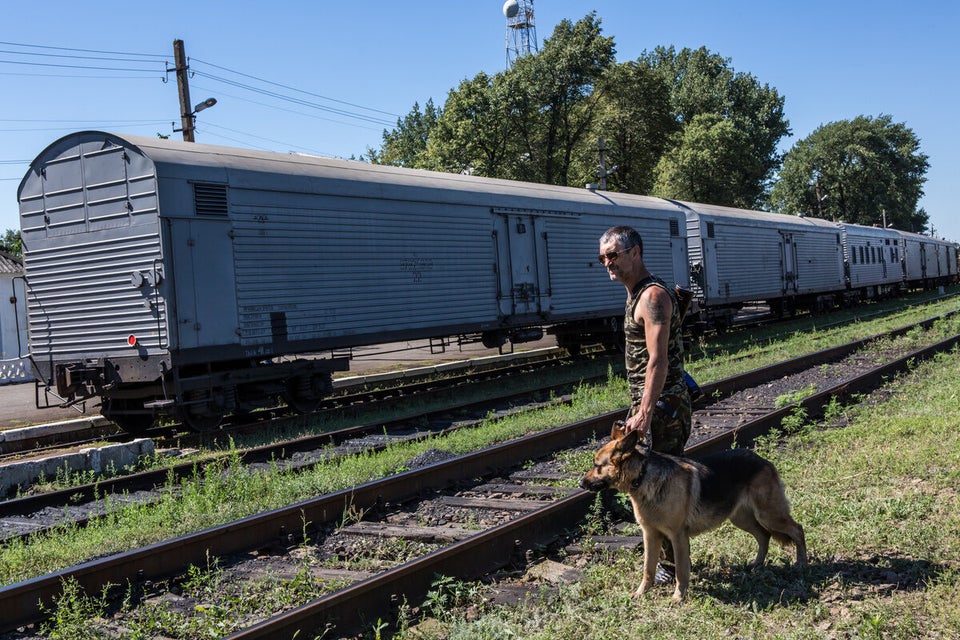 MH17 Body Removal