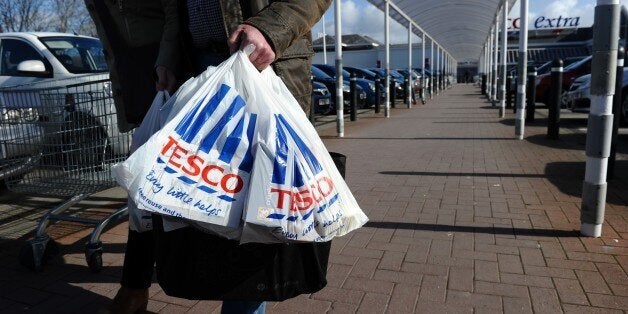 Tesco chief Philip Clarke's departure, after mounting pressure over his failure to improve the supermarket's poor sales, shows the daunting task his successor, Dave Lewis, will have on his hands.
The troubled supermarket, which is seeing its worst sales performance in four decades, announced Clarke's departure as it issued a fresh warning on profits. The City responded with relief to Clarke's departure, as shares soared within the first hour by nearly 3%. But will Clarke's resignation be enough to save the supermarket?
Clarke was left reeling last month after it revealed that Tesco's quarterly like-for-like sales had fallen 3.7%, the worst he had known in nearly 40 years at the supermarket. Tesco later suffered a credit downgrade in recognition of its declining sales, which were described as "disappointing" by former CEO Sir Terry Leahy.
Phil Dorrell, director of consultancy Retail Remedy, said: "Philip Clarke leaving is the right thing for Tesco. His strategy wasn't working and, for some time, the UK's biggest grocer has been drifting aimlessly."
However, other experts warn that the fortunes of Britain's biggest retailer will not simply be fixed by changing one man. Neil Sanders, head of retail research agency Columino, compared the situation to "shuffling deck-chairs on the Titanic".
"It's strategy that counts bad that's what needs to be right," he wrote on Twitter. "One feels for Philip Clarke. A good man in post at the wrong time, solving problems not of his making."
Bernstein Research's Bruno Monteyne argues that Tesco "has been increasing prices way too fast over the last few years to keep up earnings growth". This has led to the supermarket giant losing more than 1 million customer visits a week, worth £25 million in sales.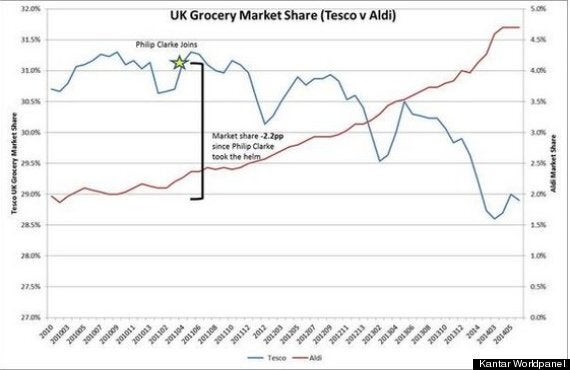 Tesco vs Aldi's market share over time
Professor Chris Edger, from Birmingham City University, says that Tesco needs to focus on price and value-for-money, even if it eats into its profit margins.
"Current [profit] margins at over 5% are unsustainable," he said. "The internet and value retailers will continue to rip into Tesco unless consumers perceive it is returning to its original purpose; providing "surprice" for customers. Investment in services and bolt-on offers is window dressing."
So will Unilever executive Dave Lewis change anything at the reins of Tesco? Independent retail analyst Nick Bubb said: "Dave Lewis knows nothing about retailing, but maybe that doesn't matter, because as a leading supplier he certainly knows how to win price wars and perhaps that is the big issue now facing Tesco in the UK."
Lewis may throw Tesco deeper into a price war, but at least it will have a direction.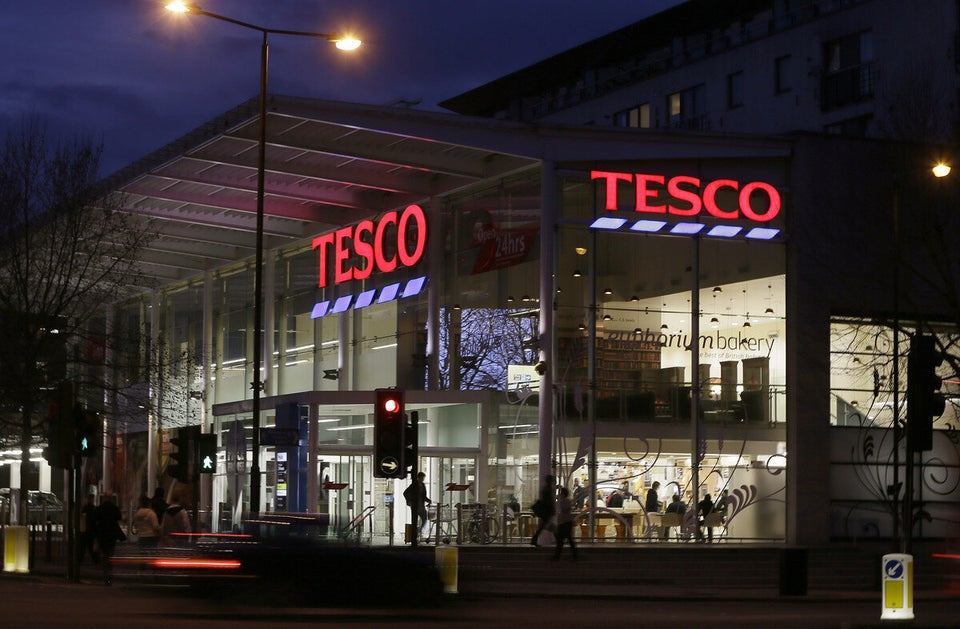 Six Reasons Tesco's Dominance May Be Finished