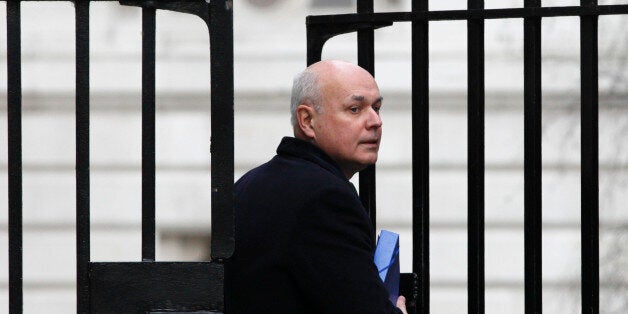 Iain Duncan Smith's benefit sanctions are poorly understood and hit "vulnerable" jobseekers the hardest, a report commissioned by the Department for Work and Pensions has found.
The DWP-commissioned review, carried out by welfare expert Matthew Oakley, who has worked for the Treasury and the centre-right thinktank Policy Exchange, revealed that the most vulnerable were often left punished by a system that they barely understand.
"No matter what system of social security is in place, if it is communicated poorly, if claimants do not understand the system and their responsibilities and if they are not empowered to challenge decisions they believe to be incorrect and seek redress, then it will not fulfill its purpose. It will be neither fair nor effective," Oakley's report said.
"Many advisers also highlighted the difficulties of communicating with particular groups of claimants. In particular, many advisers identified a 'vulnerable' group who tended to be sanctioned more than the others because they struggled to navigate the system. This concern for the vulnerable claimants was consistent throughout the visits.
"For these groups, particular difficulties were highlighted around the length of time it could take to ensure some claimants fully understood what was required of them and in conveying that a 'sanction' could entail the loss of benefit for a prolonged period of time."
Oakley's terms of reference forced him to focus on how sanctions are used on the government's compulsory back-to-work scheme, which covers a third of claimants at risk of sanctions.
Charities welcomed Oakley's conclusions about "cruel" benefit sanctions, but lamented that his review did not look at the wider system.
Leslie Morphy, chief executive of homelessness charity group Crisis, said: "Sanctions are cruel and can leave people utterly destitute – without money even for food and at severe risk of homelessness. It is difficult to see how they are meant to help people back into work.
"While we welcome these findings, a wider review is needed looking at the appropriateness and effectiveness of sanctions, especially for people vulnerable to or experiencing homelessness."
Fiona Weir, chief executive of the single parents' charity Gingerbread, said: "Sanctions cause severe financial hardship for those affected, particularly for single parents who are cut off from the financial support they need for themselves and their children.
"The government must now urgently commission a root and branch review of the sanctions system, without which we fear many more vulnerable people will be unfairly sanctioned."
Meanwhile Mark Serwotka, general secretary of the Public and Commercial Services Union, said that the "ludicrously narrow" remit for Oakley's review meant it was "nothing more than window dressing".
"It was impossible for Oakley to recommend any changes that will address the serious concerns of claimants and staff," he lamented.
The DWP responded to Oakley's report by agreeing to update how it communicated with benefit claimants and to streamline "the robust checks and balances that are already in place that give claimants the opportunity to provide evidence why they have not complied with the rules".