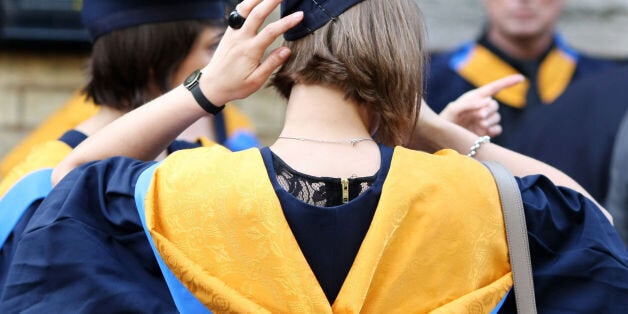 Rising numbers of poorer teenagers are planning to go to university, but they are still half as likely to apply as their richer peers, new figures suggests. There is also an increased demand for higher education this year among youngsters from all ethnic backgrounds.
The statistics, published by university admissions service Ucas, show the proportions of 18-year-olds in England applying to start degree courses this year, based on their social and ethnic background. Pupils on free school meals (FSM) - a key measure of poverty - were 8% more likely to submit an application in 2014, compared with last year.
In total, just under a fifth (18%) of these poorer teenagers applied this year, a new record, according to the Ucas statistics. But this also means they are still much less likely to be planning to go to university than their better-off peers. The data shows that application rates for other pupils increased to 37% this year - the highest level ever recorded.
"Around one in eight English pupils receive free school meals and their application rate at age 18 to higher education is around half that of other pupils," a Ucas analysis note says. The figures also show that women are more likely to apply to university than men, regardless of whether they received free dinners or not, but the difference between the genders is bigger for the FSM group.
This year, 21% of young women on FSM applied to university, compared with 14% of young men receiving the meals. Among those who did not get free dinners, the application rate for girls was 42% and for boys it was 32%. Separate Ucas data reveals that the application rates for all ethnic groups rose in 2014, but there are wide variations between pupils of different backgrounds.
Students from a Chinese background are most likely to want to study for a degree, with around 61% submitting an application this year. At the other end of the scale, white teenagers are the least likely to be planning to go university, with less than a third (31%) applying this year.
"Application rates for all groups are higher in 2014 than in 2006 with the largest increase being for the Black ethnic group (from 23.6% to 39%)," a second Ucas note says. Dr Lee Elliot Major, director of policy and development at the Sutton Trust, said: "It is good that the numbers of disadvantaged students applying to university are growing, and the gap with other students has narrowed a little.
"But there is still a significant gap - particularly pronounced with boys - and other data show the gap to be much wider at our most prestigious universities in both applications and entry. It is vital that schools continue to improve exam performance for disadvantaged pupils and that outreach work and access programmes, including summer schools, continue to engage with those from less privileged backgrounds from an early stage."
A Business Department spokesman said the government is committed to providing access to higher education for all pupils irrespective of their background. Professor Les Ebdon, director of Fair Access to Higher Education, said: "The upwards application trends are good news, but stark gaps remain between application rates from young people from different backgrounds.
"That means many talented, intelligent young people are missing out on the economic and social mobility that higher education helps to support, and the country is missing out on a pool of potentially excellent graduates who could be enriching our economy and society."
Nicola Dandridge, chief executive of vice-chancellors' group Universities UK, said it was "encouraging" to see that demand for university among all ethnic groups has risen, and that applications from FSM pupils have increased. "Universities have done good work in recent years to help improve access to universities," she said.
"However, there is still more work to be done. It remains the case that applicants living in the most advantaged areas are still three times more likely to apply to higher education than those living in the most disadvantaged areas."
The latest figures come just days after research by the London School of Economics and Political Science (LSE) found that ethnic minority students and those who went to a state comprehensive school are less likely to win a place at university than other young people. It also revealed that women and teenagers from richer backgrounds are more likely to get an offer of a degree place.
Popular in the Community