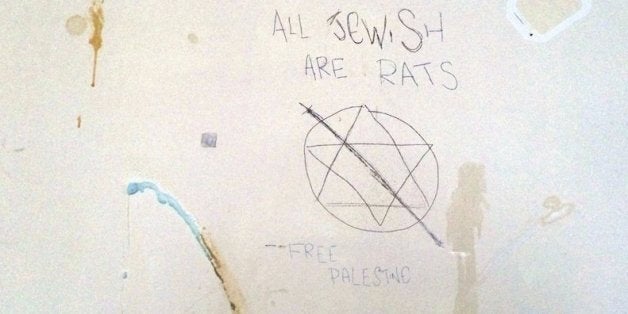 Anti-Jewish attacks and abuse shot up by 36% in the first six months of 2014, with experts predicting they will climb even further once incidents triggered by the Middle East conflict are included.
The Community Security Trust (CST), a charity that monitors antisemitism in Britain, recorded 304 antisemitic incidents from January to June this year. Of those, 22 were violent antisemitic attacks, though none that classified as grievous bodily harm. CST said in its report that it was hard to identify "a specific trigger"
Jewish graves were smashed, and verbal abuse was directed at people "clearly identifiable as Jews," the CST said. In one shocking incident at a Jewish home in North London, a vandal scrawled: "All Jewish [sic] are RATS. Free Palestine".
The abuse also involved 54 specific threats sent on social media, but the CST said it did not intend its figures to include all the antisemitism on social media, which was likely to be "so large to be effectively immeasurable".
But the statistics do not include more than 100 incidents reported to the CST and police since Israeli's three-week bombardment of Gaza began in early July.
Last month saw the highest number of antisemitic incidents since February 2009; which followed Operation Cast Lead when more than 1,000 Palestinians died in an Israel Defence Forces (IDF) offensive.
CST reported last week that since Israel's operation in Gaza began, it had recorded:
Pro-Palestinian protesters assaulting and verbally abusing a Jewish woman who expressed support for Israel, calling her a 'Jew Zionist' and stealing her phone.
A Rabbi walking in north London accosted by a gang who shouted "Free Palestine", "F*** the Zionists", "F*** the Jews" and "Allah Akhbar."
A brick thrown at the window of a synagogue in Belfast.
"Baby murderers" shouted at worshipers entering a synagogue in Liverpool
A "visibly Jewish" boy hit by a stone allegedly thrown by a woman in a niqab as he cycled in north London
"This is troubling news and from the feedback we are receiving, it is likely that the volume of antisemitic incidents will increase significantly before the end of the year," Labour MP John Mann, the chair of the All Party Parliamentary Group on Antisemitism told HuffPost UK. "The role of politicians at the present time is fundamental to ensuring good community relations are maintained in the UK and elsewhere."
Earlier this week, Mann announced plans to instigate a parliamentary report into lessons that can be learned from the current upsurge of anti-Jewish violence, to report back later in the autumn.
"It is to our collective shame that antisemitic incidents have been proliferating throughout the UK and Europe in recent weeks," Mann said. "We must learn some lessons to ensure that Middle East tensions do not play out on the streets at home."
Several high-profile religious leaders have spoken out about the spillover of Middle East tensions. The Archbishop of Canterbury Justin Welby said on Wednesday that the abuse needed to end.
"While it is acceptable to question and even disagree with particular policies of the Israeli government, the spike in violence and abuse against Jewish communities here in the UK is simply unacceptable," he said.
"We must not allow such hostility to disrupt the good relations we cherish among people of all faiths. Rather we must look at ways at working together to show our concern and support for those of goodwill on all sides working for peace."
Jonathan Arkush, president of the Board of Deputies of British Jews said: "The increase in anti -Semitic incidents from January to June, which we note doesn't cover the projected large spike in response to the conflict in Israel and Gaza, shows just how seriously we all need to continue to take the threat of anti- Semitism. It adds up to a deeply concerning picture which requires our utmost vigilance and work to counter.
"These include physical attacks, verbal attacks, desecration of property and online hate crime. We know that the Government understands those concerns and we call for the continuation of funding for security of Jewish schools and effective ways to both remove and sanction online racism and incitement."
Israel's ambassador to Germany, Yakov Hadas-Handelsman, said he had seen categorically anti-Semitic statements on banners held at pro-Palestinian protests, similar to ones the CST identified at various UK protests. "They pursue the Jews in the streets of Berlin… as if we were in 1938," Hadas-Handelsman said in an article for the Berliner Zeitung.
Last week, HuffPost UK reported figures from the Jewish Agency for Israel, which promotes Jewish diaspora immigration to Israel, showing British immigration to the Jewish state had risen by only 4% or around 200 people. But the figures from the rest of Europe are startling. From France, 2,830 have emigrated since the beginning of 2014, a rise of 249% from the same time last year. Italy has seen an 88% rise in the number of Jewish people emigrating, and Belgium 38%.
JAFI told HuffPost that they expect the number of immigrants from France to top 5,000 by the end of 2014, marking the first time that a western Jewish community will have 1% of its Jews emigrate to Israel in a single year.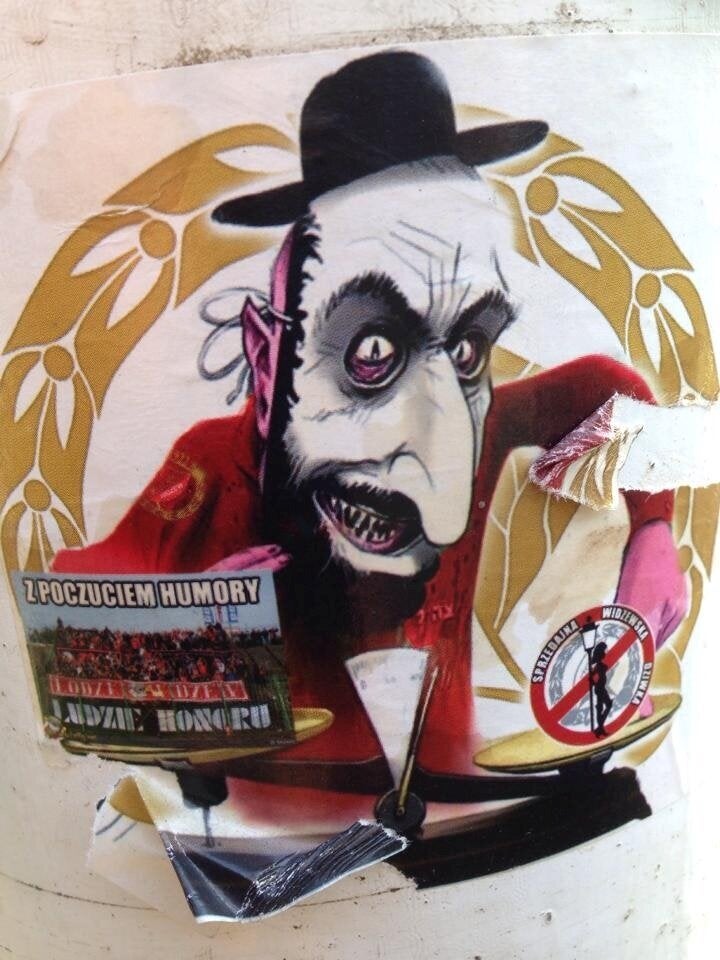 Antisemitism in Britain
Popular in the Community